Having an injury is a sportsperson's worst nightmare.  All sports people want to continue playing sports and an injury gets in the way.  All injuries must be treated seriously by medical professionals.  That said some injuries are more serious than others. 
Achilles tendonitis, also known as Achilles tendinitis, is a condition characterized by inflammation and irritation of the Achilles tendon. The Achilles tendon is a strong fibrous band of tissue that connects the calf muscles to the heel bone (see picture below). It is responsible for transmitting the force from the calf muscles to the foot, allowing for activities like walking, running, and jumping.
Achilles tendonitis typically occurs as a result of repetitive stress or overuse of the Achilles tendon. It is commonly seen in athletes who engage in activities that involve repetitive jumping or running, such as tennis, basketball, volleyball, or long distance running. It can also develop in individuals who suddenly increase the intensity or duration of their physical activities without proper conditioning.
The condition manifests as pain, swelling, and tenderness in the back of the heel or lower calf. The pain may worsen during physical activity, especially when pushing off the foot or going uphill, and can improve with rest. In some cases, a thickening of the tendon may be felt. This is a common injury for tennis players, both amateur and professionals alike. 
In this article, we look at the injury in a little more detail and also the Best Tennis Shoes For Achilles Tendonitis that will support this condition for those who wish to carry on playing. 
You may enjoy reading Best Clay Court Tennis Shoes
How does Achilles Tendonitis occur?
Injuries caused by overuse are usually called overuse injuries. Ankle and lower leg bones dissociate because of the dissolution of connecting tissues. Athletes may experience irritation and inflation in their ankles and heels because of this condition. 
In such cases, it is imperative to seek immediate treatment. Players of tennis and runners are often confronted with these difficulties. 
Reasons for Achilles Tendonitis
Even people who are not athletes can experience it for several reasons. Running and jumping, however, are great ways to build stamina for tennis players. The ankle bone, heel, and tissues of their ankles were heavily stressed by this. 
There are several reasons for Achilles Tendonitis among tennis players, including quick stops and jumps, rough playing styles, running, and heavy weight on the feet.
In my long career, I have also observed that flat-footed or flat-arched people suffer from this problem. Furthermore, not only heavyweight players may encounter this problem. One of my colleagues has a slim build. For more than 5 years, he has worked as a tennis coach in Texas.
Compared to him, he has a relatively smaller build. Unfortunately, he suffers from Achilles Tendonitis. His ankle and surrounding areas are in severe pain because of weak bones and muscles.
You may enjoy reading Rafael Nadal's Shoes
Treatment for Achilles Tendonitis
Once symptoms begin to appear, it is impossible to avoid. Fortunately, some treatments can help relieve tendons' irritation and pain. 
The first thing you need to do is to stop performing the specific activity causing you pain. Nonetheless, this is not acceptable to me as a regular player. 
Whenever you have difficulty, especially on the court, a cold compress is always the best option. 
Temporarily reducing pain with medicated sprays is possible.
Anyone with Achilles Tendonitis should rest as much as possible.
Nevertheless, tennis players who suffer from Achilles tendonitis should wear tennis shoes that are the best for Achilles tendonitis. Despite the ideal shoes, one still needs to be cautious. 
Best Tennis Shoes For Achilles Tendonitis
This is a list of the Best Tennis Shoes For Achilles Tendonitis I have experience with that I recommend for Achilles Tendonitis.
My list begins with the Nike Air Zoom because it is widely known and expected to be a comfortable and durable pair. It doesn't matter if you have Achilles or not, it's important to wear comfortable shoes. 
In detail, the designed GP Turbo is exactly what one would need to attack Achilles. From heels to toes, Nike added air zoom cushioning. Boosting each step of the players is made possible by this technology. Having swollen tendons makes jumping easier when you have such a comfy boost.
Additionally, I liked how the heel was 2cm longer than the average. Providing some support and relaxation to the swollen tendons. You would feel relief momentarily, but making quick serves and playing tennis would benefit from it. 
Durability is exceptional during my playtest, as I found in my review. GP Turbo's stance remains intact on rough surfaces. It is useful for people who suffer from swollen tendons.
Known for its durability, stability, and comfort, the K-Swiss Ultrashot 3 is also worn by Fabio Fognini and Cameron Norrie.
Featuring a soft heel cup, this shoe ensures a snug fit for your feet. You may experience minor heel slippage, which you can handle by tying to the highest eyelet.
In addition, the heel collar is elevated to provide backfoot support and protection.
Comfort, support, and durability are provided by the DuraMesh upper and the No Sew Slideguard on the upper
Midfoot shanks made of TPU help keep the feet stable and reduce unwanted torsions.
Surge 7.0 technology and 360 Plantar Chassis Support enable the Ultrashot 3 to return maximum energy.
A durable outsole with superior traction and grip incorporates performance technology called Dragguard 7.0. This outsole is guaranteed for 6 months.
K-Swiss Ultrashot basketballs are known for their comfort and stability while also offering great rebound properties.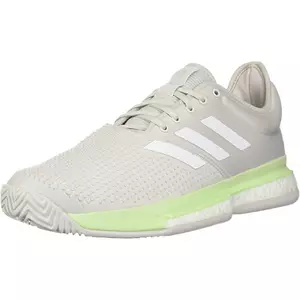 Both male and female players can suffer from Achilles Tendonitis. Depending on the body weight, the physique, and the amount of training, Achilles tendon pain can be mild or severe. Every person would be the happiest if they had a pair of shoes that eased their pain for a few moments in such situations.
Any new product Adidas brings to the market always has a certain aspect to it. Due to the ultimate comfort level of the SoleCourt Boost, it has become a game-changer for both men and women. 
Lightweight is one of the best qualities of Solecourt Boost. In addition, its breathable texture contributes to its cozy inner. There is nothing more commendable than Adidas' efforts to make a pair of shoes that is highly durable and shock-absorbing. 
In my survey of 10 players, 10 out of 10 expressed utter happiness with their improvement with this pair. It was very comfortable to hold a tight grip with a supported Achilles condition. 
Among Asics' lines of shoes, the Gel Resolution 8 has become a favorite. Compared to other leading brands, it gives them a tough time. Quite a few times, I've played with these shoes. 
Asics put a lot of effort into the construction of Gel Resolution-8 so that it would be highly breathable. It feels great even after playing for several hours without your feet becoming wet or soggy. 
The heel of this shoe is considerably less prominent than that of the ones I mentioned earlier.
 As for its durability, it is not affected by it. All sizes are available for men and women. 
In comparison to any other pair of resolutions, Resolution -8 has performed much better for several players. The pain is dulled even when it is severe with this pair. Special attention has been paid to the heels when it comes to the outsole of this shoe. Tennis players with Achilles Tendonitis benefit from them because they are ideal for all kinds of courts.
This is one of the Best Tennis Shoes For Achilles Tendonitis designed by Yonex. Players who are aggressive and heavy-weight are particularly well suited for Power Cushion Eclipsion. It becomes second nature to slide when playing roughly. 
With Power Cushion Eclipsion, you will be able to keep your balance when sliding and provide your feet with the perfect support and stability. It features a spacious toe box and is ultra-lightweight. Swollen tendons are firmly held in place by their heel support. 
Having wide feet, since I am a person with a heavy build and some considerable height, I need shoes that are comfortable to wear. I felt extremely relaxed and stable in this pair, thanks to the solid grip and midsole support. 
An aching body and swollen tendons are balanced perfectly in one pair of shoes. With regards to stability, durability, and support, the Power Cushion Eclipsion 3 received a positive review from both males and females.
A very good tennis shoe for Achilles tendonitis is the Diadora Speed Blushield 4. There has been a surge in popularity for this pair recently. The pair I'm wearing was recently spotted by me. Despite complaining about pain in his calf muscles, my junior played perfectly fine with these shoes.
A perfect and stable grip is provided by this pair. The cushioning and support it provides to players are excellent. In addition to being able to handle speedy serves and slides, the midsole of Speed Blushield 4 allows it to return fast-paced shots without losing balance. 
The combination of three different textures makes this tennis shoe highly breathable, just like all the best tennis shoes for Achilles Tendonitis. Those with severe Achilles Tendonitis problems can use it on all types of courts. 
When You Have Achilles Tendonitis, Do You Need Special Tennis Shoes?
A person with Achilles tendonitis experiences pain that worsens with movement.
In a competitive or tournament tennis match, imagine it happening in the middle of a match.
All the pain and difficulties in movement could end up causing you to withdraw from the match or tournament.
In case you suffer from this condition, you will need special tennis shoes that will protect you and give you comfort.
Factors to Consider When Choosing the Best Tennis Shoes For Achilles Tendonitis
When selecting tennis shoes for Achilles tendonitis, consider the following factors:
Support
Look for shoes that offer excellent arch support and heel stability. Adequate support reduces strain on the Achilles tendon and promotes proper foot alignment.
Cushioning
Opt for shoes with ample cushioning, especially in the heel area. Cushioning helps absorb shock and reduces the impact on the Achilles tendon.
Stability
Choose shoes with good lateral stability to prevent excessive side-to-side movements. This stability minimizes the risk of twisting the ankle and further aggravating the Achilles tendon.
Flexibility
Tennis shoes should have a balance of flexibility and rigidity. They should allow natural foot movement while providing enough structure to support the Achilles tendon.
Fit
Ensure that the shoes fit properly and have enough room in the toe box. Ill-fitting shoes can cause friction and discomfort, worsening the symptoms of Achilles tendonitis.
You may enjoy reading Best Tennis Shoes for Men
Additional Measures for Achilles Tendonitis Relief
In addition to wearing appropriate tennis shoes, you can take the following measures to manage Achilles tendonitis:
Rest and avoid activities that worsen the pain.

Apply ice to reduce swelling.

Perform stretching and strengthening exercises recommended by a physical therapist.

Use heel lifts or inserts to provide additional support.

Consider physical therapy or other professional treatments if symptoms persist.
Frequently Asked Questions
What is the effect of wearing the right tennis shoes on Achilles tendonitis?
Achilles tendonitis can be reduced with the right tennis shoes because they provide support and cushioning.
How should I choose tennis shoes that will help me recover from Achilles tendonitis?
You should look for tennis shoes that have good arch support, cushioning, and shock absorption when choosing tennis shoes for Achilles tendonitis. Additional stability can also be achieved by wearing shoes with a heel counter or stabilizer.
Does Achilles tendonitis respond well to specific brands or models of tennis shoes?
The answer to this question cannot be generalized, as different people may choose shoes that are more supportive and comfortable for them. The ASICS Gel Resolution, Nike Air Zoom Vapor, and Babolat Propulse Fury are some of the most popular tennis shoes for Achilles tendonitis.
Can I choose tennis shoes for Achilles tendonitis without consulting with a healthcare professional?
A sports medicine doctor or physical therapist is a good resource for advice when choosing tennis shoes for Achilles tendonitis. In addition to offering advice and guidance on shoes for your specific needs and level of activity, they can also recommend the best kinds of shoes for you.
With Achilles tendonitis, can I still play tennis?
If you have injured your tendon, it's best to rest and allow it to heal before returning to tennis or any high-impact activity. To prevent re-injury, you should consult your healthcare professional to determine when you can resume playing.
Final Thoughts?
We hope you find this article on the Best Tennis Shoes For Achilles Tendonitis helpful, we spent time reviewing it after careful analysis. Always seek professional medical advice if symptoms persist, these shoes are some of the most supportive on the market so will hopefully ease that pain if you do decide to play through it!
Moreover, you can check Best Cheap Tennis Shoes