Tennis shoes designed specifically for clay courts have unique characteristics that allow players to improve their performance while maintaining maximum comfort during challenging matches. Playing on clay is an art, just look at the difference between the clay court specialists (Nadal) and those who have not grown up playing on the red stuff.  
The big difference on clay is the way players move around the court, players slide over the clay into a shot when playing a ball.  The ball is struck when a player is still sliding, unlike on a hard court where a player sets their feet before striking a ball.  Therefore, shoes are designed differently to offer more support to protect a player's feet and ankles. 
The purpose of this guide is to help you decide whether clay court tennis shoes are right for you. We'll explain what makes them unique and how they differ from other tennis shoes, as well as provide some helpful advice for buying them.
5 Best Clay Court Tennis Shoes For Men & Women – Our Review
The following five best clay court tennis shoes for women and men are certainly worth considering if you are in the market for a new pair. We have reviewed all the shoes and the below are our top five picks. 
In our opinion, the Asics Court FF 2 is the best clay court tennis shoe for women and men.
In order to provide excellent traction on clay, the outsole is made of Asics High Abrasion Rubber. Its Twisstruss system helps provide stability by preventing the shoe from twisting in the middle of the foot.
FlyteFoam is the midsole material of choice at Asics, while Gel technology at the heels and forefoot provides shock absorption. Furthermore, Ortholite insoles provide a bit of extra cushioning from the beginning of the shoe.
Furthermore, the shoe's upper is crafted with a Mono-Sock fit system for comfort, as well as ease of wear. The mesh construction, combined with the TPU exterior layer, prevents you from sweating in hotter environments.
Nike Air Zoom Vapor Pro tennis shoes are among the best-selling models on the market. They offer terrific comfort and stability.
An extended herringbone tread runs along the length of the Air Zoom Vapor outsole, taking advantage of Nike's extra-durable rubber. A particular feature of this sole makes it particularly useful for clay tennis courts, as it features a generative design, which means the tread runs throughout the sole of the shoe.
Nike Zoom Air at the heel absorbs shocks in a responsive low-profile manner, while Phylon EVA provides comfort in the midsole.
On both the inside and outside edge of the shoe you'll find a TPU foot frame for stability as well as a tightly woven synthetic mesh to keep clay out. Players can customize the shoe's feel by lacing it differently at different points through Nike's Dynamic Fit lacing system.
With its durable and stable construction, the adidas SoleCourt Boost tennis shoe delivers exceptional performance on both hard and clay courts.
Adiwear's outsole is herringbone-shaped and offers excellent traction and sure footing on clay courts with a more generous midfoot tread than its hard court counterpart.
A combination of adidas Boost technology and EVA foam is used in the midsole for comfort at the heel and forefoot. For stability, the Boost midsole is surrounded by a TPU foot frame.
Clay cannot pass through the top of the adidas SoleCourt Boost due to its closed upper. Adituff RPU dots surround the front of the upper, providing protection from abrasion, as does the upper's top cap, which extends to the inside of the shoe. It is not the only feature on this shoe that helps prevent abrasion.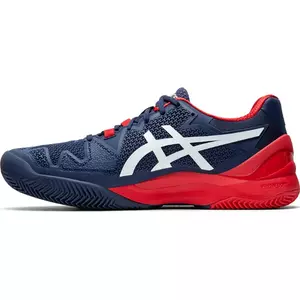 The Asics Gel Resolution 8 tennis shoe is another excellent choice for clay courts. It provides stability and comfort, as well as excellent performance.
There is a smaller cutout for the midfoot shank, compared to Asics High Abrasion Resistance rubber on the outsole of the Court FF 2.
This shoe is cushioned with Gel in the heel and forefoot for shock absorption, while the midsole is padded with FlyteFoam, which is lighter than EVA foam.
The upper is built with Flexion Fit technology that offers form-fitting comfort combined with an extra durable PU cover that adds strength and durability.
Tennis shoes from Adidas like the Adizero Ubersonic 3 are excellent for clay courts because they are lightweight and high-end.
It has an Adiwear outsole that is herringbone-style throughout the entire shoe, except for a very subtle stability cutout in the middle.
Midsole technology features adidas SprintFrame to help keep a player's feet close to the ground, and PU provides responsive comfort.
Featuring breathable mesh Primeknit bootie outsoles, and advanced Dyneema and Vectran fibers that add lightweight stability and durability, the upper is a perfect combination of comfort and performance.
What is a Clay Court Tennis Shoe?
The clay court tennis shoes available today have unique design features that are specially designed for clay courts.
Shoes intended for clay courts provide stability, comfort, and durability as do tennis shoes designed specifically for the sport.
There are, however, certain characteristics that make these tennis shoes different from other types of tennis shoes.
Outsole
You need excellent traction no matter what type of court you play on. Tennis shoe brands, however, modify their outsoles based on the type of court they play on to ensure optimal traction.
Tennis shoes for clay courts generally have an outsole feature called a herringbone tread pattern.
The most popular clay tennis shoe tread on the market, although it is not the only one, allows players to grip the court and accelerate quickly when forwards and backwards.
As well as allowing the clay to move through the outsole during a slide, the herringbone tread pattern is ideal for preventing cracking in the outsole. Slides on this court surface are consistent and predictable.
A last benefit of the tread pattern is that when the shoe is flexed, clay naturally lodges between the ridges. The player will lose traction if too much clay gets stuck within the tread.
Tip
Tennis shoes designed specifically for clay courts will still get clay stuck in the grooves of the outsole's tread, especially when the surface is damp. If the clay is stuck in your shoe, you can dislodge it by tapping your racquet on the side.
Tight Knit Upper
To prevent clay and dust from entering the shoe during play, clay court shoes usually have a tighter knit or woven upper.
An insignificant detail might appear on the surface. Clay, however, can become a distraction within the shoe when it finds its way under your foot, so it's tremendously useful to incorporate this design element to keep your feet comfortable.
One lesser-known benefit of using socks is that they will stay cleaner, which some players may find more or less important.
Tip
Consider wearing black socks when playing on clay courts to avoid staining or showing clay-court debris. White socks show up clay very quickly! 
You may enjoy reading Tennis Shoes vs Sneakers
Top Features of Clay Court Tennis Shoes
The best clay court tennis shoes possess specific features that optimize performance on this surface. These features include:
Clay-Centric Outsole: A specialized outsole design with a herringbone or multidirectional pattern provides excellent grip and prevents slippage on clay courts.
Abrasion-Resistant Materials: Durable materials like rubber and reinforced toe caps protect the shoes from the abrasive nature of clay surfaces, ensuring long-lasting performance.
Cushioning and Impact Absorption: Adequate cushioning and shock absorption technologies help minimize the impact on joints and reduce fatigue during long matches.
Breathable Uppers: Shoes with breathable uppers enhance airflow, keeping your feet dry and comfortable, even during intense rallies.
Supportive Structures: Ankle support, midfoot stability, and cushioned insoles provide the necessary support and stability for quick lateral movements and directional changes.
You may enjoy reading Rafael Nadal Shoes
Is it Worth Buying a Dedicated Pair of Clay Court Shoes?
You might wonder if you should buy a new pair of shoes to be well-prepared for a first time experience playing tennis on clay if you're new to the game or playing on clay for the first time.
Make your decision based on these factors; 
Frequency of play
You should consider how often you play on clay courts before investing in a pair of clay court tennis shoes.
The first thing I would suggest is investing in a pair of clay court tennis shoes if your club or local court is predominantly clay, and that's the court you play most often. Furthermore, it's best to purchase equipment that is suitable for the conditions in which you'll be playing.
In the long run, clay courts are unlikely to justify their investment if you only play on them a few times a year.
Level of Play & Competition
The most important thing is to win, so if you're a competitive player or intermediate player and you want to maximize your performance on this court surface – even if you don't play it often – then you should consider investing in clay court shoes.
If you aren't working with a tight budget, then you should make the most of clay court shoes unless they are making or breaking your success.
Budget
You may want to skip clay-court shoes if your budget is tight, and you'll be spending most of your time on hard courts.
Even though they won't be optimal for clay courts, you can use your hard court shoes on them.
You will probably find yourself playing on clay courts periodically, so if you can afford clay court shoes, by all means do so. I'm sure it won't hurt.
Durability Guarantees
When buying tennis shoes, durability is probably high on your list of priorities if you play on hard courts.
However, clay court tennis shoes do not usually offer durability guarantees due to the fact that they won't wear nearly as fast, and for the most part, this is irrelevant.
Tennis players typically find that clay court shoes last much longer than their hard court equivalents due to the combination of playing on clay court less frequently and the surface being less abrasive.
Color Considerations
It is worth keeping the color of your clay court tennis shoes in mind when choosing them.
When playing on clay, especially red clay, you're going to notice your new shoes getting pretty dirty after the first few sessions, especially compared to hard courts where you don't get so dirty as quickly.
Therefore, I prefer darker-shaded models because they hide the mess better than lighter ones.
You may appreciate a darker pair if you have the option of choosing, however, if you have limited choices, I wouldn't worry too much about the color.
You may enjoy reading Can You Use Tennis Shoes For Volleyball?
Differences Between Clay & Hard Court Shoes
In many countries, particularly in Europe, clay courts are also common and prevalent. However, hard courts are by far the most popular surface.
It's always a good idea to know the differences between the different court surfaces before buying new shoes, no matter which surface you use most frequently.
Outsole
Hard court shoes are distinguished from clay court shoes by their outsoles and tread patterns, which are highly durable.
The outsoles of hard court shoes are required to be more durable to withstand the abrasion of the courts.
The outsole on clay courts, on the other hand, wears much more slowly due to their softer and more forgiving nature. Therefore, the rubber compounds tend to be the supplier, leading to improved traction.
Clay court tennis shoes almost exclusively use herringbone patterns, while hard court tennis shoes usually employ a variety of tread patterns to maximize traction.
In combination with hard court tennis shoes, tennis players can also perform well on clay courts since they can transition easily between the two surfaces.
Tennis shoes made for clay courts are not suitable or recommended for hard courts due to their lack of durability. You can wear clay court shoes if you play on carpet or synthetic grass.
Comfort
The toughness of hard courts also makes them hard on players' feet, joints, and bodies overall. Hard courts are also unforgiving and unforgiving. Since clay is not as hard as concrete, it is much easier on a player's body.
In this respect, tennis shoes designed for hard courts will typically offer more comfort than those designed for clay courts, since clay courts often reduce the materials that add comfort for weight reasons.
Ventilation
The uppers on clay court tennis shoes tend to be closed or tight-knitted in order to prevent clay from entering, which is beneficial, but also reduces air flow through the shoe.
You'll find that hard court shoes tend to have fewer concerns about dirt and debris entering the upper, so they offer more ventilation with relaxed or open mesh.
In fact, clay court shoes certainly provide ventilation, so that's not to say they don't. Compared to clay shoes, hardcourt shoes tend to provide more ventilation.
Our Selection For The Best Clay Court Tennis Shoes
All footwear in the catalog is carefully analyzed for this selection. In addition to double-checking the materials and weighing the technical components of the footwear, we also qualify them. Additionally, we test them in real tennis games.
As part of our approach, we:
Utilizing our own money to purchase clay court tennis kicks from many different brands. Third-party sponsorships are not accepted by us in order to keep our reviews objective.
Assessing the shoes' comfort, fit, support, and break-in period by subjecting them to hard-core tennis matches. Traction, cushioning, weight, breathability, responsiveness, durability, etc. are some of the factors we consider.
Additionally, we take on board advice from professional shoe experts, avid club players, and pros. 
Frequently Asked Questions (FAQs)
How often should I replace my clay court tennis shoes?
It's recommended to replace your shoes every 6-12 months or when the outsole shows significant wear.
Can I use clay court tennis shoes on other court surfaces?
Clay court shoes are specifically designed for clay surfaces and may not provide the same traction on other courts. It's best to use court-specific shoes for optimal performance.
Are clay court tennis shoes suitable for beginners?
Yes, clay court shoes can benefit players of all skill levels. They offer the necessary stability and traction to navigate the clay surface effectively.
Can I clean my clay court tennis shoes in a washing machine?
It's generally not recommended to clean tennis shoes in a washing machine as it can damage the shoe's structure. Instead, use a soft brush or cloth to remove dirt and stains.
Are clay court tennis shoes more expensive than regular tennis shoes?
The price of clay court tennis shoes can vary depending on the brand and model. However, they are often similar in price to other high-quality tennis shoes designed for different court surfaces.
Final Thoughts
If you frequent or play competitively on clay from time to time, then we believe it's worth investing in a pair of the best clay court tennis shoes that provide optimal performance and comfort for the surface.
Despite appearing subtle at first glance, there are many differences between hard court and clay court shoes, which should be kept in mind so you make an informed decision.
With this guide, I hope you have gained some useful insight into what clay court tennis shoes are and when they might be a good option for you. Feel free to comment below if you have any questions.