A tennis bag not only holds your rackets and everyday tennis gear, it is also an accessory these days. People want a practical bag to hold equipment but they also want something that looks and feels good. 
This comprehensive guide to the best tennis bags offers a detailed review of the top 12 bags on the market for players at every level. With our help, you can find the perfect tennis bag for you and your racket based on your skill level.
The following factors were taken into consideration when we analyzed and ranked the bags on our list: Price, Size, Durability, Popularity, Design, Comfortability, and Functionality.
The purpose of this article is to help you determine the best tennis bag for you by teaching you everything you should consider when buying one.
Introduction to Tennis Bags
Tennis bags are essential accessories for players to carry their rackets, balls, shoes, towels, and other personal belongings to and from the court. These bags are specially designed to accommodate all the necessary equipment and keep them organized and protected during transport. They come in various sizes, styles, and designs to cater to the diverse needs of tennis players.
Best Tennis Bags – Our Review
So without further ado, let's look at some of the best bags on the market today. 
In our list of the most versatile and popular tennis bags, the Babolat Pure Series 12 pack tennis bag tops the list.
The Pure Series offers a variety of attractive designs to complement the most popular Babolat tennis racquets, such as the Pure Drive, Pure Strike, and Pure Aero. You'll find all of the features you need in this bag for tennis players of all levels. The racquet compartments feature thermal protection that helps maintain string tension as well as a great look.
There is also plenty of storage space in this unit. Up to 15 racquets can be stored in the main compartment. Small items such as strings, tennis overgrips, phones, keys, and other accessories can be stored in the accessory pockets. A ventilated shoe pocket is also included. This best tennis backpack is designed to be worn comfortably on your shoulders with adjustable shoulder straps.
We chose the Pure Series Bag because of these attributes, as well as its durability and brand popularity. There are three color options for this bag, black, blue, and yellow.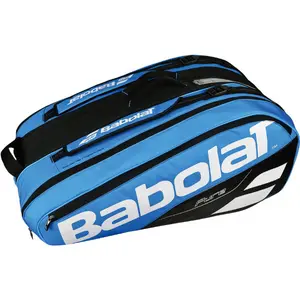 Babolat Pure Drive RH x12 bags are a perfect choice if you are looking for premium quality. There are many great things about this tennis bag; it is functional, versatile, spacious, and looks great. 
Two compartments of this Babolat bag have isothermal protection to prevent string tension loss. It can hold up to 15 tennis rackets. In addition, it comes with a compartment for shoes that is ventilated. Overgrips, towels, phones, keys, and other tennis gear can be stored in the accessories pocket. 
A super comfortable backpack strap lets you wear the bag as a bag or as a backpack. Bright blue and dark blue are the only colors available.
Then you have come to the right place if you're looking for a wonderful tennis bag at a very affordable price. A surprising similarity can be found between the Athletico 3-Racket bag and the Wilson Advantage Tennis Bag, but the price of the Athletico bag is much more affordable. 
Featuring padded compartments for three rackets and a pocket for belongings, this bag offers plenty of storage. With the extra outer pocket, you can conveniently store your keys, cell phone, and tennis balls whenever you need them.
As well as an over-the-shoulder strap, the Athletico bag is equipped with a tote handle so it can be easily carried. It is lightweight and comfortable to wear. Polyester fabric is used in the creation of this bag, which is durable and built to last for a long time. Should you return the bag for whatever reason, the brand also offers full compensation.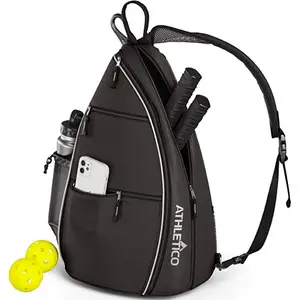 It might be a good idea for high schoolers to opt out of a bag that they can use on and off the court as well as in their everyday lives. It stands out in this particular category as the Athletico Sling Bag. Three colors are available in this great bag. With some premium features, this tennis bag is high-quality.
It has lots of internal pockets to keep things neat and organized. It can hold up to two tennis rackets. You can store your essentials in the anti-theft pocket of the bag. Carrying it around is comfortable and lightweight. 
Vessel is a luxury bag brand that originally made golf bags, but is now expanding into tennis bags. Club players who play with two to four racquets and are looking for a quality bag will find their racquet bag to be perfect.
A total of six tennis racquets can be stored in two large compartments of the bag. Tennis strings are kept protected in warm and cold weather by the smaller, insulated case. A total of four exterior side pockets are provided on the bag. Two are on either side of the bag. There are well-designed pouches for the organization in these outside pockets. No matter what shoe size you wear, there is plenty of room in the ventilated shoe compartment.
With nylon and synthetic leather shoulder straps, this bag offers unsurpassed comfort. If you prefer to carry the bag by one of the two handles, you can easily remove these as well.
You won't find a better luxury tennis bag than this one. A top new bag brand on the market, it features high-quality materials and a modern design.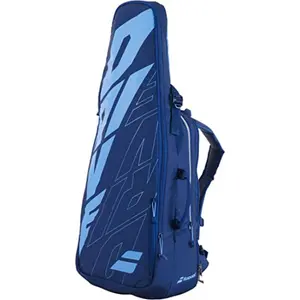 I also use a Babolat Pure Drive 3 Pack backpack, which is similar to the Pure Strike backpack, but it has a slightly different design and the colors match the Pure Drive 2020 racquet.
I find this bag to be highly practical, which is why it is my top pick. Walking or cycling to the courts is your preferred method of transportation. Bags of this style are perfect for any occasion.
Additionally, it holds plenty of gear and protects the Babolat isothermal stuff so that it won't get damaged by the weather.
For adult club-level players, ADV Tennis created a fantastic, innovative bag that doesn't make tennis racquets.
There are two compartments on each side and four in the middle, allowing the bag to carry up to eight racquets. There is an insulated, built-in cooler in this bag and a hidden pocket under the bag for keeping wet clothes separate. Two hooks are included in this bag, so you can hang it on the fence so it stays off the court's hot surface.
Among the items that can be stored in the center compartment are tennis balls, sunglasses for tennis, food, and other items. Pockets on the outside are great for storing small items like grips, keys, phones, and other accessories. Tennis players who don't like to wear shoes off the court will appreciate the ventilated shoe storage.
Tecnifibre Tour Endurance 15 Pack Bag, used by Daniil Medvedev, is a perfect combination of size and style.
Players who travel for long tournaments will appreciate this bag's well-designed interior pockets. Tennis shoes and clothes can both be stored in two ventilated pockets at either end of the bag. A waterproof accessory pocket and a zippered pocket line the sides of the bag, offering small items protection.
Moreover, the Tarpaulin material used in the bag ensures that your racquets remain protected from extreme temperatures. On the ends of the bag are two carrying handles, as well as adjustable, padded shoulder straps.
A tennis player could not ask for more from this new tennis bag from Tecnifibre. 
We've selected the Adidas Tour Tennis 12 Racquet Bag for its functionality and affordability.
Tennis strings are protected from extreme weather conditions by two insulated pockets in this bag. Top pockets provide easy access for storing dirty equipment or shoes.
Those who are looking for equipment or racquets with a different brand can consider this bag. Nevertheless, Adidas makes some of the best tennis shorts and shoes.
Considering it offers many of the same features as a high-end bag, this bag makes a great choice for intermediate players.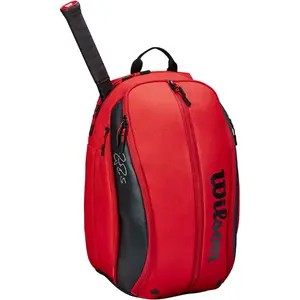 An iconic tennis player's aesthetic is reflected in the sharp, smooth exterior and matte colors of the Federer DNA Backpack.
Tennis backpacks of this quality and style are unmatched by other top-line backpacks. You can store up to two racquets in the racquet compartment, and your clothes, balls, and strings can be stored in two main compartments. It features a felt-lined pocket that's perfect for holding phones, wallets, or keys. You can also keep your sports drinks or food cold in another larger thermal-lined pocket.
As well as being great for shortest tennis players of all levels, this best tennis backpack is a great bag for school or work as well. For extra comfort, the straps and back are padded.
Tennis players who travel can maximize their capacity with the Head Gravity Sport Bag's duffel design.
Up to six racquets can be stored in this bag, along with clothes and tournament gear. A small vent is located on the outside of the shoe compartment. A zipper pocket on the side of the case is suitable for storing a string, grips, and personal items. A padded divider helps protect your racquets inside the bag.
It can be easily picked up thanks to the grab handle on the end. Its comfortable adjustable shoulder straps, however, are my favorite feature. I usually carry two racquets in this bag, as well as clothing and shoes for on-court use.
Geau's Stance Tote Bag is one of the best tennis totes bag on the market, offering great specifications without sacrificing style.
A main storage compartment accommodates large items, as well as 2 racquets. Several smaller pockets for valuables are also included, as well as a water bottle pocket on the exterior. Your bag will also stay clean and off the ground thanks to the rear hanging hook and metal feet. As a result, the bag won't slouch or fall over due to its sturdy construction and shape.
In addition to being a great bag for ladies seeking a bag with a bit of style, it's also great for any player. 
Features of Best Tennis Backpack
The features that you should know before buying a tennis bag are the same regardless of the bag's shape or size.
Exterior
You should choose a bag with a durable exterior, and you can choose different materials. A Tecnifibre bag, for example, is waterproof, but other bags are made of polyester or other fabrics.
Interior
There are different interior options available for the bag. In some bags, the compartment is simply huge without any organization. There are also some that come with dividers, so you can easily separate your tennis gear from your clothes.
Racket Storage
One of the main features of a good tennis bag is the ability to store tennis racquets. There are bags that carry two racquets, and there are bags that carry up to 15 racquets
Shoe Storage
Competing tennis players need proper shoe storage, but not everyone does. Shoes are usually stored at the bottom of bags or at the end, and they usually have ventilation systems.
Durability
Tennis bags will most often end up on the court, and we all know how abrasive a hard court can be. If you're taking it on an away trip, you'll have to throw it into the trunk or stack it in the back of the van or bus.
For that reason, you'll want to choose a bag that can withstand everyday wear and tear.
Material and zippers are two areas to watch out for. In addition to thicker and more durable fabrics, higher-priced tennis bags will also feature heavy-duty zippers that can endure frequent use.
No matter how good the materials are, if the zipper breaks or fails to work, you won't be able to use it, so pay extra attention to these details and read reviews to find out if others have had similar problems.
Comfort
As you carry gear with you, comfort may play a greater or lesser role depending on the bag's size, type, and amount.
You can wear tennis racquet bags as backpacks or single shoulder straps as shoulder bags, for example. It is important to ensure that the straps on this kind of bag are sufficiently padded to ensure comfort when it is full of gear.
As with tennis backpack straps, make sure there's enough padding on the back, so you don't feel uncomfortable carrying your racquets.
Accessory & Gear Pockets
Tennis balls, water bottles, tennis shoes, sunglasses, tennis shorts, and personal valuables can be stored in accessory & gear pockets. If you need enough space and secure zippers, you need something that has both. The pockets on some bags are located on the outside of the bag, while others are positioned on the inside wall to provide additional protection.
The Different Types of Tennis Bags
Tennis bags can be classified into five types. In some models, tennis is the only sport they can be used for, but in others, other sports or even travel may be possible. Here's what we found.
Pro Racket Bags
On the Pro Tour, these bags come in configurations that hold anything from nine to fifteen racquets. To protect racquets from the elements, the outermost compartments are thermally insulated.
There are also shoe tunnels, waterproof pouches for clothes/towels, and pockets for various accessories.
A player who plays tournaments and carries a lot of equipment is the only type of player who should consider this bag.
For most players, this will be overkill, and you'll end up paying for storage space that you won't ever use.
Packing to fill, instead of packing what they need, leads to all kinds of random equipment that will never be used.
Full-time tennis coaches carrying around racquets, training aids, food, and more can benefit from a large pro-style bag.
Smaller Racket Bags
Alongside the racquet bag widely seen on the professional tour is the scaled-down version that holds either 3 or  6 racquets.
Typical club players will find this bag style ideal for their racquets, shoes, clothes, and other equipment.
These bags are not so easy to carry on foot, which is their downside. There are usually no backpack-like straps on these bags so you must carry them over your shoulder or over the carry handle, unlike larger racquet bags.
Parking is free at the court parking lot, and you can walk 100m to the court. But what about biking or walking? It is not a good idea to use this style of bag.
Backpacks
There are now a variety of tennis bags available in traditional backpack style from most mainstream tennis brands. The handles are usually left out of the top of most racquet cases. There are some cool designs by Babolat that cover the entire racquet.
A racquet such as the Babolat Evo 3 x 3 pictured above can be undone to cover the racquet's entire length.
I think their practicality makes them a better buy than the larger, more expensive bags, even if they lack some bells and whistles. In most cases, the shoe bag is removable, even though there is no dedicated shoe tunnel.
I prefer this style of the bag since I consider it to be the most practical. In order to get to the courts by bike or on foot, a backpack is the best choice.
Duffel Tennis Bags
Roger Federer and Novak Djokovic often carry a duffel bag in addition to their main racquet bag when on the court.
There are larger sizes of tennis bags available than the ones used by professional players to store drinks and clothes.
An all-purpose tennis duffel bag is best suited to multidisciplinary sportsmen and women.
Duffel-style tennis bags work well for those who prefer one large compartment where everything is easily visible.
When you open up duffel bags, you often discover well-thought-out designs that look less impressive from the outside. Since they are more practical for accessing your gear than the traditional racquet shape bag, I prefer them.
Tote
Lastly, there is the Tote bag. Many of the big tennis brands carry at least one of these styles, which are more fashion-focused than anything else.
In my opinion, a tennis tote bag is not something I would purchase as I have a huge amount of equipment, but it can hold quite a lot of gear and be used frequently. It wouldn't seem out of place to take a laptop or a travel bag into a cafe with the Wilson Tote bag pictured below.
A lightweight racquet bag that can be carried around by people who have less equipment, less space and prefer the look and feel of tote bags.
You may enjoy reading How to Play Tennis in the Wind?
How to Choose the Best Tennis Bag?
Let's take a look at a few factors to consider when choosing a tennis bag now that you know some of the essential features to look for.
You may not need all of them, but if you can find one or two that speak to you, you'll be on your way to selecting the perfect bag.
Budget
If you're interested in purchasing a tennis bag, consider your budget first, since prices range from under $50 to a few hundred dollars.
You can narrow your options quite a bit by simply deciding how much you're willing to spend since each type of tennis bag I've discussed comes in a variety of price points.
In order to narrow your choices, consider the following price ranges:
Under $50
$50 – $100
$100 – $150
$150 +
It is not uncommon for tennis bags to cost under $150, but there are a few premium bags, such as Vessel's Baseline Racquet Bag, that cost just below $300.
Additionally, there are numerous tennis totes from designer brands that cost a few hundred dollars, but these are more of a fashion statement than a functional accessory.
Portability
In addition, consider how portable you want your tennis bag to be when choosing one. According to their sizes, they are rough as follows:
| Type of Bag | Size |
| --- | --- |
| Tote | Small |
| Backpack | Medium |
| Racquet Bag | Large |
| Duffel | Extra Large |
A tennis racquet bag or duffle bag is the least portable item for everyday use. As a result, they tend to be heavier because they have the most storage capacity.
It is for this reason that many players will opt for a backpack or tote instead of a racquet bag, since they are easier to carry and more discreet when traveling.
In addition to being easy to handle, backpacks make great companions for biking to the local courts if you're buying for children or teenagers.
The smallest bag players can reasonably use to store their essential gear is generally my recommendation. You should take inventory of what you usually bring to the court and ensure that you can fit it comfortably.
You don't want to play Tetris every time you fill your bag, so make sure you have enough space. Be careful not to buy a bag that's too big so you're constantly stuffing it with things. It's all about finding the right balance.
Brand
Tennis players often follow the footsteps of their favorite pro or prefer their gear to match by buying the same brand bag as their racquet.
Due to the limited selection of bags offered by each brand, you'll have narrowed your options significantly.
A Wilson bag and Babolat racquets are absolutely fine. Despite the mismatch, there may be a few tennis snobs who take notice.
Gear has always been important to me as a player. Since I use Babolat racket, I probably would buy a Babolat bag, 
There have, however, been a few new brands entering the market with subtle branding in the past few years. Unlike these companies, these ones do not manufacture rackets, so there are more options available to players these days.
Level & Frequency of Play
The demands you place on your bag will be greater if you play a lot of tennis and compete, so a tennis racquet bag is a way to go.
It's unlikely that a tennis backpack or tote will hold all the tennis racquets and equipment you need for a match.
Alternatively, if you play casually, for fun, or for exercise only, then a tennis racquet bag won't make sense as you won't have enough gear to justify the added size.
It may be better to use a backpack or tote in such a case.
Style
When it comes to best tennis bags, the best option is the one you enjoy using, so if you have an affinity towards a specific type, regardless of how practical it is, then that's likely a great choice for you.
Despite not needing the extra space or not needing them, I started using racquet bags when I was a child because I thought they looked cool. The bags worked well for me since I used them religiously.
You may enjoy reading Different Parts of a Tennis Racquet
Popular Tennis Bag Brands
There are a number of different brands to consider when searching for the perfect tennis bag.
You may enjoy reading Best Tennis Racket Brands
The following will give you an idea of what is available from some of the most popular companies as well as the types of bags they offer.
Traditional Tennis Brands
If you're looking for the broadest selection of tennis shoes, these brands are great places to start.
| Brand | Racquet | Backpack | Duffle | Tote |
| --- | --- | --- | --- | --- |
| Wilson | X | X | X | X |
| Babolat | X | X | X |   |
| Head | X | X | X | X |
| Yonex | X | X | X |   |
| Prince | X | X | X |   |
| Tecnifibre | X | X | X |   |
| Dunlop | X | X | X |   |
| ProKennex | X | X | X |   |
| Volkl | X | X | X |   |
| Solinco | X | X | X |   |
Non-Racket Athletic Brands
These brands primarily focus on shoes and apparel, but they also provide tennis players with a selection of general-purpose bags.
| Brand | Racquet | Backpack | Duffle | Tote |
| --- | --- | --- | --- | --- |
| Nike |   | X | X |   |
| adidas |   | X | X |   |
Specialty Brands
If you are looking for a new bag, you may want to consider the following companies. These companies focus mostly on backpacks and totes, and some of their products are among the most innovative.
| Brand | Racquet | Backpack | Duffle | Tote |
| --- | --- | --- | --- | --- |
| Vessel | X | X |   | X |
| Geau Sport | X | X |   | X |
| Glove It |   | X |   | X |
| cinda b |   | X |   | X |
| Maggie Mather |   |   |   | X |
| Hadaki |   |   |   | X |
| Ame & Lulu |   | X |   | X |
| Cortiglia Brisbane |   |   |   | X |
| Court Couture |   | X |   | X |
| Oliver Thomas |   | X |   | X |
| Tory Burch |   |   |   | X |
The Tennis Bag, I'm Using
I'm using the Babolat Pure Strike Backpack at the moment. Tennis rackets can be accommodated in the elongated backpack.
You can see in the image above that the compartment folds over on itself when not holding rackets.
I believe the Babolat Pure Strike Backpack is the ideal bag for recreational tennis players. This is the perfect amount of space and it looks great. 
The insulated section of this best tennis backpack holds two rackets. Despite Babolat's advertising, I find it to be a little tight for three rackets.
My main compartment contains tennis shoes, a drink bottle, a tripod, and two cans of balls. The small compartment on the front of my bag stores my phone, wallet, keys, and a spare overgrip, vibration dampener, plasters, and tape. Besides the laptop compartment, there is a pocket where a towel can be stored and folded.
Furthermore, the zip can also be used as a bottle opener when your switch ends!
You may enjoy reading Can you bring a tennis racket on a plane?
Maintenance and Care Tips for Tennis Bags
To ensure the longevity of your tennis bag, follow these maintenance and care tips:
Cleaning and Washing Instructions
Refer to the manufacturer's instructions for cleaning your tennis bag. Most bags can be spot cleaned with mild detergent and warm water. Avoid using harsh chemicals or bleach that may damage the material.
Storage Recommendations
When not in use, store your tennis bag in a cool and dry place. Avoid exposing it to direct sunlight or extreme temperatures, as this can cause fading or deformation of the material. Keep it away from sharp objects that may puncture or tear the bag.
Regular Inspections and Repairs
Inspect your tennis bag regularly for any signs of damage or wear. Check the zippers, straps, and seams to ensure they are in good condition. If you notice any issues, repair them promptly to prevent further damage.
Faqs
What are the best tennis bags for carrying multiple rackets?
Tennis backpacks such as the Babolat Pure Drive Tennis Backpack, the Wilson Super Tour 3 Compartment Tennis Bag, and the Head Tour Team Tennis Backpack are excellent options for storing multiple racquets.
What is the best tennis bag for traveling?
Yonex Pro 9 Tennis Bag is one of the best tennis bags for travel due to its hard shell. When you transport your racquets and other gear, these bags will protect them.
What are the best tennis bags for the organization?
The Prince Tour Team Tennis Backpack has multiple compartments for organizing your tennis gear. Clothing, racquets, and shoes can be separated using these containers.
What are the best tennis bags for durability?
Polyester bags are great for longevity because of their durability. Adidas Club Line Tennis Bags, for instance, have reinforced straps and zippers, making them durable.
What are the best tennis bags for value?
A good balance between features and price offers the best value in tennis bags. There are a variety of compartments and durable construction available in the Nike Brasilia Tennis Backpack and the Asics Court Elite Tennis Backpack, which are some of the best options on the market.
What's Next?
Tennis bags are a must for storing and organizing your gear, regardless of experience, frequency of play, or skill level.
Fortunately, there are racket bags, backpacks, duffle bags, and tennis totes for everyone.
The best tennis bags in this guide should have given you some insight into your options and helped you narrow them down and make a choice.
You can also check our reviews of tennis equipment, such as rackets, overgrips, and balls that can be stored in bags.
In the comments below, please feel free to ask me any questions.