Do you want to improve your tennis skills but can't afford to hire a personal coach or pay for expensive training sessions? Do you find yourself with time to play tennis but no one is available to play with?  
You might want to consider getting a ball machine. A ball machine is an excellent investment for players who want to improve their game without breaking the bank. Once the preserve of the rich, the technology has come on and now allows a great product at a great price.
There are many affordable options out there that are perfect for players on a budget. In this article, we'll be discussing the 7 best cheap ball machines that you can buy to help enhance your tennis skills.
You may enjoy reading Best Tennis Balls for Ball Machine
Best Cheap Tennis Ball Machines
Here we will explore some of the best cheap tennis ball machines on the market, discussing their features and benefits so that players can make an informed decision on which machine to choose.
The machine is designed for good performance at a reasonable price, which makes it an excellent value. When it comes to perfect topspin and backspin, Wilson machines may seem confusing at first, but they are worth the time and money.
The price of this product is double that of its predecessor due to its many features.
The buyer will be able to experience the actual match play because of the 75 mph speed and feeding speed of 2 to 10 seconds.
Tennis players can hit volleys, forehands, and backhands without interruption for four hours continuously on this ball machine.
Additionally, this machine provides 4 hours of playing time, but it might finish the power in 3 hours if it is kept on the strong volley. In addition, this cheap tennis machine can hold 110 balls and oscillates randomly from left to right.
With an affordable price tag, this is the right choice if you want to improve your game and become an expert tennis player.
It is one of the most cherished and inexpensive machines available on the market today. Despite its low price, this machine provides quality service and has a remarkable reputation.
This machine is used by millions of people; even acclaimed athletes use it.
With a ball capacity of 125, this machine is also lightweight at only 30 pounds so easy to transport. The Tennis Tutor is light, has a large capacity for balls, and is small in size, so you can store it anywhere in your car and in the home.
Moreover, this machine can play for three hours on one charge, and random shots are thrown across the court for forehand and backhand practice.
The machine is also excellent because of its three-year warranty and its ability to be controlled wirelessly from opposite ends of the court.
Tennis balls can be hit from 12 to 20 feet with this cheap tennis machine, which can hold only 28 balls. Yes, of course!
There are more than enough balls to play with 28. This machine is also extremely light in weight, weighing only 11 lbs.
One of the things I liked about this machine was that it is inexpensive and provides more than 12 hours of play.
You can buy this cheap machine with confidence since it comes with a three-year warranty, but it feeds within two to five seconds. Aside from that, its pleasing appearance allows it to be placed anywhere, from home to court. Take a look at it, isn't it pretty?
This perfect children and I have spent many hours on the court with mine.  It is quite robust given its price.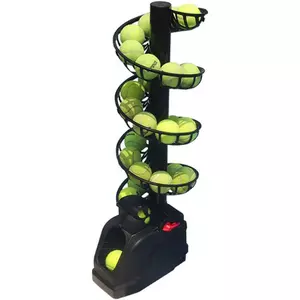 In reality, AnBt is designed for people who cannot afford expensive ball machines. The player will certainly enjoy this machine if they have experience, but they won't be able to hit severe volleys like with lobster and spin shot machines. 
Aside from its 30-ball capacity, this machine comes with a one-year warranty. There are five different settings available for throwing balls on an AnBt machine.
A total of five levels are available, ranging from high to low. It can be adjusted according to the player's needs, so they can hit forehands and backhands accordingly.
Due to its lightweight design (4.81 pounds) and small size, this cheap tennis ball launcher is so easy to maneuver. In the $1000 range, this machine belongs.
It is recommended that you maintain a distance of around 2.4 m/7.87 feet from the machine since it throws a ball every 4 seconds and cannot be customized.
In order to play effectively and put up a good performance on the court, one needs this machine. To put it simply, this machine facilitates the practice of specific strokes.
Its performance at a low price is one of the things that makes this cheap tennis ball launcher stand out. With this machine, you can play at your own pace without having to pay a high price.
A very similar machine to the AnBt ball machine. The machine's playing time on a single charge is one of the reasons it performs so well.
The game can be played for up to five to seven hours, which is impressive to me. This machine will seem like a bargain when you check the price and functions.
This Best Budget Tennis Ball Machine I have been using for a long time has great durability and I have enjoyed playing with it for a long time. I prefer tough machines to this one, so I wasn't a fan of playing with it.
As a tennis coach does for footwork backhands and forehands, this lightweight machine throws a ball on the first throw as a way to prepare you for the game. 
SCIFANTA offers a good topspin experience in comparison to backspin. Furthermore, it has a capacity of 30 balls in addition to its good structure and suitability for all levels.
There is good news: your machine can hold 42 balls by adding an additional ball stacker. Isn't that awesome?
A ball is thrown every four seconds by this machine that travels at 12mph. You will be able to play in your garden, on a court, or anywhere else you want with this machine.
Aside from that, it can be placed anywhere in your home, including your garage. It is very good-looking, so I recommend placing it in your room. No problem, don't worry about putting it in your room."
As a result, this machine is often referred to as a friendly tennis ball machine, as it is good for all ages, females, and the elderly. In addition, this is one of the best portable tennis machines on the market.
Pro players should not use this machine since it is not designed for them.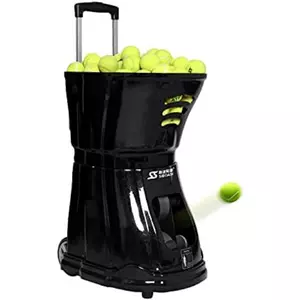 One of the most famous tennis players in my group is Siboashi. First thing you notice is that it is a good looking piece of equipment, sleek and shiny. 
As much as Siboashi is a perfect machine, she is so much more. As well as providing a wonderful experience, it may also be of aesthetic interest to you.
There is now the best cheap tennis ball machine available for those who want the best tennis machine. All the features you need at an affordable price can be found on this machine.
There is a remote control that allows you to control the ball's movement, as well as a 5-hour play time if you keep it on normal drills.
Additionally, it can be customized, and its drills can be tailored to fit your requirements. Once you've finished playing, clean these tennis machines before storing them at home.
Here's another cheap tennis ball machine, the same recommendation for you, since this was designed to help tough tennis players improve their skills.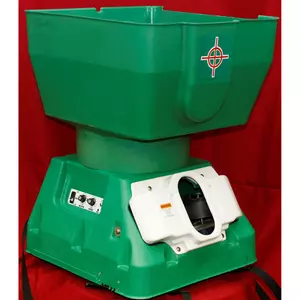 All levels of tennis players can benefit from the Sam iSAM machine. Since it is made of solid plastic, it is unbreakable even if it falls.
Despite its low price, it offers maximum spin control and comes with all the features you need. The program offers more than just drills and rehearsals. There is no machine on the market that is more reasonably priced than this one.
Additionally, the machine is relatively small and lightweight. It improves skill and sharpens shots, which is what makes this machine so great.
Tennis players who use the SAM iSAM machine every day will be able to tell the difference between it and other tennis machines within a short period of time. Due to the fact that the machine mimics actual matches, it's so low-priced.
It is probably one of those machines that can be used by anyone at any level and at any age.  It is hard to break because it is made of strong plastic.
Even so, this machine is designed to be affordable and accessible to everyone. 
Our Selection For The Cheap Tennis Machines
Whenever we are searching for the best cheap tennis ball machines, we take the price into account first. In order to achieve superior performance, we select only machines with the best ball capacity, feed rate, and oscillation, without sacrificing any functionality.
Students in tennis are then subjected to multiple tests. Students in the academy are asked about their experiences with machines after they have used them.
Additionally, I and all my pro tennis players try to stay on top of the latest trends in the market. We looked at various options to determine which machines fit into which categories. 
Furthermore, we boast decades of experience playing and teaching tennis using tennis machines. With our extensive tennis experience, we know what cheap machine is most likely to perform well.
Competition 
We have chosen the most cost-effective and effective machines available. There are many good machines available at a low price as well, that's obvious. 
The best cheapest tennis ball machines are lobster and Sliger Bag both amazing machines. Their performance is spectacular and they don't cost much to buy. This article has reviewed several machines, including Lobster, but Slinger is the most expensive. 
Inexpensive Tennis Machines
Compromising on price also means compromising on functionality. These machines are both inexpensive and effective, which we have gathered in this article. 
Despite not having big ball capacities like 300 or 250, these machines still produce good results at a reasonable price.
I think four hours is plenty of playtime on a single charge. There are others who have more than four hours. 
Main Difference
It is simply the price tag that makes a machine cheap or expensive. Tennis machines are not all expensive and feature-rich. Furthermore, there are machines that are low in price while offering very advanced features.
A famous brand usually comes at a high price. As a result, we have shown you some of the best inexpensive machines that are both reliable and inexpensive. 
You may enjoy reading How To Make Tennis Balls Last Longer?
How to Choose the Best Cheap Tennis Ball Machines
The reviews and personal experiences we shared with you have been completed. As far as I can tell, you seem to have chosen a machine based on your observations. Here are some essential factors that cannot be ignored when reviewing the guide.
Prior to purchasing a machine, several factors should be considered. I will, however, share some of the most important things I checked from time to time and was never disappointed with any of them.
When it comes to selecting a cheap tennis ball machine, there are several factors to consider to ensure that you choose the best option for your needs. Here are some things to keep in mind:
Price
As you're looking for a budget-friendly option, price is likely to be a significant consideration. Tennis ball machines can range in price from a few hundred to several thousand dollars, so it's essential to determine how much you're willing to spend before you start shopping.
Weight and structure:
You can't always count on family and friends to help you, whether you are in your late 60s or are suffering from joint pain. You should check the weight and handle of any machine before purchasing it, so that you can maneuver it from one place to another.
Machines that are attractive are obviously appealing. Isn't it nice to buy a machine that works well for all your requirements and looks great with a fantastic color combination?
It's like having a best friend when your machine has fine color and is in good shape. In your guest room, for example, you can place it anywhere. I tend to keep my room's machines occupied for the most part. My favorite sport is tennis, and I'm a big fan of tennis machines.
Durability
It's important to select a tennis ball machine that is built to last, especially if you plan to use it frequently. Look for a machine made from durable materials that can withstand regular use.
Battery Life:
Well, you have to consider several things before you purchase any cheap tennis ball machine. The art of finding the right machine at a low price is a skill I consider to be an art. The one with a perfect battery won't be revealed to you after reading the whole article.
It is good to have two or more of the following on the court at the same time: hard forehand, topspin, and backspin. That's amazing. Now I'm feeling it.
It's not uncommon for me to take my tennis machine on trips with me if I'm a passionate tennis player. Having your battery charged is then necessary.
Machine batteries need to be charged at the right time because there aren't many charging spots. When you're playing tennis and suddenly realize that the machine has stopped working, it can be frustrating, even if you don't go on trips. When you're angry, who can you turn to?
A minimum of four hours of power should be available for your machine.
Brand and Reviews: 
Lastly, check the brand and read customer reviews for the machine you are interested in. This will give you a better idea of the quality and performance of the machine and can help you make an informed decision.
Oscillation:
A machine that oscillates the balls on the court in different directions is known as an oscillation machine. Some machines oscillate randomly, while others can be customized. It is even possible to find cheap tennis machines with this feature.
Portability
If you're looking for a tennis ball machine that you can easily transport to and from the court, portability will be a key factor. Look for a machine that is lightweight and comes with wheels or a handle to make it easier to move around.
You may enjoy reading How Long Do Tennis Balls Last?
Renting vs. Buying a Tennis Ball Machine
Anybody who has researched top-end tennis ball machines knows how expensive these can be. Buying a tennis court is an expensive investment, which is why so many people rent them from tennis clubs.
Renting can be an excellent solution, but it can also be costly on its own. Once you have used it for a long time, you should invest in a ball machine that is portable so you can use it wherever you want.
In the beginning, all the major expenses are covered, except for basic maintenance and new balls every now and then.
The perfect sweet spot seems to be cheaper purchasing solutions. Ball machines aren't expensive that can't be moved around, so players don't invest several thousand dollars in them. For those, clubs can be relied upon. Smaller, more portable options are a better choice.
Do Tennis Ball Machines Mimic Actual Play?
You will notice a difference in the game overall when you invest in a tennis ball machine.
Having something to train with is always nice instead of relying on having a partner around all the time. It is possible to improve a game by combining real opponents with a machine.
Considering the examples above, one can see that tennis ball machines vary according to the player's caliber.
It can completely mimic how the game is played if you choose the right option. Although some of those machines are more expensive than the budget options listed here, affordable options are becoming increasingly available.
Frequently Asked Questions
Here are some frequently asked questions (FAQs) and their answers about the best cheap tennis ball machines:
What is a tennis ball machine?
A tennis ball machine is a device that shoots tennis balls at a user-specified speed, trajectory, and frequency. It is a tool that is often used by tennis players to practice and improve their game.
How much do cheap tennis ball machines cost?
Cheap tennis ball machines can cost anywhere between $300 to $1,000. While they may not have as many features as more expensive machines, they are still a great way for players to practice their skills without spending a lot of money.
How many balls can cheap tennis ball machines hold?
Most cheap tennis ball machines have a ball capacity of between 50 and 150 balls. While this may not be as many balls as more expensive machines can hold, it is still sufficient for most practice sessions.
What is the speed range of cheap tennis ball machines?
The speed range of cheap tennis ball machines can vary, but most machines can shoot balls at speeds of between 50 and 70 mph. While this may not be as fast as more expensive machines, it is still fast enough to challenge most players.
Can cheap tennis ball machines shoot balls in random directions?
Yes, many cheap tennis ball machines have oscillation features that allow them to shoot balls in random directions. This is a great feature for players who want to practice their footwork and improve their ability to anticipate different shots.
Are cheap tennis ball machines portable?
Yes, most cheap tennis ball machines are designed to be lightweight and easy to transport. They are often small enough to fit in the trunk of a car and can be taken to a tennis court for practice sessions.
What's Next?
For tennis players who are looking to improve their game without breaking the bank, there are some great options for affordable tennis ball machines on the market. The Wilson and Prolite Tennis Tutor are two of the best cheap tennis ball machines, offering ball capacities and speeds that can challenge players of all levels.
These machines also have oscillation features that allow for randomized shots, making them a great tool for practicing different shots and improving overall game performance. With their lightweight design and easy portability, these affordable tennis ball machines are perfect for players who want to practice on the go.
As well, you can check out other tennis equipment such as the best tennis balls, the best tennis rackets, the best tennis sunglasses, the best tennis shoes, and the best tennis shorts.