Who Are We?
David Harris
My name is David Harris and I am one of the founders of Tennis Pursuits.  I am a keen lawn tennis and real tennis (sometimes known as court tennis) player. I have played tennis both competitively and socially for the past 25 years and work regularly as a coach.
My father put a racket into my hand aged 5 years old and I have been obsessed with the game ever since. I created this website as I was frustrated about the low-quality information found online about the game, tips and tricks and the range of equipment used to enjoy this great sport. 
Miki

Janković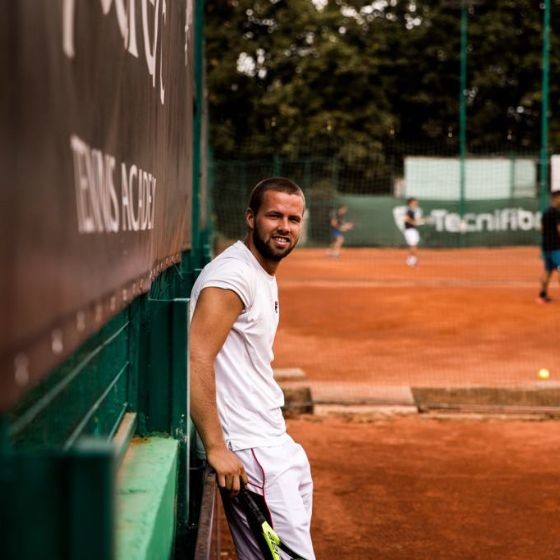 Miki joined Tennis Pursuits at the beginning of 2023 and is an integral part of the team.  He is an ex-professional tennis player, where he achieved the best ATP ranking of 256. Today Miki works as Head Coach at Baseline Tennis Centre in Serbia. For the last few years, he has worked as a private coach of doubles specialist Mate Pavic (former number one ATP doubles player), and as a hitting partner of Nikoloz Basilashvili.  Miki leads on a great deal of our content and tutorials. Miki is also a keen Padel tennis player. 
Miki Jankovic | Overview | ATP Tour | Tennis
We Provide Expert Tennis Advice
Tennis Pursuits is an informative and fun site. We have many in-depth guides on products and cover many topics on the game in our well-researched articles.  All of our reviews are unbiased and independently checked by the team.  We are players and want to give our audience that honest feedback. 
Our team are avid tennis fans with plenty of experience on the court. We hope our years of playing the game and reviewing products firsthand can add value to your game, save you time and money and get you on the path to becoming a more knowledgeable player.
Bring More Understanding to the Sport
Whilst tennis is a simple game to understand it can be an overwhelming hobby to start, so many of our readers are beginners looking for straight answers to their questions. We set this website out to cater to all players, coaches, and armchair fans.
Whether you're entirely new to tennis or an intermediate player looking for help, you'll find plenty of valuable and all-inclusive resources on Tennis Pursuits.
And make sure to follow us on social media! https://www.instagram.com/tennispursuits/?hl=en