Select the best women's tennis racket according to your skill level and requirements.
You may already be aware of how important it is to choose the right racket for your game. You can easily get overwhelmed when choosing a tennis racket brand and option from so many available options.
In order to reach your full potential on the court, you must choose the best women's tennis racket because it will play a pivotal role in your game style and performance.
The goal of this guide is to help you decide which tennis racket is right for you based on a review of some of the best tennis rackets for women available on the market. A racket will certainly meet the needs of any player, whether a beginner or a pro!
The 14 Best Tennis Racquets for Women
The following are my top picks for women's tennis racquets in 2023.
Babolat Pure Drive 2021
The Babolat Pure Drive tennis racquet is unisex – it's used by both men's and women's pro tours.
In terms of weight, the racquet weighs just over 11 ounces, which is perfectly manageable for most women.
This racquet is ideal for players of all styles and abilities, including aggressive baseliners who like to swing big and dictate the play.
Your groundstrokes will be more powerful and spinny when you do this. Dominika Cibulkova recently retired from tennis and used the extended-length Babolat Pure Drive Plus racquet, which you may come across while shopping.
There are also two lightweight Babolat Pure Drive models: the Team (which weighs 10.6 ounces) and the Lite (10.1 ounces).
Head Ti S6
With the good margin of error, playability, and other great features of this racket, we chose Head Titanium S.6 as the best tennis racket for female beginners.
Many beginners have found this to be extremely helpful, and with good reason. A titanium tennis racket such as the Head Ti S6 is very lightweight and durable due to its titanium material. Due to its large head size, the racket has a wider sweet spot and offers better control of the ball. This racket is also capable of producing a generous amount of spin.
As an intermediate racket, the Head Ti S6 is a great choice if you wish to master your shots and achieve precision.
Babolat Pure Strike 100
One of the best racquets for both singles and doubles is the Babolat pure strike. While delivering excellent topspin from the baseline, it's a gram lighter than the other two models.
In addition to its well-rounded performance, the Babolat Pure Strike stands out from the competition. This racket does it all, from groundstrokes to volleys, serves, and returns.
In the event you prefer something lighter, you can choose the Babolat Pure Strike Team, which measures 10.7 ounces. It's a great choice between these two racquets with the same great technologies.
Head Gravity Pro
There is no doubt the Head Gravity Pro is the best women's tennis racket. Despite being extremely stable, it is also extremely comfortable.
Players with aggressive game styles who are at the baseline will find this suitable. There is a great deal of spin and speed generated by it, as well as great flexibility and responsiveness. The performance and playability of this tennis racket brand have been enhanced by new technology.
With the Head Gravity Pro tennis racket, you can expect to play at an advanced level or at least play at an intermediate level. Hence, if you are just starting out, it might be best to go for another racket, otherwise, you might lose your balance quickly.
Wilson Clash 100
A popular Wilson offering since its release, the Clash is endorsed by former WTA player Nicole Gibbs.
With a weight of 11 ounces, it is ideal and manageable and will perform well in all areas.
The frame's remarkably low stiffness rating of only 55 makes this racquet well-suited for players who demand comfort. In spite of this, the racquet maintains plenty of power, spin, and feel while remaining incredibly comfortable.
In addition to the Wilson Clash 100L and Wilson Clash 100 UL, which weigh 10.3 and 9.9 ounces respectively, there is the Wilson Clash 100 L UL.
In addition, players can try out the Wilson Clash 108, which is characterized by an oversized head for more power and spin, and a heavier weight of 10.4 ounces.
Wilson Clash 100 v2
It is unlikely that you haven't heard of Wilson Clash 100 v2 unless you have been living under a rock. When it first launched in early 2022, it made quite a stir and has remained in the spotlight ever since.
With great playability, great performance, and flexibility, Wilson Clash 100 v2 is one of the best players' clubs on the market. In my opinion, it is one of the best tennis rackets for women on the market. With good responsiveness, it produces a lot of power and spin. Throughout the court, the racket performs well.
As well as being comfortable, it feels very nice on your arm. Its only downside is that it isn't suitable for beginners due to the level of skill required.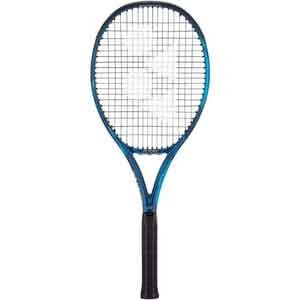 Yonex EZONE 98 2022
It is the racquet of choice for Naomi Osaka, Anastasija Sevastova, and Coco Vandeweghe, as it features a smaller 98 square-inch head size.
You'll love the weight, feel, and performance of this racquet, so you'll want to make sure you check it out.
Many options are available for players researching this racquet, which is a big plus. To get you started, here are a few suggestions:
Yonex EZONE 98L: 98 in² / 10.6 oz
Yonex EZONE 100: 100 in² / 11.2 oz
Yonex EZONE 100: 100 in² / 10.6 oz
Yonex EZONE 105: 105 in² / 10 oz
Yonex EZONE 108: 108 in² / 9.6 oz
Yonex EZONE Ace: 102 in² / 9.7 oz
It offers a wide selection of racquets for players of all levels and ages, making it one of the most comprehensive lines on the market. The one Naomi Osaka uses even comes in a special white limited edition.
Babolat Pure Strike Lite
There is a significant difference in weight between this racket and the Babolat Pure Strike 100 racket. If you prefer lightweight rackets or are transitioning from junior to adult frames, this racket is the perfect choice for you.
In order to ensure maximum control and stability, the Babolat Pure Strike Lite racket utilizes new technology. It generates a lot of speed and spin and has a very good response. Designed for aggressive baseliners, this racket will suit your game style.
It doesn't have as much feel and precision as other top rackets, but it's still a good choice for beginners or players looking for an inexpensive alternative.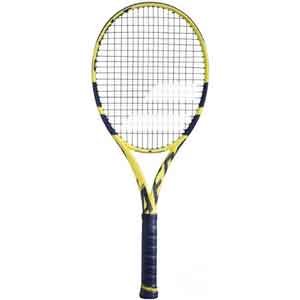 Babolat Pure Aero 2019
You'll likely enjoy the Babolat Pure Aero if you love aggressive baseline tennis. The racquet combines power and spin, which makes it popular among players.
Babolat Pure Aero Team and Lite, which weigh 10.6 and 10.1 ounces respectively, offer two additional options with the same weight as the other racquets on the list. Other than that, the racquet remains unchanged and performs as well as ever.
Even though she has retired, Caroline Wozniacki's preferred racket was the Babolat Pure Aero Plus, which has an extended length of half an inch over the standard 27 inches. Your power and spin will be enhanced by the added length.
Babolat Boost Aero
The Babolat Boost Aero is a great choice for beginners or kids transitioning to adult racquets because it's light and easy to use.
It has a smaller head size and weighs a few grams more than the Boost Drive, but it's still a good option to try out.
In the same way as the Babolat Boost Drive, it comes pre-strung.
Babolat Boost Drive
There is no doubt that the Babolat Boost Drive is the best racket for petite females. In addition to being lightweight, flexible, and affordable, it is also very durable. Beginners will find this racket ideal for developing and mastering their skills on the tennis court with this racket.
There is a lot of space for sweet spots in the Babolat Boost Drive racket, which results in a higher margin of error and more sweet spot space. Pushing and maneuvering it is too easy. There is a great deal of spin generated, it is precise, and it plays well.
Tennis rackets like this are also suitable for teenage girls and children above the age of ten since they do not require a lot of physical strength.
You may enjoy reading Does Pickleball Damage Tennis Courts?
Head Graphene 360+ Speed MP
The racquet on this list is not as powerful as the first one, but it does deliver balance across a wide range of attributes, helping players to perform well on the court from all positions.
The Pure Drive 2021 is the same weight, but its stiffness is significantly different, rated 64 as opposed to 71 for the Pure Drive. Consequently, there is slightly less power, more comfort, and added feel.
A quick glance at the racquet's name will reveal that MP stands for mid plus, indicating the racquet's 100 square inch head.
In addition, the Head Graphene 260+ Speed MP Lite weighs just 10.3 ounces, which makes it a great option.
Wilson Ultra 100
The Wilson Ultra 100 is the best racket available for high school girls due to its features and advantages. The game is well-balanced and is perfect for players who want to improve their tennis skills and build their confidence on the court.
Despite generating a good amount of spin and power, this Wilson women's tennis racket remains quite comfortable to use. With this racket, you will have excellent control, a light feel, and a lively feel. Due to its equal measures of power, control, and spin, it's suitable for players of all skill levels.
Its playability and performance will satisfy high school girls who have yet to discover their game style and master their skills in tennis. This women's tennis racket is just right for anyone interested in a career as a professional tennis player.
You may enjoy reading Why Should You Never Date a Tennis Player?
Wilson Ultra 110
You'll love the Ultra 110 if you appreciate comfort and ease of use in your racket. String bed gives you plenty of forgiveness, helping you stay in the point and power through winners.
This racket provides the largest sweet spot in the Ultra franchise.
The 110 square inch head size and lighter weight of this racquet make it ideal for beginners.
Those who play doubles regularly and are looking for a quality net frame may find it to be a good option as well.
You can start playing tennis right away with this best budget women's racket.
Tips for Selecting the Best Racquet
While shopping for a tennis racquet takes some time and effort, the reward is well worth it. When choosing the best women's tennis racket, there are many factors to consider. You need to choose a racket that is perfect for you if you want to succeed in your game.
Grip Size
When picking out your tennis racket, you should keep a few things in mind. The grip size is definitely one of the most important factors to consider. A racket's handle must be sized perfectly for your hand and the racket's handle must fit perfectly.
Grips on tennis rackets are numbered 1-5 based on their circumference. Feel free to try out different grips if you're unsure. If you want more grip, you can upgrade it at a small cost by going for a smaller size.
When you choose the right size grip for your tennis racket, you will be adding comfort and prevent injury while on the court. Beginners should experiment with different grips until they find one that feels comfortable.
Since grip size is often a matter of personal preference, there is no definitive answer as long as you feel comfortable. Moreover, check out our guide on the Eastern Forehand Grip in Tennis.
Demo Racquets If Possible
You might be able to test demo racquets at your local tennis shop or club if you're lucky. Taking the racquet out of the box and playing with it for a while is the best feeling.
Try popular online retailers who often offer demo programs on the racquets I recommend.
Use a friend's racquet
It's not always possible to access demo programs. In this case, you can borrow a friend's racquet if they play tennis in the wind. In addition to comparing the specs online based on your experience with the racquet, you can also compare it to other racquets on the list.
Budget
Making a choice on a women's tennis racket also requires deciding how much you're willing to spend. Each player has a different budget, so tennis rackets are available in a wide range of prices.
The best advice I can give you is to consider both your goals and skills before purchasing a tennis racket. My recommendation is to opt for a cheap option if you are just starting out and curious about tennis. You can upgrade later after testing the waters.
You can make a lot of progress on the court with the right racket, which is a great investment in the long run if you're looking to improve your skills.
Playstyle
You know your game style if you have already played on the court for some time and have at least intermediate skills. There are three main categories of tennis players
All court: Feeling comfortable playing in different court areas without losing rhythm or pace.
Aggressive baseliner: prefers to shoot groundstrokes, generates a lot of topspin, and favors the baseline.
Net rusher: Attacks the net with volleys to finish points, preferring to stay close.
Choosing the right tennis racket for you depends on the type of tennis player you are. The racket you use does not necessarily determine your game style or your type of player, but it certainly enhances your skills and talents on the court.
Do not worry if you are just starting out; you don't need to rush your style discovery. It takes time to figure out your game style, learn new skills, and discover what appeals to you the most.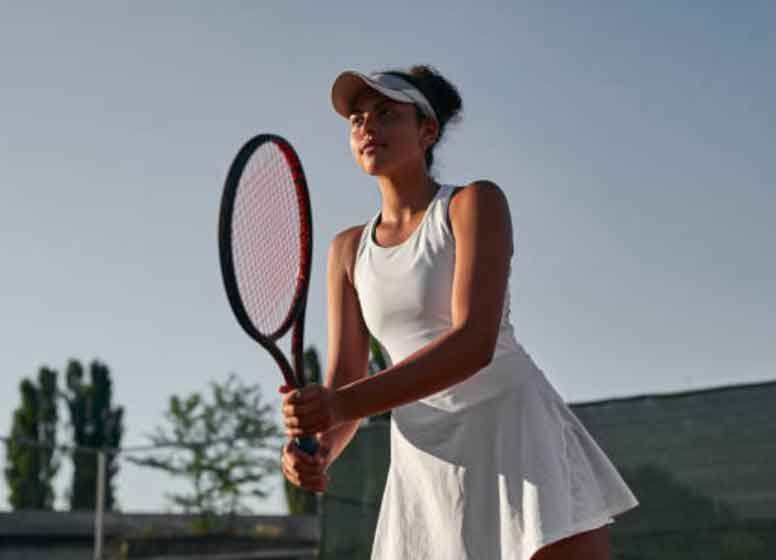 The long-term goals
When deciding what your long-term goals are, be honest with yourself so you can make an objective decision. Some people won't become professional tennis players, and that's okay. There is still so much fun to be had playing tennis, which can keep you entertained and keep you in good shape.
Think about your long-term goals before buying the best tennis racket for women. For beginners, choose a simple, easy-to-grip tennis racket for women if you are just learning the basics.
You can find many great options out there for cheap women's tennis rackets that will satisfy you. Unless this is your personal choice, you won't have to spend a lot of money if you just wish to try tennis out and have fun with your friends.
It's better to start with a simpler and cheaper option if you're aiming to become a professional. No worries; it will work perfectly and will enhance your skills and help you achieve your training goals.
Tennis rackets can be expensive, so if you're just starting out, you shouldn't spend a lot on them. The quality and features of it will wear off over time, and you will no longer be able to utilize them.
Professionals and highly advanced players should choose rackets that fit their abilities and needs and make the necessary adjustments. Always choose based on your current level and skills when starting out on your tennis journey! When it comes to enjoying your time on the court and improving your skills, you need to be realistic.
Also, read Nick Kyrgios Tennis Gear
Body Size
A woman's body size should be considered before buying the best tennis racket. It's your body size, you read that right. It makes perfect sense, but many people overlook it. Rackets react differently to women's bodies based on their body composition.
Rackets can significantly impact your performance and results if you think of them as extensions of your arm. It's best to select a tennis racket with a wide frame if you have a weak natural physique, for example. Rackets of this type produce a lot more power than others, which reduces the amount of effort you have to exert.
Since your body produces power, choose a narrow frame racket if you're strong. Don't waste time trying to compensate for what you don't have, but focus on what you do well.
It is also important to consider height. Taller players will have more powerful and longer shots, which makes narrow-frame rackets the best choice.
To add power to your shots, choose a tennis racket with a wider frame if you are shorter. By doing this, you will improve your performance on the court and prevent your rackets from wearing out too soon.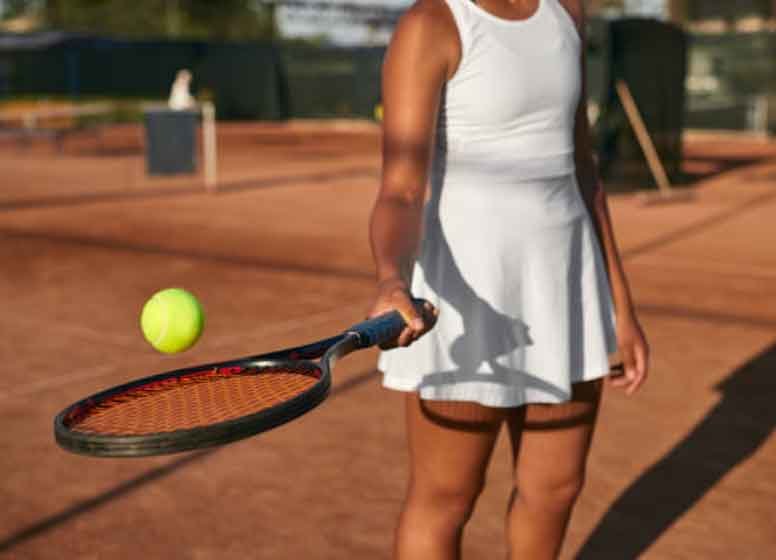 Watch the Video Guides
Watching videos of pros handling the racquet you're considering won't help you get an idea of how it feels – for example, Serena here with her Wilson Blade SW102 Autograph.
Observe how they play and how they make use of the racquet, but keep in mind that most pro tennis players have further customized their racquets.
Tennis Racquets Types
In the following discussion, we'll discuss the three types of tennis racquets: power, control, and tweener.
You can narrow down your options when shopping for a new racquet if you're familiar with them.
Power racquets
This type of racquet is ideal for beginners because it emphasizes power when hitting.
Large Head Size: The string creates the racquet's face at its head. In addition to increasing power potential, a larger head size provides more margin for error.
Lightweight: Typically, power racquets weigh between 8 and 10.5 ounces, making them easier to maneuver.
Stiff Frame: Racquets with stiffer frames typically have stiffness ratings between 55 and 75, with lower numbers indicating more flexibility and higher numbers indicating stiffer frames. By being rigid and deflecting more energy from the ball, a stiff frame gives you extra power. Rigid frames, however, can cause some players to discomfort over time due to shock and vibration being transferred to their arms.
Open String Pattern: When a ball makes contact with an open string pattern, it sinks deeper into the string bed and returns more energy. Additionally, it generates a topspin.
Control racquets
Ideally suited for intermediate and advanced players with experience, these racquets are designed for maximum control.
Smaller Head Size: Players have more control when their heads are smaller, which reduces the trampoline effect.
Flexible Frame: A flexible frame absorbs energy during a swing while increasing control and reducing arm strain. They are usually rated at 65 or lower.
Closed String Pattern: String patterns with smaller spacing between each string reduce trampoline effects and give you more control by reducing spin potential.
Heavier Weight: Heavier racquets have more power, but players must be strong to maneuver them. The smaller heads of control racquets reduce power, so the heavier weight compensates for it. An average control racquet weighs about 10.5 ounces.
Tips for Success
Each player must experiment with racquets of varying weights to see what works for them. The best way to do this is to experiment with a few racquets of different weights. Swinging a racquet for 30-60 minutes shouldn't hurt the wrist or arm or feel too heavy.
Tweener racquets
There is a middle ground between power and control racquets that is known as tweener racquets. Among their features are:
A head that is mid-sized
Flexibility in the mid-range
The pattern typically consists of an open string
Average mid-range weight of 10-11 ounces
A tweener racquet provides both power and control, but without overemphasizing one. Players of all levels can benefit from these racquets. We have something for everyone, whether you are a beginner, an intermediate, or an advanced.
Considerations for grip size
Tennis racquets should also have an ideal grip size, which is the circumference of the handle. There are varying grip sizes for adult tennis racquets, so measure for the right size after finding one you like.
Tennis players who use the right grip will be more comfortable while playing, as well as avoid injuries. As long as you feel comfortable doing so, you can choose a grip size that suits your preferences, no matter what size it is.
For most racquets, these grip sizes are available:
| Size | Inches | Millimeters |
| --- | --- | --- |
| 0 | 4 | 102 |
| 1 | 4 1/8 | 105 |
| 2 | 4 1/4 | 108 |
| 3 | 4 3/8 | 111 |
| 4 | 4 1/2 | 114 |
| 5 | 4 5/8 | 118 |
| 6 | 4 3/4 | 121 |
You can find the perfect grip size by checking out my grip size guide.
Strings for Your Racquet
Tennis racquet strings can be categorized into two broad categories:
Tennis strings are made from cow intestines, which have been used since 1875 and are highly resilient. The biggest disadvantage of these products is their high price. This causes advanced players to use their strings more often if they have a fine-tuned sense of how they perform.
With that said, they can be excellent options for players of every level who are willing to spend the money and don't mind the raw materials used – especially if you're concerned about comfort.
The most popular strings are synthetic strings, which provide something for everyone. In terms of synthetic strings, tennis players can choose from three categories:
Synthetic gut
Multifilament
Polyester
Check out my thorough guide to racquet strings for an in-depth look at all the different types of strings as well as some of my favorite choices within each category.
Tennis strings can also be purchased in various gauges and thicknesses. Strings with a thinner core make for a smoother feel and better spin, while strings with a thicker core make for a more durable string.
Tips for Success
Tennis racquets that are inexpensive for beginners often come pre-strung. You should also check if it comes pre-strung before buying strings online if you're buying it online.
Does Your Racquet Choice Matter?
Yes, absolutely. Tennis racquets can make a big difference in a player's ability to reach their full potential.
There is, however, one caveat. You will make the majority of your progress and success if you have good technique and use the fundamentals, not your racquet.
Alternatively, the right tennis racquet can help you optimize your game by enhancing it and maximizing its potential.
While evaluating racquets, keep in mind that every racquet is designed for a certain purpose, level, or style of play. There are racquets available to enhance power, control, topspin, or comfort, for instance.
Getting started with a racquet can be as simple as going for an affordable model or jumping right into a higher-priced performance model, but you shouldn't feel compelled to spend hundreds immediately.
It doesn't take much money to start playing tennis. That's a great approach for many players.
Tennis may not be right for you, but you will save money if you decide not to play. Alternatively, if tennis becomes a passionate activity, you can switch to a high-end racquet, and you'll be delighted and likely willing to spend the extra money.
If you're new to the game, you should focus on certain attributes in your racquet (which I'll discuss in greater detail below), as well as ask yourself some questions before purchasing.
WTA Player Racquets
It's helpful to educate players about the various racquets that are available for consideration, even if I caution them against buying the racquet that their favorite player is using.
The following is a list of the professional tennis players whose racquets I'm most frequently asked about.
Men's vs. Women's Tennis Rackets
It might seem confusing to a newcomer to tennis, but it is important to know what the difference is between men's and women's tennis racquets.
There are virtually no unisex racquets on the market. It is important to keep in mind, though, that women and men prefer specific characteristics in a racquet.
It is common for women to choose a frame with a lighter weight and a smaller grip size, but this isn't always the case. Therefore, both men and women commonly use the same racquet.
The only notable exception is. The Tecnifibre T-Rebound tennis racquet is specifically designed for women by Tecnifibre. As part of my top picks, we'll examine this racquet in more detail.
Having said that, there are two crucial differences, affected by your gender, to consider when purchasing your tennis racket, especially if you are a beginner.
Weight: It is biologically different for men and women to have different body compositions and muscle mass. Women find these types of tennis rackets difficult to control since men are naturally stronger and prefer heavier rackets for more power. It is generally believed that women prefer lighter tennis rackets since they can maneuver and control them more easily.
Head Size: Most women prefer rackets with smaller heads, which are more flexible, forgiving, and easy to control. The importance of this cannot be overstated, especially for beginners. This will make playing with it much more enjoyable for you. You can increase the size of your head as your skills improve.
FAQs
There is no doubt that a good women's tennis racket can make a world of difference. Flexibility, power, and spin can all be increased. There are many decisions to be made when choosing a tennis racket for women, however. Please find answers to a few more questions below.
u003cstrongu003eWhat is the best women's tennis racket?u003c/strongu003e
Babolat Pure Drive is the best women's tennis racket. Great design, flexibility, power, and control are all promised in the field. This racket is used by many famous players during their matches, which is no surprise.
u003cstrongu003eWhich size tennis racket is best for a woman?u003c/strongu003e
Tennis rackets are sized according to your height and weight. You will have more power and forgiveness using a racket with an oversize head if you are a female beginner. The better you get at controlling your bike, the smaller and mid-size frames you can switch to. u003cbru003eTennis rackets Head TI S6 are the best for female beginners. There is a lot of power and forgiveness in this oversize racket.
u003cstrongu003eHow much weight should a women's tennis racket have?u003c/strongu003e
Tennis rackets for women typically weigh between 260 grams and 290 grams. When you use a lightweight tennis racket, you will be able to swing it easier and hit your shots faster.u003cbru003eThere are many best lightweight women's tennis rackets on the market, but Babolat Pure Strike Lite is one of the best. This racket weighs 9.9 ounces (281 grams).
u003cstrongu003eWhat type of racket does Serena Williams use?u003c/strongu003e
Wilson Blade 98 is the racket u003ca href=u0022https://en.wikipedia.org/wiki/Serena_Williamsu0022u003eSerena Williamsu003c/au003e uses. Control and power are the main characteristics of this mid-size racket. She is able to control and play with greater power than she would with an oversized racket.
What's Next?
If you want to save yourself the frustration and headache of overspending or buying something you won't enjoy, it's worth the extra time to find the Best Tennis Rackets for Women for your game.
Additionally, you can improve your tennis game by installing a tennis net and practicing alone. Choosing the right tennis racket is important as you prepare for tournaments in 2023 like the US Open, Australian Open, and Monte Carlo Tennis.
To play tennis with tennis elbow, you can wear volleyballs and sneakers.
I'd love to hear from you if you have questions about tennis racquets or need help choosing one. Make sure you also check out our guide for Shortest Men's Tennis Players!