When choosing a racket, getting carried away with the latest model or what your favorite tennis star uses is easy. However, tennis rackets range from a few dollars up to $500, so even if you are a beginner, you do not have to spend a fortune on a racket. It is the great thing about tennis, you can get started quickly and cheaply these days and here we will look at some of the best cheap tennis rackets on the market today. 
We've put together a list of the best tennis rackets under 50 dollars so you can get started at a reasonable price. 
Tennis rackets like these are great options for new players, especially if you are just starting. You can improve your skills and have fun playing the game without breaking the bank.
The time will come when you can upgrade your rackets, but in the meantime, check out our list of budget-friendly rackets. To help you make an informed decision, here are my reviews of the best tennis rackets under $50. 
Best Tennis Rackets Under 50 Dollars – Our Review
Aside from price, we prioritized other factors when selecting the best tennis rackets under 50 dollars. Several options were tested ourselves and we selected the best ones based on performance, playability, flexibility, spin, power, and durability. Our final list was composed only of those that met all our criteria. 
This is our top pick on this list for the best tennis rackets under 50 dollars. Due to its good performance and low price, this has been very popular among tennis fans for many years. 
The racket is oversized at 110 square feet. A string pattern with an open design that has easy power. Strings allow for a longer dwell time due to the large sweet spot.  
There are many places on the court where the racket works well, but it's especially effective at the baseline, where it's easy to add depth with each stroke. Going for full swings generates a decent amount of spin and speed with some extra effort. With a slightly larger length than the standard, this racket is also easy to maneuver on the court.
We enjoyed playing with this racket, for the price it is a solid and comfortable racket. The racket is primarily targeted at beginners, recreational players, and juniors. 
It's no coincidence that we chose another Wilson tennis racket for the runner-up category. Tennis rackets from this famous brand come at good prices and are among the best on the market. We were particularly impressed by the high quality and performance of this one. 
There is a 110-square-inch area on the Wilson Tour Slam racket. In head size and length, it is larger than the standard. There is a lot of explosive power and speed in this racket. Due to its open 16×19 string pattern, the ball has more dwell time and an extremely large sweet spot. 
Adding stop shock pads to the racket's throat reduces vibrations and absorbs shock impacts. To increase the power and stability of the frame, new technology has been integrated into the frame. With a high margin for error, we found this racket quite forgiving. 
There is no weight penalty, it is easy to maneuver, and we can hit the ball cleanly. As you would expect from a beginner's racket, it doesn't offer huge amounts of control when the ball comes at you at pace or spin. As a beginner, these features aren't particularly noticeable, so they're not a deal breaker. 
A great value for its price, the Head Ti Conquest tennis racket is one of the best affordable tennis rackets. A 108 sq. inch surface area is featured on this racket.
An in-between 18×19 string pattern is used in the head size. You don't usually get these features with oversized rackets, and they provide controllable power and stability. The ball can also generate some spin, which makes adding depth to shots easier. Having good control over the ball makes hitting targets with precision effortless. 
Moderate swings are possible with these rackets, which makes them perfect for improving technique and skills. It is easy to maneuver the tennis racket due to its low weight. Additionally, it has a headlight balance, which makes it more powerful and stable. 
Frames with large sweet spots are very forgiving and do a good job of dumping harsh vibrations. With titanium materials, this Head tennis racket is long-lasting and durable. 
All in all, this racket provided a great performance with no complaints. Beginners and recreational users will mostly benefit from it. Despite this, it is still an excellent choice for early intermediates and individuals recovering from injuries.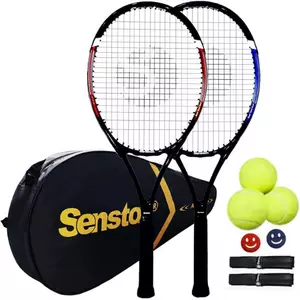 The Senston tennis racket set is the best budget tennis racket if you are looking for a beginner racket and do not want to spend much money. Purchasing these rackets will give you two top-quality rackets at an incredibly low price. With open string patterns and midsize heads, these balls are powerful and spinny. 
Full swings are effortless thanks to the racket's lightweight and easy maneuverability. Specially designed for strokes and serves, the brand has enhanced playability and control. Even during intensive exchanges, it can maintain speed easily. 
A large sweet spot is hard to miss on these racket frames, which are very forgiving. A racket cover, two vibration dampeners, two overgrips, and three tennis balls are also included. Given the versatility and low price of this Senston set, it's a great deal. 
Whilst many rackets are gender-neutral, this is a great tennis racket for women tennis players or juniors looking for a lighter option. Among the best tennis rackets under $50, we recommend the Wilson Racquet Sports Triumph. 
With a surface area of 112 square inches, this racket is oversized. A 16×19 string pattern is present in the head. As a result of the playtest, we were astonished to see how powerful it was. Across the court, it works well with full, fast swings. Due to the large size of his head, I was able to block dangerous serves or put away volleys with relative ease. 
New technology has made it possible for the brand to enhance control without sacrificing maneuverability, so shots are more precise. Wilson tennis rackets have a large sweet spot and are lightweight and flexible. As a result, the ball has more dwell time and a higher margin of error. 
Despite its performance, we found this racket isn't very 'spinny' or stable, which impacts the overall performance in our opinion. 
This is the best tennis racket under 50 dollars for kids. There are many features on this racket that children will need on the court, and it is very user-friendly. There is an open string pattern on the head and it is capable of delivering a lot of power.  
Forgiving and with a large sweet spot, the frame offers a fair amount of margin for error. Children can maintain a good pace during the game with its soft response and controllable speed. Stability and maneuverability are both good qualities of the racket. As a first racket for a junior beginner, it is suitable for ages eight to eleven. 
In terms of quality and affordability, this is one of the best cheap tennis rackets for children available. This Head junior racket is highly durable, and safe, and can meet all your child's tennis needs. 
You may enjoy reading Best Tennis Rackets for Tennis Elbow
Among the best tennis rackets for beginners is the Dunlop Sports Nitro Adult, which can be purchased for an incredibly low price. For those who are still learning the basics of the game, the racket's frame is versatile and easy to play. Featuring an oversized head and an open 16-19 string pattern, it is forgiving and powerful. You'll be able to hit bigger shots or swings for a longer time due to the savings of energy.
Beginner players can experiment with different techniques with this racket, as it works well all around the court. Because it weighs just 9.7 ounces, it is very lightweight and easy to maneuver. With the racket, you get a nice, clean impact feeling and more dwell time for the ball. 
We found that at times we could not control the ball as much as we wanted which limits its ability to hit precisely. 
The potential for generating spin remains relatively low, even with a little extra effort. Considering the racket's technicalities, the drawbacks were not surprising. As a beginner, recreational player, or even a teenager, this is a superb option. 
It's time to consider the Head Tour Pro if you're still undecided about which racket to choose. With its beautiful design and great performance, this tennis racket under $50 is a great choice. Players who are still mastering their skills can take advantage of it, whether they are beginners, recreational players, or juniors. 
The racket makes the game fun and versatile. There is a large 110 sq. An incredible amount of power can be generated by the brain. As a result of the new technological advancements, the player can practice more precise shots, as well as redirect the ball's landing on the court. 
Also, this racket can help players establish good rhythms and paces and can generate easy speed. A soft response and a lightweight design make it easy to maneuver. In addition to allowing for more dwell time, the open string pattern increases power potential. People suffering from tennis elbow syndrome or other injury complications may find this Head racket to be a great alternative. 
Because they are suitable for beginners, the only drawback we found was their low spin and control levels.
A special mention should be made of the fact that this is a model from Head's iconic Tour line, which is known for its high quality. 
How to Choose the Best Tennis Rackets Under 50 Dollars
So what should you be looking for when choosing a racket at this price range? Below we list some of our top tips before purchasing a racket under $50.
Performance: Look for a racket that offers good performance. This means that it should be able to deliver power and control, allowing you to hit the ball with precision and accuracy.
Playability: The racket should be comfortable to use and should feel good in your hand. Look for a racket that is easy to maneuver and has good balance.
Power: Look for a racket that is powerful enough to hit the ball with force. This will help you to hit winners and keep your opponent on the defensive.
Speed: Look for a racket that is lightweight and fast. This will allow you to move quickly and get to the ball in time to hit a good shot.
Control: The racket should be able to provide you with good control over your shots. This means that you should be able to hit the ball where you want it to go.
Spin: Look for a racket that is designed to produce spin. This will help you to hit shots that curve and dip, making it difficult for your opponent to return them.
Comfort: Look for a racket that is comfortable to use. This means that it should have a good grip and should not cause any discomfort or pain in your hand.
Brand reputation: Look for a racket from a reputable brand. This will ensure that you are getting a quality product that is backed by a company with a good reputation in the tennis community.
In summary, when choosing a tennis racket under $50, look for a racket that offers good performance, playability, power, speed, control, spin, and comfort, and is from a reputable brand.
Keep in mind that while you may have to compromise on some of these factors when shopping for a budget racket, it is still possible to find a quality racket that meets your needs and fits your budget.
You may enjoy reading Different Parts of a Tennis Racket
Here are some answers to the most commonly asked questions about tennis rackets under $50. Check your question below to see if it has been answered.
Are these tennis rackets suitable for beginners?
Yes, all of these tennis rackets are suitable for beginners. They are lightweight, easy to handle, and provide a good balance of power and control. They are also affordable, making them a great choice for players who are just starting.
What is the difference between a $50 tennis racket and a more expensive one?
More expensive tennis rackets often have more advanced technology and materials, which can result in better performance and more durability. They may also have a larger sweet spot, more power, and better control. However, for beginners or casual players, a $50 tennis racket is still a good option.
What should I look for in a tennis racket under $50?
When choosing a tennis racket under $50, look for one that is lightweight, has a comfortable grip, and has a good balance between power and control. It's also important to consider the size of the racket head and the length of the racket, as these can affect your swing and overall performance.
Can I still play competitively with a $50 tennis racket?
While more expensive tennis rackets may provide some advantages, a $50 tennis racket can still be used competitively. As long as you choose a racket that is comfortable, lightweight, and has a good balance of power and control, you can still perform well on the court. Remember, it's not always about the equipment, but about how you use it.
Final Thoughts?
As the best tennis racket under $50, we recommend Wilson Adult Recreational. A good blend of features makes it easy to play. Power, spin, and maneuverability are all packed into this lightweight, forgiving racket. If it were cheaper, it would be a steal. We were impressed with the performance and price. 
Wilson Tour Slam is another great option. Beginners and recreational players will enjoy this tennis racket, which checks all the boxes. It features a larger sweet spot for easy playability and a versatile frame packed with power potential.
Additionally, you can check the guide of Best Yonex Tennis Rackets. If you have enough budget you can find a good tennis racket for under 100$.