A quality tennis shoe doesn't have to be expensive, despite what many players and marketers will tell you. Finding the best tennis shoes that offer both performance and affordability can be a daunting task.
If you are just getting started or if you are keen to try tennis out you might find that the best tennis shoes do not have to cost you the earth. 
My favorite men's and women's tennis shoes are described in this guide, as well as what makes a great pair.
The Importance of Quality Tennis Shoes
Tennis shoes are designed to provide stability, support, and cushioning while allowing for quick movements on the court. Quality tennis shoes can prevent injuries and enhance your overall performance, whether you're a professional player or a casual enthusiast.
7 Best Cheap Men's Tennis Shoes – Our Review
Even though these cheap tennis shoes are inexpensive, they deliver solid performance.
The following sections provide additional details about each shoe, and I've put together a quick comparison below.
A mid-range price and a mid-weight package make the Asics Gel Dedicate 7 a great option.
With a rubber outsole that provides a decent amount of traction and average abrasion resistance, this pair of shoes is designed for durability.
GEL Cushioning and a standard EVA midsole are incorporated into the Gel Dedicate 7, which can absorb shock on any court surface.
Finally, synthetic leather is used on the upper for adequate support.
It may be abrasion-resistant, but I find it lacks ventilation despite its abrasion resistance. I recommend choosing a lighter colorway if that's a concern.
As the next shoe on the list, the Adidas CourtJam bounce is similar in many ways. Despite their similar styles and price ranges, both shoes have a few subtle differences that make them stand out from one another.
To begin with, they are equipped with the same Adiwear rubber outsole and tread pattern.
Compared to the same court, one primary difference is the midsole, which features Adidas Bounce technology for comfort. I believe this midsole offers excellent support, yet it offers a bit of extra response or feel.
Featuring a mesh upper for ventilation and a toe box at the front for durability, the shoe is made up of mesh.
It is a solid all-around performance shoe that is surprisingly affordable from Adidas.
My favorite mid-range tennis shoes are the Adidas GameCourt. They offer excellent comfort while being lightweight.
A herringbone pattern on the outsole gives plenty of grip across the Adidas range of tennis shoes made with Adiwear rubber.
Cloudfoam is used in the midsole of the shoe for comfort, offering plenty of cushioning that is impact-resistant.
Finally, although the upper is comfortable, it does not meet our expectations in terms of its stability and durability. I'd love to see some extra durable material covering the front of the foot along with a bit more cushioning in the heel collar.
The Adidas GameCourt, however, is an excellent choice for tennis players seeking affordable, comfortable shoes.
Consider the Adidas Adizero Club 2 if you're looking for a men's tennis shoe that offers great lightweight performance at an affordable price.
Providing traction to the shoe are Adiwear rubber outsoles, which are durable, non-marking, and non-toxic.
Most of the comfort of a shoe is provided by the midsole. Combined with a high-quality EVA midsole, the Adizero Club 2 features Adiprene+ at the shoe's heel to ensure comfort and shock absorption. As well as the SprintFrame chassis midfoot, Adidas also uses the SprintFrame in the midfoot area to provide stability.
Featuring Climacool for maximum comfort, the upper mesh bootie of the Adizero Club 2 boasts a tight fit. As part of the shoe's defense against abrasion, Adituff is also strategically used on the shoe's toe cap and inside edge.
We have heard comments that this shoe is not the most durable, that said this is a good tennis shoe and is a comfortable fit.
With its comfort and stability, the Asics Gel-Game 7 is another affordable all-around performer.
This shoe's outsole consists of durable rubber with traction on any court surface and a non-marking rubber tread.
To provide a high level of comfort, the shoe has Asics' Gel Cushioning in the midsole and quality EVA foam in the outsole. An Ortholite insole provides comfort and moisture management.
Further, the mid-foot Trusstic technology of Asics enhances the shoe's stability during sharp movements and prevents twisting.
In addition to a mesh upper that offers breathability, the Asics Gel-Game 7 features synthetic leather overlays for added durability and support.
It would be great to see a bit more durability in this shoe, as with many of the more affordable options.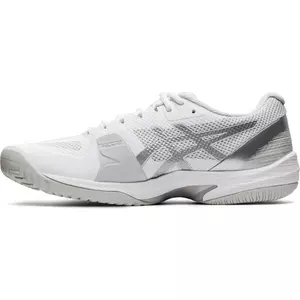 In an inexpensive yet responsive and lightweight design, Asics Gel Court Speed offers comfort and responsiveness.
An outsole with a herringbone-style pattern is designed to provide long-lasting durability. For stability, the outsole is divided at the midfoot with the Trusstic system.
Gel cushioning is located at the ball and heel of your foot to further absorb shocks. The midsole is made from generous EVA foam for comfort throughout the shoe.
PGaurd Toe Protectors help resist the abrasion typical of that area at the top of the Gel Court Speed, wrapped with a comfortable mesh. Like many others on the list, my main concern with the shoe is durability.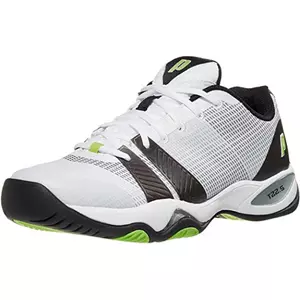 Developed from the time-tested, affordable Prince T-22, the T-22.5 boasts both comfort and stability, attributes appreciated by many users.
The shoes' outsole consists of PRC 1000 for durability and a tread pattern that will work well on hard courts as well as soft surfaces.
All-over comfort is provided by the shoe's EVA foam midsole. The shoe also features a ShockEraser unit at the heel and a SoftSprint insert at the front for extra shock absorption. The midfoot of the shoe has a wishbone shank for stability.
With its open mesh upper, the Prince T-22 has a ventilation system, and Prince wraps it with synthetic materials for added stability and a toe cap to protect your feet.
In the previous generation, the shoe's primary drawback was its weight, but this version has been improved upon.
7 Best Cheap Women's Tennis Shoes
My picks for these inexpensive women's tennis shoes will satisfy your need for bargain performance at an affordable price.
My next section will go into more detail about each of the shoes that I have compared below.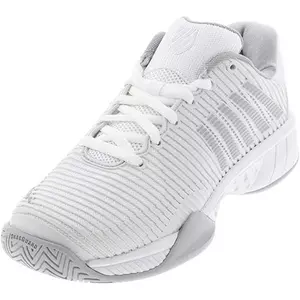 It features comfort and stability in a variety of colors, making it one of the most popular tennis shoes for women.
K-Swiss's Aosta 7 rubber is used on the shoe's outsole, which offers excellent traction and resistance to abrasion.
There is an EVA foam midsole on the shoe that provides cushioning, and in the middle of the foot, there is a more rigid plastic insert that provides stability.
In addition to a mesh upper that breathes well, the Hypercourt Express 2 sports a Durawrap overlay for extra support and protection.
To further enhance comfort, this shoe features a special insole that helps manage moisture underfoot through ventilation.
The shoe's main downside is durability, often a drawback to shoes with a lower price point.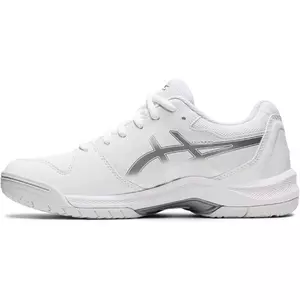 A comfortable and affordable mid-range tennis shoe with comfort and stability, the Asics Gel Dedicate 7 is one of my favorites.
For all-court grip and durability, the outsole features a familiar herringbone pattern of solid rubber. In addition to the generous toe guard, the shoe is equipped with a heel counter for added comfort and security.
In addition to Asics' Gel Cushioning System, the Gel Dedicate 7 features a responsive, lightweight EVA foam to provide added comfort while on hard courts. Most Asics tennis shoes have a mid-foot shank at their bottom which gives these shoes stability and prevents them from twisting.
The upper is constructed from durable synthetic leather, which provides stability and comfort without sacrificing breathability.
The main disadvantage of this product is its durability at its price point.
There is a midrange shoe that provides excellent all-around performance as well, the Adidas CourtJam Bounce, which provides both comfort and ventilation.
Adiwear, a durable rubber used on the outsole, offers excellent traction and provides good traction on most courts.
Adidas Bounce midsole provides shock absorption and comfort through proprietary EVA foam. Additionally, a rigid mid-foot shank limits the lateral twist of the shoe and provides stability.
In addition, Adidas CourtJam Bounce's upper maintains a cool, comfortable temperature through a mesh construction, which is topped off with a durable TPU wrap to give you additional protection and stability.
There's nothing wrong with CourtJam bounce, but some people might find the stability lacking.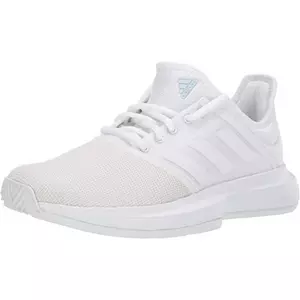 Adidas GameCourt shoes are also wallet-friendly and offer a similar level of comfort and performance as Adidas CourtJams.
Featuring a tread pattern that performs well on all court surfaces, the shoe's outsole features Adiwear rubber for reliable traction.
With its Cloudfoam EVA midsole, the GameCourt provides both comfort and shock absorption.
Despite keeping the shoe lightweight, breathable, and comfortable, the upper's full bootie construction offers comfort.
They could provide a bit more stability as CourtJam bounces do.
With an affordable price tag and no compromise on stability, the Gel-Game 7 is a shoe you won't want to miss out on.
You can use the shoe on any court surface thanks to the shoe's durable rubber outsole.
Asics' Gel Cushioning midsole is enhanced with a stiff Trusstic midfoot shank that provides stability at the midfoot area.
To keep your feet cool, the lightweight upper is breathable and showcases some extra durability around the toe area.
Despite being a great shoe, this model could have been more durable.
With the Gel Court Speed, Asics offers another outstanding shoe at a mid-range price.
Asics High Abrasion Rubber is used on the outsole, providing excellent traction on the court.
Among the shoe's more significant changes from its previous model is FlyteFoam in the midsole. Adding stability to the shoe's middle, Asics uses a Trusstic resin shank.
As a final feature, the upper of the shoe features a comfortable and breathable mesh that is both durable and stable.
In general, the shoe is excellent from Asics, although it might benefit from a bit more durability.
In addition to providing players with comfort and stability, the T-22 is Prince's most popular women's tennis shoe. This T-22.5 update, however, is an excellent refresh and the company's latest update.
In the outsole, a herringbone tread enhances traction and is suitable for most court surfaces thanks to its durability.
On the lateral side of the shoe, the ShockEraser unit on the heel is paired with SoftSpring technology for impact absorption on the forefoot. The midsole is made up of EVA foam for comfort, while the shank is made up of wyshbone for stability.
As for the upper, it has breathable mesh, which Prince protects by adding a combination of synthetic materials that strengthen the shoe and prevent it from getting abrasions from hard courts.
There is one major complaint regarding the shoe, and that is its weight, which may feel heavy to some players used to shoes in this price range. Nevertheless, the newer model is lighter than its predecessor.
Tennis Shoes: What Makes A Great One
Whether you spend a lot or a little, it's important to ensure your tennis shoes protect your feet and support your longevity.
The good news is that you don't have to spend much money to buy a good pair of tennis shoes, but you should consider a few factors when shopping.
In this guide, I've selected the best cheap tennis shoes that meet all of these criteria but let's explore each one and why it's so important.
Stability
Due to the common multi-directional movements a player makes when hitting, stability is critical in tennis shoes.
It is common for tennis players to move backward, forward, sideways, and diagonally, frequently with sharp starts and abrupt stops.
You must wear a shoe that will provide adequate support for your feet and ankles so you do not suffer an injury.
Traction
Stability is one of the most important factors to consider when choosing tennis shoes, but traction is another.
A player should be able to maintain solid footing throughout the court, especially when making quick and sharp movements. A tennis shoe's traction is determined by two components.
To begin with, manufacturers are striving for the optimal rubber compound when choosing the material of the outsole. The softer the material, the less durable and the more quickly it will wear out. Too stiff, however, will make it slippery and dangerous.
The tread pattern of the shoe is also important to how well it grips the court and it can vary depending on the surface.
Hard Courts: A shoe for hard courts has the widest variety of tread patterns. It is more common than not, however, for manufacturers to use herringbone patterns or variations of herringbone patterns. The pattern also works well on clay and grass courts if players alternate between these surfaces periodically.
Clay Courts: The bottom of some tennis shoes features a true herringbone pattern along their entire length. As a player moves around the court, the pattern naturally releases debris as he or she moves to ensure consistent and confident slides.
Grass Courts: You can still find grass courts in certain areas with ideal environmental conditions, even though they are not common. Tennis shoes that are designed for grass courts often have small studs or pimples on their outsoles to provide a better grip on the surface. The treads have to be subtle so as not to damage the courts excessively.
When a player has the opportunity, they can use these tennis shoes on clay, grass, and hard courts.
Even so, grass and clay court shoes shouldn't be worn on hard court surfaces because the soles are usually softer and less durable, which is insufficient to handle the abrasive surface.
Hard courts can be played with clay or grass court shoes, but the outsoles will wear out much faster, thus requiring more frequent replacements. If you do, ensure that your shoes don't damage the court by having nonmarking soles.
You may enjoy reading Can A Tennis Player Jump Over The Net?
Comfort
Tennis players usually play on hard courts, which are unforgiving and hard on their bodies over time. Consequently, ample cushioning is one of the most sought-after features in tennis shoes.
Tennis shoes tend to be stiffer than your average shoe for stability, so make sure you buy a pair that offers adequate comfort. It's important to know that running shoes don't have the same cushioning as walking shoes.
In terms of comfort, the shoe's midsole is primarily responsible. In addition to the lower portion of the shoe, the upper also plays a significant role in how comfortable a shoe is.
Durability
Durable shoes tend to last longer on hard courts, where abrasion can wear down the sole quickly.
Its outsole or bottom layer will be responsible for much of the durability of a tennis shoe since it will always be in contact with the court.
In addition, you should look for shoes that provide adequate support for the forefoot (especially around your toes), since these are often bumped against or dragged on the court.
Ventilation
It may be more or less important to ventilate on a tennis court depending on the climate or season. Nevertheless, it's worth mentioning because many players play tennis outdoors during the summer months.
You may enjoy reading How to Play Tennis in the Wind.
Often, breathable mesh uppers are used on ventilated shoes to let in cooler air and let out hot air. Nevertheless, how hot a shoe feels on a player's foot is also dependent on its lining.
Consider the color when purchasing if you find that there aren't many shoes that emphasize ventilation as a major feature. Heat is absorbed more readily by dark colors, while less heat is reflected by lighter colors.
Non-Marking Soles
Tennis shoes come with non-marking outsoles by default to prevent scuff marks on the court. Hard courts require different shoes than clay and grass courts.
Tennis shoe brands that are popular, and don't mark courts, should not be a problem, but if you venture outside of them, make sure they won't. In most places, including clubs and public courts, it's good etiquette to wear them.
Expensive vs. Cheap Tennis Shoes
It's good to know why tennis shoes cost what they do, even if it's not necessary to break the bank for a pair of the best.
So that you can decide if a tennis shoe is worth considering, let's look at a few of the key factors that determine its price.
Latest Models & Styles
Tennis shoes have always been expensive, and you can expect that to continue.
To remain competitive, top brands constantly invest in new technologies, materials, and construction methods, but eventually, someone has to cover the cost. There is a price to pay for getting the latest and greatest.
The top pros wear and endorse these shoes on the court, which is no surprise.
Materials
A tennis shoe that costs more will typically feature a more advanced or modern material compared to one that costs less. A greater variety of materials will also be used.
As for the best cheap tennis shoes, they typically use tried and true materials and are more affordable to manufacture because they have been around for decades.
Tennis shoes with an expensive outsole might offer better durability and lighter weight than their less expensive counterparts.
Construction
Tennis shoes that cost more will have more complicated construction methods to achieve maximum performance, whereas tennis shoes that cost less will be simpler.
The construction of less expensive tennis shoes is usually more straightforward, thus making them less expensive. Many of the features of expensive tennis shoes are simply removed, making them less expensive.
Endorsements
The importance of endorsements cannot be overstated. Those who wear the same shoes as the best tennis players are more likely to spend more on their shoes.
Despite knowing we won't play like Roger Federer when we wear his shoe model, we still spend hundreds of dollars to buy his shoes.
You may enjoy reading Unforced Errors in Tennis
Why Should You Spend More?
In my opinion, a new tennis player isn't going to move around the court in the same way that an advanced player does, so a high-end pair of tennis shoes isn't necessary.
The additional features offered by a shoe will likely become more important to you as your skills develop and you become more competitive. Therefore, if you choose to upgrade, you can justify the additional cost.
Tennis shoes must be stable, but as you move more, you may need more support, which higher-end shoes can provide.
A tennis court can be a very comfortable place when you spend hours on it each day, unlike when you're just starting and playing for an hour or two at a time.
Getting Expensive Shoes for a Low Price
You can buy top-of-the-line tennis shoes for less by keeping these tips in mind despite the bargain prices available for many best cheap tennis shoes.
Be Patient
It's better to hold off on buying the latest tennis shoe when it first comes out than to buy it right away and then pay more later on.
Seasonal deals are often offered by retailers right before a new model is released, with the deepest discounts usually coming right before the release.
The downside is that retailers do not always backfill inventory for a shoe when a new model is introduced, but it is one route you can choose.
Be Flexible With Colorways
There will, of course, be more popular colorways of a certain shoe model than others. The more popular shoes will usually feature deeper discounts to move inventory if you can avoid buying them in the long run.
To find these deals, you'll need to keep an eye on retailer websites when a shoe first comes out and see which colorways are in high demand.
You may enjoy reading Do Female Tennis Players have to Wear Skirts at Wimbledon?
Check All Retailers
It might be a good idea to check other websites periodically if you buy your shoes from a store specializing in tennis gear.
Check out some of the specialized stores that often offer discounts to clear out inventory if you primarily buy your shoes from the most prominent retail sites.
Subscribe to the email lists of different websites that sell shoes so you will be informed when a sale goes on. Often, these offers are limited in size, so you'll want to take advantage of them before they sell out.
Can Affordable Tennis Shoes Compete with Premium Brands?
You might be surprised to find that budget tennis shoes can often rival their premium counterparts in terms of performance and comfort. The key is to choose wisely and prioritize the features that matter most to you.
Faqs
What are some good options for affordable tennis shoes? 
Some popular options for affordable tennis shoes include the Asics Gel-Game 7, the Adidas GameCourt, and the Asics Gel Dedicate 7.
Are there any budget-friendly tennis shoes that are suitable for players with wider feet? 
Yes, the Asics Gel-Game 7, and the Adidas GameCourt are both great options for tennis players with wider feet, and they are relatively affordable.
What should I look for when shopping for cheap tennis shoes? 
When shopping for the best cheap tennis shoes, it's important to consider the level of support and stability they provide, as well as the durability of the materials used. Look for shoes with good traction and a comfortable fit.
Are there any cheap tennis shoes that are suitable for clay courts? 
Yes, the Adidas Adizero Club 2 and the Adidas GameCourt are both great options for clay courts and are relatively affordable.
Final Thoughts
In conclusion, finding the best cheap tennis shoes can be a challenge, but there are plenty of options available that offer good support, stability, and durability. It is not all about great design or wearing what Novak Djokovic plays in.  It is about finding shoes that suit your feet the best and by selecting one of the above you won't go far wrong in finding the right shoe.  
If you are interested in shoes that are more expensive then check out the articles we have written on other shoes;