Top 7 Best Tennis Rackets for Beginners in 2023 – Our Review
Even choosing the best tennis rackets for beginners can be challenging, especially when it comes to selecting a new tennis racket.
It's important to know there is no "best" beginner racket and there are plenty of ways to help you find the right one.
Like our article on the best tennis rackets for intermediate players, we won't claim there's one racket out there that's better than the rest, but we'll give you some things to keep in mind, and then we'll tell you which rackets we prefer.
Top 7 Best Beginner Tennis Rackets
This list of the seven best tennis racquets for beginners is based on our research. Tennis racquets are classified as adult racquets for all seven of these models.
Our recommendations for the USTA rating level for each racquet are accompanied by detailed descriptions, specifications, and relative prices (on a 1-3 scale). The racquet's image was also included with a list of pros and cons.
The best beginner tennis racquet under $100 is perfect for teens and adults just starting out.
Titanium structure produces a lightweight (8.9 oz strung) racquet that is easy to control from the baseline and avoids tennis elbow.
Since this racquet has a large frame and is weighted towards the head, you can generate power with your shots. In case you mishit the ball, it has a huge sweet spot thanks to its large 115 square inch frame.
Besides the string pattern, this is one of the best tennis racquets for spin as well. The more you practice, the more topspin you'll be able to generate. There is a widening of the main strings as they move away from the handle on this racquet. Combining this with frame technology gives us an excellent feel for this racquet.
The best value tennis racquet for avid recreational players is also this racquet. For advanced players, we recommend a different racquet as it is bulkier and more difficult to maneuver at the net.
Babolat rackets are most associated with the Spanish great, Rafael Nadal. With its easy-to-manage design, the Babolat Boost Drive is a great tennis racket for beginners as well as beginners who are improving their game.
With a head size of 104 square inches, you have a wide margin of error when you hit the ball. When you are in contact with the ball, it gives you a great power output and a great level of comfort.
To make this racket even more comfortable, Babolat added their Woofer grommet system. As a result of this new addition, the racket provides a powerful and aerodynamic beam that guarantees impressive accuracy and precision. 
From the baseline, the Boost Boost Drive moves smoothly through the contact zone without any problems. It is also ideal for topspin players because it provides you with explosive acceleration and great spin. 
At the net, the larger head size makes blocking the ball easy. Due to its lightweight, you can easily swing the racket around, making it almost effortless to use. The Boost Boost Drive also provides the power needed for serves. 
Some players have reported that the racket's frame is too weak, causing it to break after a few months.
The racket works just fine for most people, even over time; however, this might still be worth mentioning for the minority.
The Babolat Boost Rafa is the best beginner tennis racket under $100. The sweet spot and head size of this racket is quite good making this racket a good option. 
As I mentioned above, if you're looking to drastically improve your game, you might not want to always choose the largest, most lightweight racket available. 
The head size and weight of this racket aren't too large or too small, which makes it great for this purpose. Even though it is so much cheaper than other rackets, you'll find that this racket is extremely comfortable to use.
For those looking to focus more on the spin, the 16-19 string pattern provides a decent amount of topspin. Similar to Boost Drive, this racket also includes Babolat's Woofer technology.
You can achieve maximum comfort and control with this technology, as mentioned above. It is also worth mentioning that the frame is quite stiff, making it useful for both hitting backhands and forehands. 
Despite its lack of power, this racket offers amazing maneuverability and control; the only downside is that it doesn't offer as much power as a racket like a Babolat Boost Drive.
Despite its impressive power, this racket isn't best suited to power-hungry players. If you're looking for a racket under $100, this is perfect for a beginner tennis player and intermediates.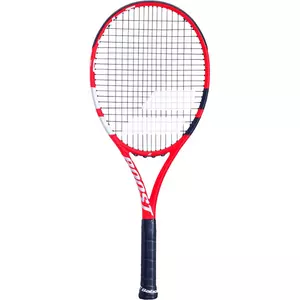 An extremely versatile beginner tennis racket, the Babolat Boost Strike is one of the best on the market. As a beginner tennis racket, it offers superb control while maintaining adequate power levels and great topspin due to the 16×19 string pattern. Additionally, it has a fairly large sweet spot that makes hitting your shots easier. 
Attackers who like to attack should use the Boost Strike. The baseline performance was great, and I could hit powerful shots with impressive topspin. The combination of its features makes it a powerful racket that barely lacks in any category, despite not being the most powerful. 
In addition to performing well on the baseline, it is surprisingly good at the net, hitting great volleys. After hours of play, you'll still feel comfortable gripping the Boost Strike due to its weight. 
A complete beginner may have a problem with string tension, but that is the only trade-off. Each racket is different, so you'll have to test them out to see what works for you.
For beginners, this racket is a great option. 
The Wilson Hammer racquet series is designed for players who want a balance of power and control and it has a big sweet spot.
In contrast to most beginner rackets, this one fits your hand and has a tighter string pattern (18×20). As a result, your shots will be placed more accurately all over the court. Despite being lightweight, it is still heavy enough to make a big difference in your game.
In spite of that, this is one of the best starter rackets. Even if you play a lot, it will be a great investment that will give you a few years of improvement.
To compete more effectively with Babolat, Wilson wanted to expand their racket line with more spin- and power-friendly rackets. As a result, they were successful in achieving their goals with the Wilson Ultra 108.
There is a lot of spin and power output in this Wilson tennis racket, as well as a lot of speed and generous head size that many new players will be able to benefit from.
It is also easier to make contact with the ball with this racket because of its length; that combined with its large sweet spot will make your shots more accurate. 
With technologies such as Power Rib construction in the shaft as well as an integrated Perimeter Weight System in the head, Wilson made this racket more stable and even more powerful. 
With its crisp feel from baseline to topspin, this racket is excellent for groundstrokes due to its power and topspin. There is still some stiffness in this racket, which is somewhat noticeable in groundstrokes even though it is more comfortable than previous Ultra rackets. 
The amount of power this provides can be used to shoot balls flying across the court if you don't mind sacrificing some stiffness. This racket will not be ideal for hitting volleys, since stiff, power-focused rackets are not recommended.
Compared to other Wilson rackets, it lacks a certain feel. I recommend trying it out if power sounds appealing to you.
Wilson Burn 100 v4 tennis rackets offer incredible spin capability, making them an excellent choice for beginners.
There is a curious pattern of 18 strings per 16 threads on the head, which may give the head a somewhat strange appearance, but is actually important to improve its topspin potential. The string pattern Wilson calls Spin Effect is very appropriate.
As well as this, the racket has an X2 length handle that greatly benefits players using a two-handed backhand. As a result, they have an easier time hitting balls while running, which gives them extra reach. 
An aggressive baseline racket with a good balance of power and spin, this racket is a good choice. Spin is the key, however, so this racket is ideal if you want to move your opponent frequently on the court. A racket like this will make it easier for you to generate topspin, especially if you are a beginner.
For a beginner, this is the perfect racket to start with when learning a playstyle that concentrates more on a spin around the baseline. As your skills improve, you might want to switch to a more intermediate racket. A great deal of maneuverability is also offered by this racket. 
The accuracy at the net isn't the best, but it's acceptable, and the groundstrokes will make up for any shortcomings on serves and volleys.
This racket's biggest trade-off is its stiffness, which can make it uncomfortable at times.
Types of Tennis Racquets
Understanding the different types of tennis racquets can help you better understand the reasons I have chosen the ones in this article. The following are some of them:
Power
Control (players)
Tweener
Modern players
Here are a few differences between each racquet and which type of player benefits from each.
Power Racquets
Designed to offer players easy access to power, these tennis racquets are named as such. As a result, these racquets typically feature the following characteristics:
Large head size
Stiff frame
Open string pattern
Lighter weight
The larger head sizes allow players to swing with a wider margin for error, which, when combined with the stiff frames and open string patterns, provides greater power and return to the ball. They are also easier to swing and handle due to their lightweight frames.
Despite their many advantages, they remain a popular option for beginners and older tennis fans who are still enjoying the game but want a lighter racket.
These racquets are also sometimes called game improvement racquets. Referring to how a beginner can take their skills to the next level with this type of racquet.
Control (Players) Racquets
As an alternative, you can choose a tennis racquet that emphasizes control, commonly referred to as a player's racquet.
In order to provide players with more precision, these racquets have the following characteristics:
Smaller head size
Flexible frame
Closed string pattern
Heavier weight
As a result of the above design features, the frame's weight assists players in generating power while also delivering more control.
Inexperienced players find it challenging to maneuver heavier racquets because of their smaller heads, and the smaller margin for error is less. Beginners shouldn't use control racquets because of this.
As I mentioned a few sentences ago, Roger Federer's racquet is not ideal for beginners. Due to its heavy control, it is usually frustrating for new players and may be better suited for players who have developed their skills.
Tips for Success
A control racquet is commonly perceived by new players to be the answer to all their problems and to keep the ball on the court.
In spite of the fact that the design of a control racquet can enhance a player's ability to control and direct the ball, beginners will typically not be able to detect the difference because it has a nuanced impact.
Tweener Racquets
Tennis racquets of this type are commonly called in-between racquets because they provide a balance between power and control, i.e., something in-between, as their name suggests.
It's not surprising that their attributes are somewhat middle-of-the-road:
Mid-sized head
Balanced flex, frequently with a lean toward a higher stiffness rating
Open string pattern
Mid-range weight
Tweener racquets tend to be tailored to appeal to a variety of different types of players, so you'll have a broader mix of attributes.
Having said that, I've found that adults tend to prefer power racquets over tweener racquets when starting out.
Players can grow into them and use them as great starting points for the future while providing a fantastic starting point.
Racquets for modern players
Many advanced and professional tennis players preferred the control or players' racquet for years.
A new tennis racquet emerged in the 90s and early 2000s with the rise of polyester tennis strings. This is known as a modern player's racquet now.
As a result of this style frame, you can expect the following attributes:
A medium-sized head, although it can be slightly smaller
Frequently a high stiffness rating is associated with a balanced flex
Open string pattern
Heavier weight
Generally, the modern player's racquet has a head size of 98 or 100 square inches and is slightly heavier than the tweener tennis racquet.
With a lot of mass, these frames can stand up to heavy-hitting while delivering excellent spin.
You may enjoy reading Best Yonex Tennis Rackets
Beginner vs. Intermediate Tennis Racquets
Tennis racquets for beginners and intermediates are another question I receive from students. There's no doubt that it can get a bit fuzzy, but let's take a closer look.
In order to identify beginner racquets from intermediate racquets, we can use three factors:
Cost
Construction
Materials
Cost
It is not unusual for tennis racquets under $150 to be sold to beginners. Nevertheless, beginners can benefit greatly from more expensive racquets.
Construction
The construction of beginner tennis racquets is usually simpler than that of intermediate tennis racquets. There isn't a hard and fast rule, but it is usually the case.
Materials
Since advanced materials are more expensive, beginner tennis racquets rarely use them, and new players won't benefit from them as much.
The latest and greatest racquet technologies are often found in intermediate tennis racquets.
The exception to these rules are those racquets exceeding $150 and featuring advanced construction and materials, and there are plenty of such racquets available, including a few on this list.
Tennis racquets with oversized heads (over 100 square inches) that are more expensive are often lightweight for beginners. Some intermediate tennis players may also benefit from these racquets.
Let me paint you a picture with this table:
| Attribute | Beginner | Intermediate |
| --- | --- | --- |
| Price | Under $150 | $100+ |
| Head Size | 100 sq. in. and up | 100 – 105 sq. in. |
| Weight | 10.5 ounces or less | 9.5 – 11 ounces |
The bottom line is that although beginner tennis racquets tend to have a specific set of features, intermediate racquets are available with a variety of features that are suitable for both.
We'll now take a look at tennis strings and what to expect when you start using them.
How to Choose a Tennis Racquet for Beginners
Tennis racquets are an important purchase for beginners, so here are some questions to ask.
Would the racquet be suitable for a child or an adult?
Is there anything we can do to help you create power for your shots? Are you going to need more control? What is your physical strength?
What are your goals in terms of becoming a competitive player or staying a recreational player?
How much is your budget?
There are a number of great options below no matter how you answer these questions.
In order to help beginners play well with a tennis racquet, it is important to consider a few key characteristics. You can also check Best Tennis Racquet Brands
Skill Level-Based Racquet Specification Chart
A chart showing tennis racquet specifications according to different skill levels can be found below. In this article, we will give you a quick overview of what specs you should look for when buying a new racquet.
This chart will be subject to exceptions depending on your specific skill set. It is possible to use a smaller racquet with a smaller sweet spot if you play other sports that involve hand-eye coordination.
| Racquet Specifications | Beginner Players Only | Intermediate& Some Beginner | Advanced & Some Intermediate |
| --- | --- | --- | --- |
| Head Size(sq. inches) | 107 – 115 | 100 – 110 | 95 – 100 |
| Length(inches) | 27-28 | 27 – 27.5 | 27 – 27.5 |
| Weight(strung) | Under 11 Ounces | 10.1 – 11.5 Ounces | Over 11 Ounces |
| Price | Under $150 | $100 & up | $150 & up |
| Power vs Control | More Power | Balanced Racquet | More Control |
Please read on if you want a deeper understanding of tennis racquet specs. The reviews are below if you prefer.
Frame Sizes
Generally, beginners should select racquets with a larger frame, over 100 square inches, particularly if they want to create power. Larger frames are the hallmark of the best tennis racquets for power.
The ball will come in contact with the strings all over when someone is learning tennis. A larger frame enhances the sweet spot of the racquet. As a result, you may be able to make contactless precisely.
Because Federer hits the ball consistently at the same spot on the strings, he can use a small racquet. Those who are just starting out need racquets that are larger and more forgiving.
You may enjoy reading Yonex Ezone 100 Racket Review
Weight
There are lighter and easier-to-handle racquets for beginners, while heavier racquets are for more advanced players.
Racquets under or around 11 ounces are recommended for beginners.
It's okay to use a racquet that's just over 11 ounces if you're physically strong and athletic. Racquets between 9 and 10.5 ounces are best for players who aren't as strong or athletic.
Grip Sizes
There are several grip sizes available on most racquets, ranging from 4 15.5 up to 4 508. Your racquet's grip size can be found on the bottom. The size may be represented by a number between 1 and 5 instead of a fraction.
Look for a 3 or 438 on the bottom of the handle for most players.
Start with a 414 (2) if you have small hands.
A 412 (4) would be a good choice if you have larger hands.
On one of my racquets, I have a grip size 4 and on the other, a grip size 3. The small racquet has an extra grip to give it the same feel as the larger one.
In order to be safe, choose the smaller option if you are unsure. You can compensate for the difference by adding any of the best tennis overgrips. In the event that you order it too large, you will not be able to change it.
You can also check The Eastern Forehand Grip in Tennis
Choosing a String and Tension
For beginners, string type and tension are less important. It's possible to spend a lot of money on tennis strings for beginners, but they won't significantly affect your performance.
Just tell your local tennis shop to string the racquet based on the manufacturer's recommendations, and you will be able to save a lot of money. A 10-pound range is usually written somewhere on the frame (i.e. 50 – 60 lbs). You can choose the middleweight (55 pounds) in this case.
The sweet spot on a guitar is larger and the power is greater with loose strings. Since you won't have to swing as hard, looser is also more effective at preventing tennis elbow injuries. It is also possible to prevent injury with the best tennis elbow braces. You will gain more control by tightening the strings, but the sweet spot will be smaller and you will feel less.
You may enjoy reading Are Tennis Rackets Unisex?
Factors to Consider When Choosing a Tennis Racquet
Before diving into specific recommendations, it's important to understand the factors to consider when selecting a tennis racquet.
Weight and Balance: The weight and balance of a racquet affect maneuverability and power. Beginners generally benefit from a lightweight racquet with a balanced weight distribution.
Head Size: The head size of a racquet influences the sweet spot and forgiveness. Larger head sizes provide a larger sweet spot, making it easier for beginners to generate power and control.
Grip Size: Having the correct grip size ensures comfort and prevents injuries. Beginners should choose a grip size that allows them to hold the racquet firmly without straining their hands.
String Pattern: The string pattern impacts spin potential and control. Open string patterns offer more spin, while dense patterns provide better control. Beginners may prefer a more open string pattern for easier power and spin generation.
Material and Construction: The material and construction of the racquet influence its durability, feel, and power. Graphite and aluminum racquets are common choices for beginners due to their lightweight and forgiving nature.
You may enjoy reading Best Tennis Rackets for Tennis Elbow
Best Tennis Racquet for Female Beginners
Typically, female tennis players need more assistance with power and are better at controlling their game than their male counterparts. It is for this reason that women starting out should select a powerful racquet. You should choose a frame with a size of 105 to 115 square inches.
We recommend the Babolat Drive 110 and Head TI S6 as our top picks for women. You can add spin to your shots as you improve with both of these racquets because of their lightweight technology and lots of power. In addition to the options we discussed above, there are a number of others that are good.
Faqs
What are the best tennis rackets for beginners?
The best tennis rackets for beginners are typically those that are lightweight and have a large head size. As a result, off-center hits are more powerful and forgiving. Babolat Drive, Wilson Tour Slam, and Head Ti.S6 are some of the most popular beginner tennis rackets.
How do I choose a tennis racket for a beginner?
Tennis rackets are best chosen for beginners based on their weight, head size, and balance. Beginners will find it easier to control and generate power with a racket that is lightweight, has a large head size, and is evenly distributed in weight. As well as the player's height, arm length, and playing style, it is also important to consider them.
What size tennis racket should a beginner use?
The head size of a beginner's racket should be around 100 square inches or larger. As a result, off-center hits are more powerful and forgiving. When choosing a racket size, players should also consider their height, arm length, and playing style.
How much should I spend on a tennis racket for a beginner?
It depends on the brand and model of the racket and how much it costs. In addition to the fact that you can find tennis rackets for as little as $50, you should also keep in mind that spending more money on a racket does not guarantee better performance. To ensure that they get a quality racket that will last them for a long time, beginners should spend between $100 and $150 on a racket.
What are the benefits of using a lightweight tennis racket for beginners?
Beginners can better maneuver and control a lightweight tennis racket. As a result, beginners can play longer for longer periods of time by reducing fatigue during play. Furthermore, a lightweight racket can also provide more power on shots by increasing swing speed.
Final Thoughts
The process of selecting the right racket can be overwhelming for a beginner. It's important to make a good choice without overspending, but it's also important not to overanalyze and waste time on making it. You should feel more confident about making a purchase now that you've read this guide.
There's also a range of other tennis equipment available, such as tennis sunglasses, tennis shoes, tennis balls, tennis shorts, tennis overgrip, and tennis bags.
Feel free to leave me a comment below if you have any questions or need assistance selecting a tennis racquet. Feel free to contact me with any questions you may have.