The team at Tennis Pursuits are big fans of Yonex rackets and with this we wanted to provide a full review of the Yonex Ezone 100.
Initially, I didn't like my Yonex Vcore 100, but recently I have discovered others that I enjoy.
The first one we tried was the Yonex Ezone 98, which was just a hair lighter than the Yonex Ezone 100 we used today, which we are going to go over in great detail soon.
From the back of the court, I found the Ezone 98 to be a really powerful and versatile weapon, delivering considerable power without sacrificing too much control.
Ezone 100 racket heads have an increased size, becoming 100 square inches. Hopefully, many of the characteristics of the 98 won't be lost because of this.
With a weight of 300g, I would say the Ezone 100 is about on par with other middleweight rackets.
It is light enough for people of all strengths, making it accessible to beginners and advanced players alike.
Also, since there is enough space throughout the racket to add weight, it is very customizable if you want something a little bit heavier.
Featuring Yonex's new Isometric head shape, the Ezone 100 is said to feature a larger sweet spot, meaning that you are likely to get more power from your shots more often depending on your shooting technique.
Furthermore, the racket head is strengthened with Hyper MG to enhance stability and dampen vibrations.
This technology combined in the Ezone 98 to give us a racket that had great power and spin and was easy to handle.
With the Ezone 100, we hoped that players with less advanced skills would have all these qualities.
You may enjoy reading Best Women's Tennis Racquets
A weight of 300 grams and a surface area of 100 square inches. With such a large head, it was only a matter of seeing how the racket performed.
We decided to go with the blue Ezone 100.
As a racket that is known for its powerful performance, and also because I am such a total control freak (Will), I would usually string it up quite a bit tighter, probably around 56 pounds, but in order to be honest, I kept my Babolat RPM Blast set up at 52 pounds to give this racket a fair review.
Yonex EZONE 100 Specifications
There is a wide range of players who can benefit from the Yonex EZONE 100 tennis racket. It's the modern design and shades of navy to light blue that catches your eye when you unpack the racket. 
The ball feedback should also be improved, to help the player be more in control. There is a change in the cross-section of the beam, which increases stability, and a thinner frame, which gives a softer response. Updates have been made to the racket's throat
There is an option to add additional weight throughout the racket to adjust the weight of the Yonex EZONE 100, which weighs around 300 grams.
There are slight differences between this model and the others in that it has a larger head that features an isometric shape in order to increase the sweet spot size and add more power. 
Using different new technologies from the Yonex tennis racket brand, the Yonex 100 EZONE tennis racket is designed to be more accessible to players of all levels of proficiency.
M40X Technology: Enhancing the performance of a racket by using special graphite material.
Vibration dampening mesh: In addition to absorbing vibrations, the lining material on the handle reduces shock impact, making Yonex EZONE 100 more comfortable.  More custodial services
Liner Tech technology: Vertical strings are lengthened at a specific angle to boost spin levels and expand sweet spots. It also makes the racket more comfortable and forgiving at the same time, as the strings of the frame will be tighter, increasing the level of control as well. 
Head size: 100 sq. inch /  645.16sq. cm
Length:27 in / 68.58 cm
Weight: 11.2 oz / 318 g
Balance: 4 pts HL 
Swingweight: 317 
Stiffness: 67 
Beam width:23.8 mm / 26.5 mm / 22.5 mm
Composition: 2G-NAMD SPEED / HM Graphite
Groundstrokes – Score: 8.6
EZONE 100 performed best during groundstrokes. Despite its high power and ease of maneuverability, the racket produces a muted ping sound. I really enjoyed the nice, plush feel of this racket, and it's very easy to connect with. 
Adding depth with ease was what I enjoyed most about the backhand slices. It was easy to generate spins throughout the game with Yonex EZONE 100, which produced full, powerful swings. 
You can hit all your targets with precision with the Yonex EZONE 100, considering the weight of the tennis racket. There are a number of benefits that come from the high power delivery of this racket, such as its stable and predictable spin, making it an incredibly versatile racket. As a result of its isometric geometry, this model is also more forgiving when it comes to measurements, allowing a higher margin of error. 
I enjoyed the racket's vibration dampening despite its lack of muted feel. When playing under pressure, you'll be able to thrive on this racket. 
You may enjoy reading Unforced Errors in Tennis
Volleys – Score: 8.7
Thanks to the excellent maneuverability of the Yonex EZONE 100, I was able to hit volleys with ease and close points quickly. My reflexes were improved and I gained more confidence whenever I was close to the net, thanks to the racket's great balance of speed and stability.
The drop volley was one of my favorite shots, and I enjoyed the ease of directing the ball. Additionally, the position is easier to get into, since you do not feel pushed around by your opponent. The Yonex EZONE 100 is ideal for doubles players. 
No angle, short touch volley, or deep volley will be missed with this racket. No angle, short touch volley, or deep volley will be missed with this racket. 
Despite its power, this racket can be weaponized easily by a skilled player. This racket is more comfortable and absorbs vibrations well thanks to the new technology used. 
I can, however, point out that the only drawback I can find is that the racket doesn't have a very nice feel when it comes to volleys, and for me, I felt it was unable to perform to its full potential during those games. As a point of emphasis, we want to make it clear that the Yonex EZONE 100 style is most suitable for modern baseline players who are intermediate in their ability and flexible in all aspects of their game. 
This racket might not meet your expectations if you play more classically.
Serve – Score: 8.6
Servings were good on the Yonex EZONE 100. A well-balanced and solid racket is made possible by the updated stick. A nice surprise was the combination of spin and power as well as a bit of extra control. 
You should definitely consider Yonex EZONE 100 if you want to improve your serving and boost your confidence. It is very versatile, and I particularly enjoyed slice servings, which helped me to pull my opponent off of the court in a matter of seconds, leaving me with an easy cross-court shot to close out the points quickly. 
In addition to being very comfortable, the Yonex tennis racket allows you to hit endless second serves without feeling tired from your arms. I managed to hit all of my targets without fail with a little bit of effort, despite the racket not being the most precise when it comes to servings; however, I could not have done this without putting some effort into it.
In addition, thanks to its open string pattern, the instrument delivered a lot of spins. During the playtest, Yonex EZONE 100 was easy to maneuver, and despite the heavier weight than the previous models, the player can generate a nice rhythm effortlessly. 
Returns – Score: 8.7
In addition to being a huge hit at returns, Yonex EZONE 100 was also a huge hit at the showing. Overall, it performed well, checking all the right boxes. As a result, I was able to direct all my returns with precision since the ball was always sinking on the stringbed. 
When the player is confronted with a big serve, the racket can be connected directly with the racket and it is able to be in place immediately. Rhythm and pace are maintained while being aggressive. This ball was designed with a 100-square-inch head size, which will add depth to your shots, and the new stick design will make it easy to predict where the ball will fall based on how you direct the ball.
You may enjoy reading Best Pressureless Tennis Balls
Whenever I had to block back bigger serves during the playtest, I wished for weight. Power and spin were combined nicely, and I really enjoyed it As a result of the maneuverability, regaining position was also made much easier. When taking a big cut at the ball, these will come in handy. Due to its high level of performance, this racket is a good choice 
In addition to being comfortable for the arm and allowing a greater margin of error, Yonex EZONE 100 is a very accurate weapon. The racket gave very little cause for complaint at returns; it did not disappoint. 
Overall – Score: 8.64
Yonex EZONE 100 is a reasonably priced tennis racket that performs well on the court, and the new updates that were implemented have made the racket even more playable and capable. For players with intermediate to slightly advanced skills, this is best suited to shortest men's tennis players of all skill levels. 
This racket is categorized as a "twinner" type of racket, which means that it provides a great combination of power, spin, stability, and control at the same time. Wilson Clash 100 or Babolat Pure Aero are both good choices in this category, but Yonex EZONE 100 might stand out and become a popular choice. 
There is a large sweet spot on the racket, and it has a muted feel. As soon as the ball contacts it, the stringbed feels plush, and the ball sinks into it. 
Due to its versatility, this racket can be gripped with any grip technique. There was a particular shot I enjoyed most, which was the backhanded slices. Thanks to the depth added with every shot and the precision used on the court, I was able to add depth to each shot. 
Note: For sweaty hands, you can use either the eastern forehand grip or the tennis overgrip.
A modern baseliner seeking a versatile racket will find the Yonex 100 EZONE a great option. Aside from being convenient and easy on the arm, the new technology of this racket also allows for a wider margin of error. 
The cosmetics of the Yonex EZONE 100 are distinguished by an extremely stylish paint job. It delivered on all of its promises, leaving little to complain about. The brand is deserving of all the praise from tennis fans for the seventh-generation racket.
Overall we are a big fan of this racket.  We like the blend of power and control, along with the feel and stability. The EZONE 100 has a lovely pick up and striking the ball it feels good.  There are very few areas where we can fault the racket.  Its head is a little smaller than previous models but that's about it! 
Rackets Different Models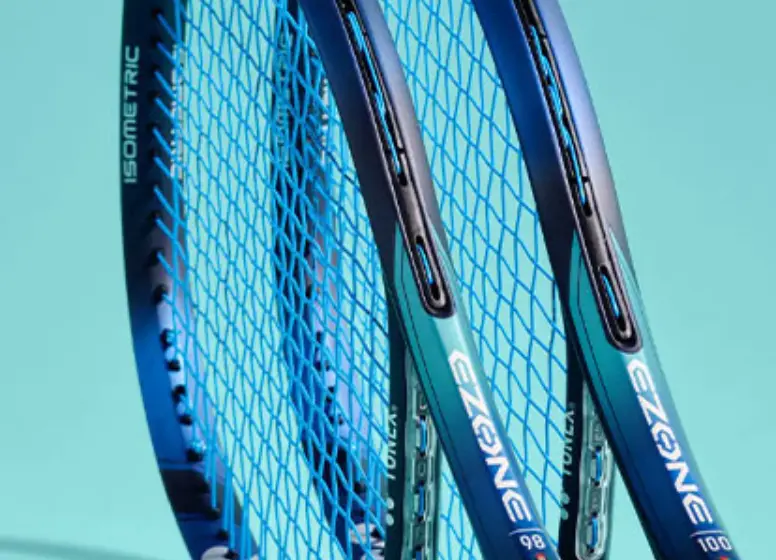 You can always turn to Yonex EZONE 100's previous models and other versions of the EZONE 100 doesn't meet your expectations. There is a lot of similarity between the two products for the quality they provide, but there are some adjustments to make them suitable for different skill levels. 
Depending on your gaming style and skills, you can determine which rackets are most suitable for you after evaluating other racket specifications.
Yonex EZONE 98 vs 100
There is a slight difference in head size between Yonex EZONE 98 and Yonex EZONE 100. It is a significant change that gives the racket much greater control, spin, and stability, all of which contribute to its overall performance.
There are, however, some drawbacks to it, such as the lower power levels and the lack of forgivingness and ergonomics that are present. 
Yonex EZONE 98 – Best tennis racket for intermediate players
This Yonex EZONE 98 racket has a larger spot, but it is smaller and less maneuverable than the previous Yonex racket.
Most advanced or professional players will benefit from this if they have the physical strength and the requisite skills to maximize the potential of a racket. 
With each shot, it generates heavy topspin, a tremendous amount of speed, and a great deal of precision.
The Yonex EZONE 98 is an excellent tennis racket, especially for aggressive baseliners, but beginners or players recently moving up to the intermediate level should avoid this racket. 
Yonex EZONE 98 Specs
| | |
| --- | --- |
| Head size | 98 sq. in / 632.26 sq. cm |
| Length | 27 in / 68.58 cm |
| Swingweight | 317 |
| Weight | 11.3 oz / 320 g |
| Balance | 6 pts HL |
| Stiffness | 64 |
| Beam width | 23 mm / 24 mm / 19 mm |
| Composition | Graphite |
Yonex EZONE 100 vs. VCORE 100
There are some minor differences in their specifications between the Yonex EZONE 100 and VCORE 100 rackets, but overall, they are very similar rackets.
These two products meet the needs of most intermediate to slightly advanced players as they can both be classed as "twinners". 
Yonex VCORE 100 – Best tennis racket for active players
Despite their same head size, these rackets pack a lot of power. Despite their same head size, these rackets pack a lot of power. Spin, control, and stabilization are their strong suits. 
EZONE 100 is slightly heavier than Yonex EZONE 100. Both the VCORE 100 and the VCORE 100 have slight differences in swing weight. However, the difference is not so great to let the two make a noticeable difference in power. 
The lightness of these rackets makes them easy to maneuver, as well as balanced.
It's not really a difference since both rackets perform almost as well, with a couple of minor differences.
Yonex EZONE 100 and VCORE 100 differ mainly in their aesthetics, so choosing between them depends on personal preference. 
Yonex VCORE 100 Specs
| | |
| --- | --- |
| Head size | 100 sq. in / 645.16 sq. cm |
| Length | 27 in / 68.58 cm |
| Swingweight | 324 |
| Weight | 10.6 oz / 300 g |
| Balance | 4 pts HL |
| Stiffness | 66 |
| Beam width | 24 mm / 25 mm / 22 mm |
| Composition | HM Graphite |
Yonex EZONE 100 – Best tennis racket for intermediate players
 A wide range of players will benefit from the new updates to this racket, making it more playable and appealing.
As well as delivering power and spin, this racket provides control, stability, and spin.
The racket is a great "twinner" racket that performs well on all surfaces and is ideal for intermediate players. 
FAQs on Yonex Ezone 100 Review
Yonex EZONe 100 tennis racket FAQs include answers to common questions. As you prepare to use your new tennis racket, you may find these questions and answers useful.
What is the Yonex Ezone 100 racket?
The Yonex Ezone 100 is a tennis racket manufactured by Yonex, known for its high performance and precision.
Which Yonex EZONE is best?
The Yonex EZONE 100 is generally considered a top option within the EZONE line, despite the absence of a definitive answer. Players of all levels will appreciate how strong and spinny it is, as well as how controllable and stable it is.
How does the Yonex Ezone 100 racket compare to other Yonex rackets?
A: The Yonex Ezone 100 racket is one of the more advanced models in Yonex's Ezone line, offering a higher level of control and precision than some of the other rackets in the line.
Is Yonex Ezone 100 a good product?
In terms of tennis rackets, the Yonex EZONE 100 is a good choice. Despite its power, it is controlled, stable, and delivers spin. In addition, it excels at all areas of the court, making it an ideal racket for intermediate players.
Can beginners use Yonex EZONE 100?
It is not a good choice for beginners to use Yonex EZONE 100. Rackets like this are best suited to intermediate and slightly advanced players because they have a lot of power.
The Yonex VCORE 98 is the ideal racket for beginners or intermediate players due to its lightweight and easy maneuverability.
What are the features of the Yonex Ezone 100 racket?
The Yonex Ezone 100 racket features a lightweight and stiff frame, a large sweet spot, and a high level of control and precision. It also has a head size of 100 square inches and a racket weight of 9.9 oz.
Who is the Yonex Ezone 100 racket suitable for?
The Yonex Ezone 100 racket is suitable for intermediate to advanced-level players who are looking for a racket that offers high control and precision.
What is the price range of the Yonex Ezone 100 racket?
The price of the Yonex Ezone 100 racket can vary depending on the retailer and location, but it generally falls in the $200 to $250 price range.
Are there any notable players who use the Yonex Ezone 100 racket?
Yes, some notable players who use the Yonex Ezone 100 racket include Caroline Wozniacki, Kei Nishikori, and Stefanos Tsitsipas.
Is Yonex Ezone 100 racket come with any warranty?
Yes, Yonex Ezone 100 racket come with a standard manufacturer warranty. The duration and coverage of the warranty will vary by country and retailer.
Final Thoughts?
Even though Yonex tennis rackets have a reputation for high performance, with its new release, this Yonex racket has exceeded expectations in every aspect. There is absolutely no doubt that Yonex's seventh-generation racket line, Yonex EZONE 100, is going to be one of the top-selling rackets in the market in the near future. 
Furthermore, you can read our guide on tennis rackets under 100 dollars if you are on a tight budget. The best racket with tennis elbow is required if you want to play tennis with the tennis below.