It is not difficult to find the best tennis shoes for bunions. It may, however, be somewhat overwhelming to choose from such a wide variety of models. For individuals with bunions, finding the right tennis shoes can make all the difference in enjoying the sport without experiencing pain or discomfort.
Tennis shoes designed specifically for bunions typically offer features such as a wider width, a roomy toe box, cushioning, arch support, and flexibility to accommodate the unique shape and needs of the foot. With so many options on the market, it can be challenging to determine which tennis shoes are the best fit for you.
However, by considering factors such as fit, material, closure, and orthotic compatibility, among others, you can find the perfect pair of tennis shoes to keep you comfortable and supported during your game.
In this guide, we'll explore the top Best Tennis Shoes for Bunions on the market, along with factors to consider when making your purchase.
What is Bunion?
A bunion is a bony bump that forms at the base of the big toe, caused by the misalignment of the joint between the toe and the foot. Over time, the big toe may start to turn towards the other toes, resulting in bony protrusion.
Bunions can cause pain, swelling, and redness around the affected joint, as well as difficulty walking or wearing shoes comfortably. Bunions are often caused by wearing shoes that are too tight or too narrow, but they can also be inherited or caused by certain medical conditions.
Treatment options range from non-surgical interventions such as wearing roomy shoes or orthotics to surgery in severe cases.
It's important to consult with a healthcare professional, such as a podiatrist, to determine the best course of treatment for your specific case of a bunion.
What are the causes of bunions?
Bunions can be caused by a variety of factors, including:
Genetics: Bunions can be inherited, with certain foot shapes or structures increasing the likelihood of developing the condition.
Footwear: Wearing shoes that are too tight, too narrow, or have a high heel can put pressure on the joint at the base of the big toe, leading to the formation of a bunion.
Foot injuries: Injuries to the foot or toe can cause the joint to become misaligned, leading to the development of a bunion.
Arthritis: Certain types of arthritis, such as rheumatoid arthritis, can cause inflammation and joint damage that may lead to the formation of a bunion.
Nerve or muscle conditions: Nerve or muscle conditions that affect the feet, such as cerebral palsy or polio, may contribute to the development of bunions.
Flat feet or pronation: Flat feet or excessive pronation can put additional stress on the joint at the base of the big toe, increasing the risk of developing a bunion.
Gender: Women are more likely than men to develop bunions, possibly due to the types of shoes typically worn by women.
It's important to note that while these factors can contribute to the development of bunions, not everyone who has them experiences pain or discomfort. It's also possible to have bunions without any obvious cause.
If you have bunions, it's recommended to consult with a healthcare professional, such as a podiatrist, to determine the underlying cause and develop an appropriate treatment plan.
The Best Tennis Shoes for Bunions Reviews
Here are some reviews of the best tennis shoes for bunions:
Brooks 1103071B GTS 20 Running Shoes for Men
This pair of Brooks 1103071B contemporary shoes is designed with streamlined and modern 3D fit prints, making them ideally suited for anyone in search of a seamless hybrid of flexibility, reliability, and comfort. There is enough room for your adrenaline to pump in this print due to its snug and comfortable fit.
As with its female counterpart, Brooks for Men also comes with the DNA Loft Crash Pad and BioMoGo DNA padding layers. For players who shift in a variety of ways during their shifts, they buffer the heels for better adaptation to each stride.
The Brooks 1103071B is also my favorite because of its aesthetic appeal as well as its functionalities. Nearly 30 patterns and styles are offered, along with vibrant and modernized color schemes, making it a nice alternative for those who are design-savvy.
During sports practices, your knees are one of the most vulnerable body parts, so Brooks focuses especially on them. In the same way that a training wheel reduces excessive heel rotation, the Guide Rails system prevents ligament injuries by preventing excessive heel rotation.
Its only criticism is that it might slip on unfavorable surfaces due to its extensive toe box.
Weweya Barefoot Minimalist
Having a pleasant and unrestricted sensation in the toes is essential for tennis players with bunions. These ailments are more prevalent in female athletes than in males, which is especially true for competitive athletes.
It is precisely these dilemmas that Weweya Barefoot Minimalist for Women aims to address. Women athletes will benefit from its barefoot-like aroma during practice, as it will reduce discomfort in their toes.
My first impression of these pumps is the lack of separate toe slots. My toes receive a greater amount of air volume since they are not squished together. Additionally, this design offers extra blood circulation space due to its tongue-free design.
In addition, Wewaya's intended minimalist barefoot construction is shaped by these combined advantages.
One minor drawback should be kept in mind before you purchase these sneakers. In more detail, the side plastics are fairly rigid and inflexible. Women with delicate skin may experience irritation from these products, despite their intended purpose of providing better support.
Adidas CourtJam Bounce
Comfortable, wide, and low to the ground.
It is a gem of a tennis shoe that Adidas offers with the CourtJam Bounce. Soft, flexible, and breathable materials make it feel expensive despite its lower price tag.
It is a little stiff under the feet. In fact, this is the best treatment for people suffering from pain since it restores the foot's natural abilities and strengthens its support.
As well, the CourtJam bounce has a noticeable wide toe box, allowing the toes plenty of room and freedom.
Despite its high heel collar, it is very well padded, which is beneficial for shock absorption and tendon protection.
Featuring a combination of TPU and mesh uppers, this shoe is breathable, flexible, and protective.
Moreover, the shoes are durable and comfortable even when worn heavily.
Diadora Speed Blushield 5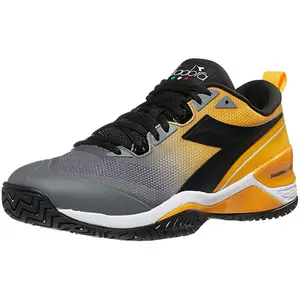 With its Blushield cushioning system and well-thought design, the Diadora Blushield Speed 5 excels in comfort and pain-free riding.
For athletes suffering from Achilles tendonitis, this model excels in heel and ankle support, which makes it the perfect shoe for them. Diadora shoes are known for their comfort and support, but this particular model excels in heel and ankle support.
On any surface, the Speed Blushield 5 offers total ankle and heel protection during shocks, so you can move around the court with confidence. It feels like your ankles and toes are being wrapped in thick plush material.
Featuring cushioning and responsiveness, the Blushield technology in the ball of the foot stiffens and supports the arch and bottom.
There is an inner arch reinforcement in the midsole that provides optimal pressure below the arch for pain relief.
Among the major points of interest are the shoes' durability. Despite being used on hard courts, they stand the test.
A durable rubber sole keeps these beasts untouchable on indoor and outdoor hard courts.
In addition, they have a remarkable level of traction and perform well on all surfaces.
With your eyes closed, get the Diadora Speed Blushield 5 if you're a tennis player suffering from foot pain everywhere.
Ryka F1116M1 Sky Walking for Women
Toe comfort is already a strong point of Weweya Barefoot Minimalist, but Ryka F1116M1 pumps might take it to the next level. Designed specifically for women, these compact and elegantly designed items promise immense convenience.
I enjoy the solid consistency and breathability these shoes provide when moving across the court due to their breathable mesh and strong leather overlays.
The sock liner is made of high-quality memory foam combined with a latex foundation, allowing the liner to gracefully hug my feet rather than be compressed.
Rubber outsole provides excellent grip on all surfaces and allows you to move your toes in various angles and orientations. Because of this, Ryka F1116M1 items can be used almost anywhere.
A thin EVA layer encases Ryka F1116M1, helping to lighten each step and alleviate toe droop. You won't experience any foot pain after a particularly rough collision with the ground thanks to its TPU midfoot shank.
It is important to keep in mind, however, that these pumps do not have padding. As a result, you may be better off purchasing it separately from retailers.
Brooks Ghost 14 Running Shoe for Women
In addition to being aimed at runners looking for a smooth ride, the Brooks Ghost 14 is a great choice for racquetball players who often practice in strenuous conditions. Brooks could offer their female clients seamless movements for these activities and more.
Firstly, the midsole is simplified, ensuring that all my movements are seamless without feeling restricted while sticking closely to my feet.
The Brooks cushioning is much more energizing than Ryka's (which doesn't have padding). In the Brooks Ghost 14, at least three layers of cushioning are present, including a BioMoGO DNA layer, a DNA Lofft layer, and a segmented crash pad layer.
The three components work together to create an integrated padding system that provides smooth heel-to-toe transitions. In addition to road cycling, cross-training, and tennis practices, its powerful structure could also accommodate gym usage.
A Brooks Ghost would therefore be a worthwhile investment even if tennis is just one of your many hobbies.
However, some models have a bit of slack in the shoestrings, so they are easy to undo. To ensure your purchase is the right one, try out each variant carefully.
LeMouton Classic Wool Shoes for Women
If you're looking for top-class flexibility sneakers, the LeMouton Classic Wool might be a great fit. Wool is a popular fabric for clothing, as the name of these leMouton pumps knit from wool suggests.
One of the main benefits of wool is its ability to retain heat extremely well. Keeping my body temperature at an ideal level is made easier by this product. Moisture would evaporate quickly, keeping my feet dry and comfy.
Hence, LeMouton Classic pumps are ideal for both racquetball matches and everyday wear, making it almost impossible for bunion sufferers to go without them. Jogging, walking, and training are also possible with them.
In addition, the compact design of the grip (which weighs about one pound) makes your strikes easier, which reduces sweat pooling and odors.
A pair of additional wool cushions provide reasonable arch support, solidifying your movements, and improving traction on uneven surfaces. These sneakers would make you want to sprint on the court all day.
Moreover, the wool texture does not require additional maintenance. Machine washing (in gentle wash mode) saves a lot of time and headaches often associated with manual cleaning.
There may be some users, however, who find the shoe dimensions quite narrow. In the case of a foot size greater than 9, you may want to consider other options.
ASICS GT-2000 9 for Men
With a high-grade cushion system, the ASICS GT 2000-9 stands out from its competitors.
A solid, sturdy structure is integrated into all layers, neatly covering all critical areas of my feet (such as the midsection and heels).
The protective coatings on my toes reduce the possibility of collisions as they glide through gait cycles.
Soft textile pads under the footbed offer a lightweight yet firm contour, with LYFT FOAM technology and Gel technology. As opposed to some cheaper products, these shoes have uniform rubber placement. In this way, you will not experience shocks, and your bunion issues will not get worse.
Recent models are a little oversized, though, which should be noted. For smaller feet, there used to be a narrow (B) dimension, but these variants have disappeared. To align your laces better with your toes, you might need to adjust them.
ASICS Gel-Dedicate 6 for Men
According to my experience, the Asics Gel-Dedicate 6 exhibits exceptional stability retention. A secure and evenly stretched EVA midsole absorbs impacts and improves rebound as you move around the court.
I am also accompanied by a sock liner made from EVA, whose elastic fibers blend with my foot arch for an unbelievably soft feel. In order to provide a solid foundation for faster direction shifting and better speed, these liners may be removed so that custom orthotics may be fitted.
Additionally, the GEL Technology and Trust System act as a barrier, preventing you from tripping over more vulnerable areas of skin. For people with bunion treatments, soft textiles provide relief from the pain.
This pair of Gel-Dedicate sneakers is comfortable overall, but it's tread isn't very durable. It might take a few months for them to wear out.
Under Armour Charged Assert 8 for Women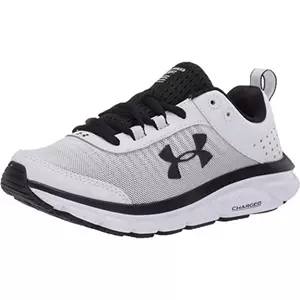 Investing in Under Armour Assert 8 sneakers might be a great option if you want to buy something that will last for years.
In addition to being robust and easy to maintain, they have high-quality leather overlays. You would be spared from many hassles and expenses if no major harm is caused to the Under Armour sneakers.
My legs are well-anchored even during the wildest workouts, thanks to these overlays.
As a result, all types of movements can be performed without major risks due to the solid rubber encasing high-risk zones. A soft textile sock liner finished with EVA cushioning gives your feet a comfortable step-in experience.
Overall, the Under Armour Assert 8 is a savvy investment, despite our expectations for more padding on the insole.
Adidas Adizero Unisex-Adult Ubersonic 3
Tennis players who enjoy fast-paced activities will benefit from the Adidas Ubersonic 3 pumps. A lightweight and sturdy chassis and an all-court outsole make these items the perfect choice for the court. Fast cuts are made possible thanks to the firm foundation and even footing of these shoes, as well as the high speeds and sharp movement angles they provide.
For improved efficiency, the mesh up top is stretchy, and a seamless base design permits more air flow while still keeping your feet snugly in place. It prevents slipping in any direction when pushing or pulling.
You can fine-tune the tightness of your shoes with the speed lacing, which is flexible and elastic. Having more space will also improve blood circulation, which will ease soreness.
Some shoe variants, however, may have loose ankle areas. Despite having no major consequences (other than occasional discomfort), it is prudent to test them thoroughly before purchasing.
Adidas Adizero Unisex-Adult Ubersonic 3
For those who play racquetball on uneven terrain and poor surfaces, this Adidas model is a good choice. Designed to work with the floor traction, the low arch is flat and fits well.
In addition, it gives me a sense of connection to the ground thanks to its adhesion to the base level. It is such a firm foundation that keeps my feet firmly planted regardless of weather conditions—even when it rains.
Also great is the outsole pattern, which ensures the right amount of grip – neither too much nor too little. These shoes will not cause you to slip or slide.
Furthermore, both sides of the tread were quite soft, so they could withstand heat quite well, providing comfort and maintaining body temperature. There would be a rapid disappearance of all bunion symptoms.
This Adidas edition also has a slack ankle area, similar to the Adidas edition in my article. In order to overcome this problem, we suggest that you buy thicker socks.
You may enjoy reading Best Tennis Shoes for Ankle Support
What To Consider When Buying Best Tennis Shoes for Bunions
Tennis shoes are essential if you have bunions in order to avoid pain and discomfort when exercising. In order to choose the best tennis shoes for bunions, the following factors should be taken into account:
Width: In order to prevent bunions from becoming inflamed, you should choose tennis shoes with a wide or extra-wide width.
Toe Box: Bunion pain can be exacerbated by shoes that have a narrow toe box, allowing your toes to rub against one another.
Cushioning: In addition to providing additional support and comfort while playing tennis, cushioned tennis shoes can help absorb shock and reduce pressure on your bunions.
Arch Support: In particular, when you make sudden directional changes or abrupt stops, you will benefit from good arch support that helps distribute your weight evenly.
Material: You can promote overall foot health by choosing soft, flexible shoes that reduce friction and irritation on bunions.
Closure: With adjustable closures, such as laces or straps, your foot won't slide forward, preventing bunions from becoming inflamed.
Flexibility: If your bunions are affected by repetitive motions, such as serving and hitting, you can reduce the strain on them by wearing tennis shoes that allow your toes to move naturally.
Orthotics: It is possible to customize foot support and comfort by choosing tennis shoes with removable insoles if you use custom orthotics.
Fit: Your bunions will be less likely to suffer additional pressure if your shoes are fitted properly. Tennis shoes should have ample room for your toes and not place pressure on your bunions, especially at the base.
Consult with a healthcare professional: Tennis shoes are a good option for bunions when accompanied by other foot problems, which can be addressed by a podiatrist or other healthcare professional.
You may enjoy reading Can You Use Tennis Shoes For Volleyball?
FAQs
What are the benefits of wearing broad sneakers for bunions?
Bunion symptoms can be alleviated by wearing wide footwear, as we have established. As a result, your toes receive no strains or tension, which helps to improve the flow of blood and ventilation to them.
What are the best sneakers for treating bunions?
Alternatives on the market have so far been limited to alleviating pain and preventing symptoms from worsening. It is my understanding that there haven't been any footwear alternatives to bunion medications.
What are the benefits of Birkenstock footwear for bunions?
As a result of their compact designs, they retain body temperature, making them suitable for hot and humid climates. As a result, your toes are trapped in a fixed position due to the stiff soles. This might delay the evaporation of bunions.
What can runners do to prevent bunions?
A proper fit requires proper sizing. Make sure your sneakers are wide enough to prevent bunions from developing.
Socks are also important, according to the Guardian. Your toes will be relieved of some undue pressure, and proper airflow will be achieved if they aren't too thick. Whenever you bathe, make sure you scrub the gaps between your toes in thorough motions.
Is it possible to aggravate bunions by running?
As long as you meet the criteria above when purchasing your shoes, the answer is no. A bad pair of shoes will only worsen your condition. In addition, excessive strain on the heels does not help.
Are bunions worsened by walking?
The same applies if you fail to follow the buying guide I have introduced in previous sections, otherwise, walking won't worsen your condition.
Is Converse harmful to the symptoms of a bunion?
You can rest assured that Converse meets all your requirements if you are a Converse enthusiast. A cotton canvas bag is one of the most breathable and soft fabrics available, allowing for maximum air circulation. Moreover, these items feature soft padding that absorbs pain and buffers your heel.
What's Next?
Hopefully, you've learned a lot about how to buy the best tennis shoes for bunions after reading this article. The Brooks 1103071B GTS 20 has proven to be a popular choice, and you already know why.
In comparison to other items, these sneakers combine all three aspects, surpassing any expectations you may have. Additionally, the knee support system sets this brand apart from its competitors, as I have already mentioned. You can also check Best Tennis Shoes For Achilles Tendonitis
Taking action is the best thing you can do right now! To select the best option for your needs, take a close look at my recommendations.