Due to the endless options that are available on the market, selecting the best tennis rackets for doubles can quickly become overwhelming and complicated. In order for your rackets to perform well and be easy to handle while covering a court with a partner, they must be of the highest quality. 
Listed below are the top best tennis rackets for doubles, along with our reviews if you are searching for suitable options.
To meet the needs of all players, we made sure that this list included brands, models, and features from a variety of manufacturers. Scroll down for more!
Best Tennis Rackets for Doubles
You can socialize and master your skills in tennis by playing doubles, which is one of the most popular and fun ways to play tennis. Tennis rackets for doubles come in a variety of types, designs, and price ranges, so check out the list above for the best. 
Based on the incredible performance it delivered during the playtest, we have chosen Babolat Pure Drive as the best overall tennis racket for doubles.
Double players can bring out the best of their talent and cooperate well with this racket because it blends all the right features. 
A powerful racket like the Babolat Pure Drive lets players manage different levels of power, which is great for groundstrokes and serves.
Despite slight deviations from the frame's center of gravity, this racket has good control and accuracy, even with the new technological updates from the brand. 
Additionally, it delivers a nice, soft feel with a large sweet spot. For advanced players, this racket is great for generating heavy spin. The frame does a good job of absorbing shock and vibration, making it much more comfortable than other rackets in the same line.
This Babolat racket is constructed of graphite, making it lightweight, durable, and long-lasting. 
In double games, the Babolat Pure Aero can really shine, making it one of the best rackets available. Known as Rafael Nadal's racket, it has made an indelible mark on tennis history. 
Power and spin are easily generated by Babolat Pure Aero. A great deal of performance is found at the baseline, where it is especially effective.
The test also included a lot of fast and powerful flat serves, which contributed to the opponents' difficulties. 
With a large sweet spot, the racket is incredibly difficult to miss. New technology incorporated into the dynamic frame allows it to absorb shocks and vibrations. Compared to the previous version of this line, it feels nice and soft on the arm. Errors are more forgivable and there is more margin for error.
A player can easily direct the ball with the racket thanks to its high responsiveness and good accuracy. Intermediate players will enjoy this racket the most, but it's a racket for everyone.
There are many reasons why tennis fans have taken notice of Head Graphene 360+ Extreme MP. During the playtest, this racket performed well.
As a singles racket, it's great, but when it comes to doubles, it really shines; this is one of the best doubles rackets on the market right now. 
During contact with the ball, it creates a trampoline effect thanks to the 16/19 open string pattern and spin grommets.
Additionally, the racket offers an impressive amount of power and good maneuverability. Having been updated with new technology, the racket offers a nice, crispy feel and is easy to get back into position due to its new technological features. 
Shaft and dynamic frame provide lots of stability and transfer energy and vibration so that the user has a more comfortable experience. Head tennis rackets are made more forgiving and flexible thanks to spiral fiber. It is also amazing how it is painted and designed.
As a result, we placed runner-up in our category due to the racket's sometimes difficult control. 
The Wilson Pro Staff 97 v13 tennis racket is one of the best tennis rackets for doubles, and it is also reasonably priced.
A high quality and technological update helped its popularity skyrocket. This racket is capable of transforming into a weapon when used by a skilled player with its built-in controls and heavy spin.
In addition to its awesome performance, Wilson Pro Staff 97 is highly responsive and has a nice crisp feel that allows the player to instantly connect with it.
Each shot is enhanced with depth and control thanks to the ball's incredible control and stability levels. 
Aggressive players like this option because it allows them to remain offensive while complicating their opponent's life. With a head size of less than 100 square inches, the racket's frame is quite stiff and solid. 
Using this Wilson tennis racket requires superior physical strength and advanced skills due to its low performance and difficult maneuverability.
The Yonex EZONE 98 has minimal drawbacks and is designed for spin and control. The racket excels at double games, which makes it one of the best women's tennis rackets.
When I played with this racket for the first time, I was immediately blown away by its incredible feel.
A player can hit even the most difficult angles effortlessly with this bat because it is very adaptable on the court, easy to maneuver, and provides great contact. 
Due to its high responsiveness, this racket allows for fast grip changes and position changes. A Yonex EZONE 98 produces a huge amount of spin and is very accurate in predicting where the ball will land. Overall, it's a good performer all around the court and provides solid stability and control.
It's surprising to find that it offers decent power and speed despite its smaller head size. There is no bending in this model, but the updated features make it more comfortable for the arm.
The Yonex tennis racket is suitable for a wide range of players, but it is best suited to intermediate and advanced players. You can also check Yonex Ezone 100 Racket Review here
Among the best tennis rackets for power and control, we can't say enough good things about Prince Textreme Warrior 100. A high level of power was provided during the playtest, but was never overbearing. 
Its high-performance features make it a perfect choice for intermediate or newly advanced players seeking a high-speed racket. You can consistently predict the ball's landing and hit the targets easily. 
This racket offers more depth with every shot, especially during groundstrokes and volleys, which are its strongest points. As a result of its unique material composition, it is very easy to maneuver.
The solid beam of this racket gives it a wonderful, crisp feel while also giving it great control. This game is easy to play and has a great design; it comes to life when played in doubles.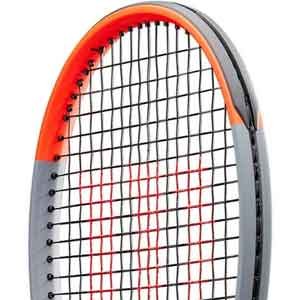 The Wilson Clash 100 has been making headlines for a long time now, and for good reason. There's something impressive about the design of this racket, and it offers amazing performance on the court. It's also very easy to play with. 
Tennis rackets that use this cutting-edge technology are incredibly comfortable to play with and offer incredible features.
With it, you have good control over the ball, great power, and ease of connection. Flexibility and responsiveness are key characteristics of the frame, which make it feel dynamic.
Additionally, this racket generates a great deal of spin, which can make it an effective weapon in the hands of an aggressive baseliner. It was a delight to slice the forehand or backhand; hitting difficult angles or changing from defensive mode to offensive mode was effortless.
There is a large sweet spot on the ball, which allows for a higher margin of error because it has a forgiving head. 
The racket does everything effortlessly, from switching positions or grips to directing the ball or closing out points quickly.
Although the Wilson Clash 100 lacks a bit of stability, most players can quickly work their way past that with some practice, so we strongly recommend also considering the Wilson Clash 100 as one of the best tennis rackets for doubles.
You may enjoy reading Best Tennis Racquets for Beginners
What to Consider When Choosing the Best Tennis Rackets for Doubles
When choosing the best tennis racket for double players, you need to take a few key factors into account. The following information will allow you to make an informed choice for yourself and your tennis partner. You must be familiar with Different Parts of a Tennis Racquet before reading further
Stability 
Doubles games require very stable rackets, especially at the net, because volleyball is important in doubles. When you choose the right racket, you can dominate volleys, cooperate well with other players, and close out points faster.
Tennis rackets with a head size of 100 square inches (645.16 square cm) and weighing around 10.5 ounces (300 grams) will typically perform better in netplay.
Game Play Style 
In a single play, it is critical to understand your game style, and in a double play, it is crucial to understand your game style. By developing your skills and maturing in the game, you'll be able to determine whether you are more of an aggressive baseliner or a player who prefers to stay close to the basket. 
If you can't take full advantage of the different features of the racket you choose, you shouldn't spend money on it. As well as helping your partner close points successfully, you'll also perform better on the field. 
Power and Control
You should choose a tennis racket that is classified as winners if you want to blend power and control during double games. While allowing enough control for volleys and difficult angles, these rackets will allow you to hit powerful strokes, serves, and overheads.
You may enjoy reading Best 26 Inch Tennis Rackets for Juniors
Our Selection For the Best Tennis Rackets for Doubles
During our market research, playtesting, and reviewing process, we identified the best tennis rackets for doubles. Performance, playability, maneuverability, touch, power, and stability were some of the strict criteria we used to choose rackets for our testing. Considering these factors is essential when playing double games. 
In order to cater to everyone's needs, we featured a few different categories to cater to different skills, game styles, and backgrounds.
Your tennis partner and you will benefit from the technical specifications included in each review. 
FAQs
Find out how tennis rackets for doubles perform by checking out these frequently asked questions.
Which racket is used for singles or doubles tennis?
In tennis, the size of the head determines whether a racket is designed for singles or doubles. The larger heads of doubles rackets usually provide a larger sweet spot and more power, so they are perfect for dual play.
Is there an ideal weight for a doubles tennis racket?
It is important to consider your own preferences as well as your playing style when choosing a racket weight for doubles tennis. In general, many doubles players prefer a weight between 10 and 11 ounces.
What is the best racket for doubles play – a stiff racket or a flexible racket?
In terms of preference and playing style, it depends on the player. Power and control are enhanced with stiffer rackets, making them ideal for aggressive players. Those who prefer a defensive style of play will benefit from flexible rackets, which provide more comfort and feel.
What is the best grip size for doubles?
Players with different hand sizes should use different grip sizes when playing doubles. It is possible to experience discomfort and performance issues if the grip is too small or too large. To find the most comfortable and secure grip size, try out The Eastern Forehand Grip or Tennis overgrip.
What is the best racket to use for doubles play?
Players can choose according to their preferences and skill levels. It is convenient to use rackets that have already been strung, but they may not offer the same level of customization as rackets that have not yet been strung. It takes more time and effort to prepare unstrung rackets because players can choose the type of string and tension they want.
What is the best tennis racket for doubles?
Babolat Pure Drive is the best tennis racket for doubles. This racket is designed beautifully, delivers easy playability, and offers a great list of features as well. High performance is achieved by combining power and spin all around the court.
What is the best tennis racket for controlling the ball?
The Wilson Clash 100 tennis racket is the best racket for control. You can easily direct the ball with this racket because it is responsive and maneuverable. A forgiving head allows a larger margin of error, as well as a large sweet spot.
What is the best tennis racket for intermediate players?
The Wilson Clash 100 is a good choice for an intermediate player. Its versatility, responsiveness, flexibility, and power make this racket one of the best in the market.
Can you recommend any brands of tennis rackets for doubles?
Wilson, Babolat, Head, and Prince are some recommended doubles tennis racket brands. A variety of features and specifications are available from these brands to cater to the preferences and styles of different players.
What is the recommended replacement interval for my doubles tennis racket?
In addition to the player's playing frequency and style, the durability of the racket determines how often the racket should be replaced. Replacement of a tennis racket is generally recommended once it shows signs of wear and tear or after one to two years.
What's Next?
We choose Babolat Pure Drive as our top choice among the best tennis rackets for doubles in this list. With its easy playability, amazing design, and many amazing features, this racket is sure to impress. Power and spin are blended for high performance all over the court. 
In addition, we would like to mention the Wilson Clash 100 as one of the top tennis rackets for doubles. A great racket like this one has all the right features, including incredible power, flexible handling, responsiveness, and spin.
The Head Graphene 360+ Extreme MP is another excellent choice, as it is very versatile and performs well on the court. It generates a powerful spin and massive power. Aside from its lightweightness, responsiveness, and comfort, this device is also very versatile.
Moreover, if you have a low budget you can check Best Tennis Rackets Under $100. Also check Rafael Nadal Racquet