Since we find "Best Racket" lists to be somewhat arbitrary, the team here tends to avoid them.
In the long run, there isn't one best tennis racket for intermediate players because there are so many good rackets out there and everyone has slightly different requirements.  Some people like a heavier racket and others prefer a lighter racket that is better for volleying.  It is all down to a personal preference. I am a serve volley player who doesn't create huge amounts of power of the serve or my ground shots.  Therefore I like a racket that is sturdy and gives me great touch around the net. a super heavy racket that will generate huge speed on serve is wasted on me! 
To offer people a personalized suggestion, we have set up our custom fitting service, however, we thought we could also provide some extra advice for intermediate players.
Rather than telling you what a good intermediate tennis racket should look like, we are going to tell you some of our favorite rackets.
We have compiled a list of some of the best tennis rackets for intermediate players that we have come across in the market.  
Importance of a Good Tennis Racket
A good tennis racket is not just a piece of equipment; it is an extension of the player's skills and style. It can significantly impact your performance by enhancing your control, power, and maneuverability. For intermediate players looking to take their game to the next level, investing in a high-quality racket is essential.
Best Tennis Rackets for Intermediate Players – Our Review
Since it's a very personal opinion, it can be difficult to categorize rackets and recommend one over another.
However, we've categorized some of the best tennis rackets for intermediate players based on their power, control, and spin, and as always you can click each link for our detailed analysis.
The Babolat Pure Drive 2021 has been a top seller in the tennis racket market for quite a while now.
The racket has an amazing balance of power and control makes this tennis racket ideal for intermediate players. 
With the Babolat Pure Drive, you are guaranteed good performance and playability no matter where you play.
Those who enjoy aggressive baseline play will enjoy this racket, but it can be weaponized up at the net as well. 
During the playtest, this Babolat racket impressed me with its heavy topspin, crisp feel, and versatility. This racket is more stable and comfortable thanks to the new technology updates, which allows for a wider margin of error. The racket also has a nice pickup. I would highly recommend it. 
Considering all these factors, we decided that Babolat Pure Drive is the best intermediate tennis racket. 
Featuring generous spin and speed, this updated Babolat Pure Strike racket offers great performance and playability.
A player can easily tap into the power of this racket as he did with the previous models. However, Babolat Pure Strike 100 offers players more precision and depth with its control-oriented design.  The racket now weighs in at 300g which is lighter than previous models.
With this racket, I was able to make big, powerful swings at a fast pace because of the great sense of stability it provided.
You can easily maneuver it and change the grip whenever you like thanks to its lightweight frame. 
Players can get fast into different positions with this racket from any area of the court. Despite being subtle, the technological upgrades were obvious, especially with regard to comfortability. There is a lot of topspin and speed generated by it.
Due to its unique blend of power and control, this racket is the best women's tennis racket for intermediate players, despite most tennis rackets being unisex. 
Its amazing features consistently place it as one of the top tennis rackets. What's the best part?
With such a good price, this racket naturally ranks as one of the best budget intermediate tennis rackets. 
There is a larger size difference between the Head Ti S6 and other similar models. There is a nice sweet spot in this model due to the big head size and this is helpful for intermediate players who need a little forgiveness.
Despite being lightweight, it is easy to swing, and it provides a great deal of comfort to the arm and wrist. 
The margin of error is also higher and quite forgiving. Playtesting proved to be a downside for me in that I sometimes lost control over the racket.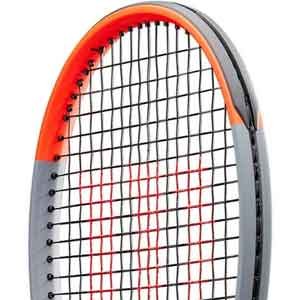 Among the top tennis racket brands, Wilson is a well-known and respected name. With each new product it introduces, we can constantly advance our game. 
The Wilson Clash 100 is one of the best Wilson tennis rackets for intermediate players. 
Flexibility and power are excellent characteristics of this racket. My favorite parts of the product are when it comes to serving and groundstrokes.
The Wilson Clash 100 is the only racket that has such a wide range of game styles. 
There is something for everyone in this intermediate tennis racket, regardless of whether you prefer to be aggressive on the baseline or to stay up high in the tennis net. 
Tennis rackets from Wilson are easy to maneuver, generate a lot of topspin, are comfortable, and are easy to connect with. There is one thing I noticed about this racket: it can feel unstable sometimes, but it's not a deal-breaker.
This racket is an excellent option for players at the beginner to intermediate level.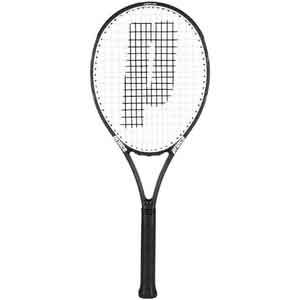 Tennis players know Prince for the quality of their rackets, and their Textreme Warrior racket is a great intermediate racket.
The Textreme Warrior can be adapted and improved to suit a wide range of skill levels. Especially for non-competitive players, it is a better value than the Babolat options above in our view.
100 square feet is the size of its string bed. In terms of spin and control, this racket is an ideal choice for players at an intermediate level.
In addition to the frame design, Prince has incorporated advanced technology into this racket that extends your groundstrokes and serves. If you use the 16×18 string pattern, you will be able to hit better topspin, slice, and kick serves.
As one of the lightest rackets we reviewed, it weighs 11.14 ounces. If you are a junior or adult who isn't as physically strong, this option is perfect for you. Doubles can also be played more freely with it.
I personally have always liked Prince rackets, I find they have always allowed for players who use touch in their game.  
Millions of Babolat fans around the world are passionate about the tennis rackets produced by the brand. 
Currently one of the most popular rackets on the market, the Babolat Pure Aero was popularized by Rafael Nadal.  We review his racket in a separate article.
Designed for comfort and control, the new Babolat Pure Aero line is light and headlight. It generates heavy topspin by combining power and spin.
If you are an aggressive baseliner, this intermediate tennis racket can be used from anywhere on the court.
An aerodynamically designed frame makes the racket much faster and more powerful. A lot of lively and responsive feeling was felt while playing with this racket during the playtest. Taking control of the ball on the court was easy for me.
With the Babolat Pure Aero racket, you are always in defensive mode because of the higher trajectory. As one of the best Babolat tennis rackets, we wouldn't hesitate to recommend this to intermediate players. 
In its latest tennis racket update, Head has introduced the Graphene 360+ Speed MP. During playtest, this racket proved to be highly maneuverable, capable of producing heavy topspin, and excellent performance.
Stability and response were slightly improved over previous models in the same series. 
With a great power level and a nice sweet spot, the Head Graphene 360+ Speed MP tennis racket is hard to ignore. To optimize the racket's flexibility and reduce its stiffness, the brand has used new groundbreaking technology on its head.
This technology distributes the racket's weight evenly, providing a well-balanced and asymmetrical design. 
This racket is the best intermediate racket for players who like to control the point from the baseline and hit deep groundstrokes.
Maria Sharapova used this racket very effectively in her career. 
With a frame size of 100 square inches, it has a very good sweet spot. As a result of its lightweight properties, this racket is very maneuverable at the net or from the baseline.
In contrast, it excels when it comes to players who wish to grind from a distance. The racket will be easier to control than most other rackets this size, and you will be able to attack the line more efficiently.
In doubles, this tennis racket isn't a good choice because it lacks some stability when coming to the net. Still, it's a great choice regardless of your skill level.
This racket has become very popular among Roger Federer's loyal fans because it's the official racket. As you might expect, this racket is primarily suited for advanced players. I also need to confess at this point, this is the racket that I use so I am maybe a little biased. 
Newly updated models feature a heavy frame that provides power, spin, and control. Having Federer's signature on the racket is an interesting feature. 
A player with advanced skills and a fit body can handle this racket, which is not the easiest to maneuver.
As a result of its heavy weight, this racket can exert a lot of pressure on the wrist after a few minutes of use. 
We found that the racket's great control and stability make it the best racket for intermediate to advanced players. It isn't suitable for beginners; you should look elsewhere.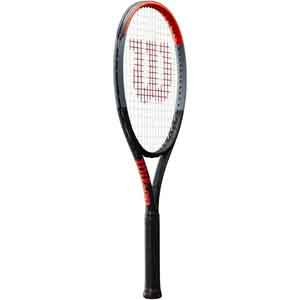 Wilson Clash 108 is the best racket for you, whether you're an intermediate player or a beginner. Despite its power, flexibility, and sweet spot, this racket is incredibly versatile and easy to control. 
The control and stability of the device are decent. You don't have to look any further if you're interested in mastering your groundstrokes, serves, or returns.
Your strokes will be easier to hit with this racket, helping you improve fast. 
This racket allows a wider margin of error, is very forgiving, and is comfortable to hold in the hand. Wilson Clash 108 will change your perspective if you were skeptical of oversized rackets in the past.
There is only one downside to this tennis racket, which is its price. In life, you normally get what you pay for! However, we believe it is a wise investment to make. 
How Should You Choose an Intermediate Racket?
When choosing your beginner racket, you want something that makes learning the basics easy and getting the ball back over to the opposite side easy.
To get the most out of the strokes you have already mastered, you'll want your intermediate racket to provide a little more performance to help you execute better shots.
You need a racket that will help you keep improving your strokes, but playability should still be a big focus.
To find the best racket for intermediate tennis players, a balance must be struck between the ease of use and the performance of the racket.
There is no one size fits all racket for everyone, so finding the racket that fits you depends on your standard of play, playing style, age, and fitness level. Here you can find the best intermediate tennis rackets categorized by power, spin, control, and all-round to help you choose the right one.
Weight and Balance
Your first consideration when buying a new racket should be the weight. The weight and balance of a racket determine its maneuverability and stability. Intermediate players generally find a racket with a weight ranging from 10.6 to 11.2 ounces and a balanced or slightly head-light design to be ideal.
| | | | | |
| --- | --- | --- | --- | --- |
| Racket Weight | Range | Power | Control | Level |
| Lightweight | 8 oz – 10.5 oz | High | Low | Beginner |
| Midweight | 10.6 oz – 11.5 oz | Medium | Medium – High | Beginner – Intermediate |
| Heavy | 11.6 oz – 12.6 oz | Low | High | Advanced – Professional |
Once your swings improve, you'll have more power, spin, and control with a heavier racket. Lighter rackets are easier to handle, but as you improve your swings, they get heavier.
Depending on your strength, stamina, and ability, you might fall in the range of 285g to 305g for intermediate players.
The intermediate racket category has plenty of great rackets that combine modern comfort with great performance.
Furthermore, you need a racket with plenty of performance since you'll only get better (hopefully).
Grip Size
Having the right grip size ensures a comfortable and secure hold on the racket. Intermediate players commonly opt for a grip size ranging from 4 ¼ to 4 ⅜ inches, although individual preferences may vary. You can read our guide on measuring grip size for tennis.
Racket Head Size
It's best to pick a racket with a large head size when you're a beginner since it will make hitting the middle of the strings easy, provide good comfort, and provide easy power.
Eventually, as you gain confidence in your swing, you will wish to go for a more compact racket, and that can mean a smaller head.
Having precision and control is a benefit of this method.
| | | | |
| --- | --- | --- | --- |
| Spec | Mid | Mid – Plus | Oversized |
| Inches | 85 – 97 | 98 – 104 | 150 + |
| Centimeters | 545 – 645 | 630 – 671 | 680 + |
| Power | Low | Medium | High |
| Control | Medium | Medium | Medium |
| Sweet spot | High | Medium | Low |
Due to the smaller head size, the ball is easier to control, allowing for more possibilities.
A 98sqinch or 100sqinch racket is going to be the majority in this category, but there are also 104sqinch rackets available.
You should choose what feels best for you, but as you improve your game, the benefit of really big heads tends to diminish.
The most common head size is 100 sq inches, so you can start there and see how it goes.
Racket Balance
It's probably not necessary to pay too much attention to the balance of your racket since it's a more technical aspect.
Most rackets have headlights for easier maneuverability, but all rackets are designed to balance maneuverability with performance.
Finding the right racket is more important than the balance, so it's more about finding the racket that feels right.
Material and Construction
The material and construction of a racket can impact its overall feel and performance. Graphite rackets with advanced technologies offer a blend of power and control, making them popular among intermediate players.
Power vs Control
This is always an important consideration when purchasing a new racket. Your racket must be controlled to get good power, so you can hit with power.
When your strokes become better, and your power increases, you'll need a racket with control so you can unleash all that power.
A racket might appeal to you because of its strength, but it may not be your best fit.
Power, spin, control, or anything else is not what defines the best racket for intermediate players – it's the balance they strike.
If you want to get the most from your racket, you need to evaluate your ability to generate power.
You may enjoy reading Can You Throw Your Racket in Tennis?
Is it time for you to upgrade your racket?
To determine what type of racket you need, choose the one that best describes you.
Beginner Tennis Players
It has only been a few times since I have played tennis. I am considering getting more serious about playing and am looking for a better racket. Taking lessons might be something I want to do as well.
Intermediate Level Players
The last time I played was a long time ago. The last time I played was 12-24 months ago, and I am curious about how to improve my game. When it comes to hitting the ball, I can consistently hit it over the net, but I don't always control where it goes.
My main goal is to get it back. My preferred stroke is to hit from one side to the other (typically forehand). There isn't much power or spin in my groundstrokes and serve.
You've come to the right place if this describes you!
Advanced Level Players
In addition to controlling placement and power, I also control spin with my shots. In addition to power and spin, I also serve. The USTA scale would rate this as 4.0 or higher.
See our list of the six best tennis rackets for advanced players if this describes you.
Chart of Tennis Racket Specifications
In general, you can follow the guidelines provided in this table. Even though there are more variables to consider when making a racket, these are the most important if you don't want to read about swing weight and balance all day.
| Racket Specifications | Beginner Players Only | Intermediate& Some Beginner | Advanced & Some Intermediate |
| --- | --- | --- | --- |
| Head Size(sq. inches) | 107 – 115 | 100 – 110 | 95 – 100 |
| Length(inches) | 27-28 | 27 – 27.5 | 27 – 27.5 |
| Weight(strung) | Under 11 Ounces | 10.1 – 11.5 Ounces | Over 11 Ounces |
| Price | Under $150 | $100 & up | $150 & up |
| Power vs Control | More Power | Balanced Racket | More Control |
The fact that you're still reading means you've made the right decision
In choosing a racket, intermediate players must consider more factors than beginners. There are several factors to consider as you become a better player.
Which type of swing do you have?
Are you looking for power or control help?
What kind of tennis do you play? Singles, doubles, or both?
Do you play tennis often? Are you interested in becoming an advanced player?
For more information about the right tennis racket for you, answer the questions below.
Which type of swing do you have?
Your tennis racket may need to be smaller (under 105 square inches) if you develop a faster, longer swing. It is common for fast swings to require less power, so a controlled racket is best suited for those who need less help with power. A Wilson Clash 100 is one of the best control rackets below.
Tennis rackets with power may be suitable for those who have a short or slower swing. A racket with a square area between 100 and 110 square inches is a good option in this case. Rackets with thicker frames, like the Yonex Ezone 100 or Babolat Pure Drive, provide more power. Are Yonex Tennis Rackets Good or Bad? You can check the complete guide here.
Are you looking for power or control help?
At the intermediate level, your shots are starting to land better on the court. The ball goes over the net with consistent power with a swing you've developed from the baseline. As you decide what you're looking for, you'll also want to think about the racket's weight and size.
The power of rackets with large frames and large surfaces will generally be higher. There will be more control with smaller frames.
A racket with 98 to 104 square inches and 11 to 11.5 ounces can be used by most physically fit adults with intermediate skills and good coordination. Your swing will be more powerful and controlled as a result.
Women or teens who are physically weaker than most adults can be injured by a heavy racket. Consider a racket head that is over 105 square inches and weighs less than 10.5 ounces in this situation. For this purpose, the Prince Textreme Warrior 100 is the best choice.
What kind of tennis do you play? Singles, doubles, or both?
It depends on what type of game you play whether you should use a singles racket or a doubles racket.
You may be able to use a racket that has less mobility and has an extra sweet spot for players who prefer to stay on the baseline and hit groundstrokes.
Rackets with good versatility are ideal for doubles players, especially those who love to attack the net. The ball will become faster as you play more competitively, so you won't be able to react as quickly with a bulky racket. Tennis rackets with less than 104 square inches are the best for doubles. Their size allows them to be handled and maneuvered more easily. Your volleys are also easier to control and place with them.
Do you play tennis often? Are you interested in becoming a better player?
The type of racket you need depends on where you intend to play. A racket that allows you to improve to a higher skill level will be needed if you have aspirations to play tennis professionally in US Open Tennis 2023 or other professional leagues and tournaments.
There are several choices below that will enable you to accomplish that. A tennis ball machine may also be a good option to save on lessons.
To get the best tennis strings, racket bags to carry your rackets, and tennis shoes, continue to do your homework, read reviews, talk to players, and research the internet to become better informed. 
You can buy a racket that isn't quite as advanced if you just want to hit recreationally to keep in shape and have fun.
You may enjoy reading How Long Do Tennis Balls Last?
Frequently Asked Questions
We have answered a lot of questions about performance and technical specifications in the article several
As we researched the best tennis rackets for intermediate players, we also came across a number of related questions that deserve more attention.
What is the best tennis racket for intermediate players?
Because different players have different preferences, there is no definite answer to this question. Although it may not be the best tennis racket for beginners, we believe the Babolat Pure Drive is the best racket for intermediate players because of its great power-to-control ratio. A wide range of players can also benefit from its impressive spin and speed.
How do you define an intermediate tennis player?
Intermediate players have been playing tennis for a few years and have developed basic strokes. The players understand the game well and can keep a rally going.
How to choose an intermediate racket?
Power, control, spin, and comfort should all be considered when choosing an intermediate racket. Besides choosing the right racket, you should also consider how you play.
Is it possible to recycle a tennis racket?
In addition to metal, plastic, and rubber, tennis rackets are made from a variety of materials. Recycling is possible for all of these materials.
Finding a recycling center in your local area that accepts plastics is the first step in recycling a tennis racket. Remove the tennis overgrip from the racket, as well as the metal frame and plastic casing. Remove any dirt or grease from the parts by washing them with soap and water. Make sure they are completely dry by using a towel.
All of the parts of the tennis racket should then be placed in a bag or container and taken to the recycling center. New products will be made from them after they are melted down!
Final Thoughts
We have covered some great rackets and advice for improving your game in this review.  To recap our two top picks are the Babolat Pure Drive and the Wilson Clash 100.  Babolat because of its playability and performance. There is a great balance between power and control in this racket, along with a lot of spin and speed. It is a very versatile racket so no wonder it is popular. 
The Wilson Clash 100, is an intermediate tennis racket that is both powerful and flexible. It is a little more expensive but this is a truly fantastic racket and it looks great as well.  If you are a serve and volley specialist then this probably isn't the racket for you.