Tennis balls are an important part of a tennis players kit bag. I have wanted to write this article for a while now as I have bought and tried so many tennis balls and different brands.  I have played in the heat, played on clay, played in the rain and really do notice a difference with the performance of the ball. 
In this article we review the best tennis balls for every level of player. In addition to durability and bounce, we consider how the product feels.
It is not enough to have the talent and skills to be a great tennis player. Choosing the best tennis balls is crucial if you want to succeed. In such a way that the results of the game can and will be affected by it. With so many types and brands of tennis balls available today, is it possible to find the best tennis balls? 
The answer is yes, although it's a bit tricky! Making the right choice for yourself involves keeping a few important things in mind. Performance, durability, affordability, bounce consistency, and other factors distinguish good tennis balls from the rest. 
Whether you are just starting out or you have been playing tennis for years, I have explained everything you need to know in this guide. So without further ado let's jump in. 
Best Tennis Balls – Our Review
The team has reviewed seven of the best well-known brands of tennis balls to make your tennis journey easier. I am confident that you will find the best tennis balls no matter what your age or skill level is, which will further enhance your love for the game.
Introducing the Wilson US Open Tennis Balls, the choice of champions! We'll be honest, these are our favorite tennis balls. 
As the official ball of the US Open and the Australian Open Grand Slam Championships, this premium tennis ball is designed for optimal performance on clay or indoor courts.
Crafted with Wilson's exclusive Tex Tech Industries felt, these tennis balls offer unrivaled durability and superior playability. Whether you're a tournament player or simply a passionate tennis enthusiast, these balls are perfect for delivering the ultimate game experience.
Approved by both USTA and ITF, they are high quality and have good consistency. With their thick felt construction, they provide excellent resilience and ensure perfect playing characteristics.
Join the legacy of excellence that spans over four decades – since 1978, the Wilson US Open Tennis Balls have been the top choice for prestigious Grand Slam tournaments. So why settle for anything less?
Of all the balls trialed these balls lasted the best after several matches of tennis.  We highly recommend them. 
Order your Wilson US Open Tennis Balls today and unleash your full potential on the court!
You may enjoy reading How to Qualify for US Open Tennis?
All across the United States of America, Penn Championship Tennis Balls are best sellers and they're a brand name. This is an ITF approved ball and official ball of the USTA leagues.  The ball is verstatile across clays, hard courts and grass. 
There is a nice bounce to these balls, and they are durable. There is a natural rubber construction on Penn's tennis balls that reduces shock during hits and is made of interlock wool fibers. Whether you are a beginner or a highly advanced player, Penn tennis balls are great options. 
I like these balls, although they are not long lasting.  I find that after a match of three sets the balls lose their 'ping'. They are also less expensive than Wilson tennis balls so I tend to use them for one, two matches maximum.  If using a second time it is for practice. 
So overall, a good ball, well priced but you will find yourself going through a fair few tubes of them.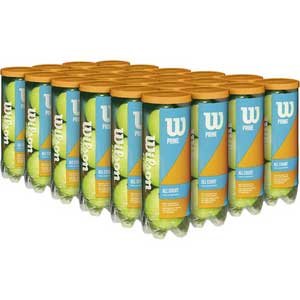 Wilson Prime All Court Tennis Ball is an excellent option if you are looking to save some money. During my testing, it performed well over the course of play. Similar to Penn, the only downside is that some other brands are more durable than this one and I would say this doesn't have the same top end feel of the Wilson or Penn balls reviewed here.
Wilson's prime balls are approved by the IFT. Regardless of the court surface, they are playable without sacrificing quality. In addition to their traditional performance, they have an extra-durable durawave felt coating. 
Whether you're training or playing casually, Wilson balls are a great choice. It is also possible to use them for competitive matches, even though this would not be ideal. In addition, these are some of the best tennis balls for beginners.
Another quality ball that is used in many of the USA's top tournaments. Penn's exclusive LongPlay felt is used on these balls and we found them to be one of the most durable balls on the market. 
They are approved by the IFT and are great for training as well as competitive matches. They are made of high visibility smart Optik felt treatment, which makes them 19% more visible than standard tennis balls. Their overall consistency and bounce are excellent. 
Bottom line is this ball lasts.  It is great for the harder hitter or people who put their balls through more than a gentle work out.  The shape is kept and the hard court did not eat them up after one session – a bonus! 
Cold weather tennis players should definitely choose Wilson Triniti Tennis Balls. We came across these balls by accident, one of our clients mentioned them to us.  And what a recommendation it was. 
These balls come in a fully recyclable packaging, Trinity line tennis balls are the first in the industry to do this. Big tick on the sustainability front. In an effort to keep the ball fresher for four times longer, the Wilson brand has incorporated elastomer material into its ball. 
A highly flexible and compact ball with an engaged core. STR felt tennis balls from Triniti are ITF-approved and ITF-certified. In addition, 5% of the profits from every purchase customers make support worldwide sustainability efforts. 
These are definitely the balls for you in poor weather.  The bounce of the ball is fantastic given its unique build and they last.  It actually made playing tennis in cold enjoyable. I can't recommend these enough, well done Wilson. 
Whether you practice with a coach or a machine, Penn Pressureless tennis balls are a great choice. There are some great pressureless tennis balls out there. The 12-ball bag offers excellent value and comes in a variety of colors.
All court surfaces can be used with these balls due to their long-lasting durability. All levels of players can use them, especially beginners. The rubber material is used to make Penn's pressureless balls, and their cost is quite reasonable. Among the brand's best sellers, this line has been around for years. 
Tennis balls without pressure have the advantage of lasting much longer than regular ones. You won't have to worry about your training session getting softer over time since they don't do so.
We thought worth including a beginner ball. As a beginner, if you have any doubts about what tennis ball is best for you, I recommend Dunlop tennis balls. Overall, the ball performs very well, has a nice bounce level, and is very playable. 
It is endorsed by the ATP world tour. In addition to regular duty, it's also available in extra duty if playing on a hard surface. There is less fluff on these balls than those of their competitors because of their good speed. 
Tennis balls made by Dunlop are some of the most affordable options available on the market. While this may be the case, they still provide a very good level of quality and durability. Despite being quite resilient to wear and tear, the ball has a consistent bounce and a consistent feel.
Tennis Balls: A Quick History
In the early days of tennis, tennis balls were made by hand with leather, wool, and rope that were wrapped tightly together.
There are some instances in which a goat or sheep's stomach would form the core of a ball, which, though surprising to many, is similar to the cow intestines still used for natural gut tennis strings.
Tennis balls, which evolved from leather to rubber, grew as the sport matured in the 1870s with Lawn Tennis and equipment sold by Major Walter Clopton Wingfield.
It was not uncommon for the first rubber balls to provide inconsistent performance because they were rudimentary. In the early nineteenth century, however, a British sportsman named John Heathcote introduced a two-piece tennis ball covered in flannel.
Tennis balls are manufactured according to a strict set of criteria established by the International Tennis Federation (ITF), such as weight, size, bounce, deformation, and color.
It was common to use white or black tennis balls up until the 1970s. Despite this, color television introduced in the late 1960s made it difficult to see white balls during televised events like Wimbledon.
As a result of a study by the ITF, their rules were amended in 1972 to make yellow easier to view on color screens. In due course, all tennis balls would have to be white or yellow, and within a couple of years, optic yellow was embraced by all tournaments worldwide as the standard color for professional and recreational tennis.
Types of Tennis Balls 
| Balls Types | Best Suitable For |
| --- | --- |
| Extra Duty | Hard Court |
| Regular Duty | Slow Court (Clay) |
| Pressure less | Practice Balls/Match Balls |
| High Altitude | Elevations above 4,000 feet |
| Junior Foam Balls | Age 3 – 5 |
| Junior Red Balls | Age 6 – 8 |
| Junior Orange Balls | Age 9 – 10 |
| Junior Green Dot Balls | Age 11 -13 |
A tennis ball doesn't necessarily have to look round and fuzzy to be the same as another. A tennis ball can be classified according to its features. There are several types. There are three basic levels of balls produced by the manufacturers.
Recreational level – best used for practicing.
Championship level – used during matches in various leagues. 
Professional level – made to the highest standards and used by the best athletes in the world. 
In order to select the right tennis ball, you have to consider your goals, the court you play on, and your level of skill.
Tennis balls are classified into three major categories, with their main features and differences listed below. By the time you're done reading this article, you'll feel like a pro, even if this is your first time buying a tennis ball. 
Pressureless
You should use a pressureless tennis ball when practicing tennis, especially if you are a beginner. In the game, these balls might feel heavy or even "dead" since they aren't made with air pressure. Compared to other types of tennis balls, pressureless balls are much heavier and firmer, and they have a solid core.
Although they can be an effective tool for improving your tennis skills, they are not a great option for everyone. 
The most durable tennis balls last the longest, so you won't have to buy a new one every time you practice. Tennis balls made from pressureless materials can last for up to a year. You might not be able to get the best bounce right away, but the ball will improve over time if you use it regularly. 
It is also beneficial to use pressureless balls on any tennis court. It doesn't matter what type of surface you are playing on or if you are using the ball machine, you can use them. 
Pressurized 
I can assure you that opening a new can of pressurized balls is one of the greatest feelings in life. Several benefits make them everyone's favorite on the tennis court, including star athletes.
A high level of compressed air is used to manufacture inflated tennis balls. In addition, they feel very "live" during the game because they are light in weight. Thus, players can better control their shots when they use pressurized balls.
It is their bounce that makes them stand out, particularly when they are fresh out of the can. The players can also use less strength and save more energy with pressurized balls. They are also very fast and much more responsive. 
There is, however, a very short lifespan for them. There is not much you can do to prevent the pressure from leaking out of tennis balls when played by recreational players. Pressurized balls leak air the moment they are opened, and depending on the amount of force used and the time it takes, they begin to lose almost all their qualities in a matter of days. Originally, tennis balls were pressurized for that reason.
High Altitude
Tennis court altitude is another important factor to consider. Tennis balls with pressurized air have a different responsiveness if they are located at 4,000 feet (1219m) above sea level. 
The ball bounces higher at high altitudes because the air is thinner and moves faster. Players may find it difficult to adapt to the ball flying this high. 
These inconveniences can be minimized by using high-altitude tennis balls, especially for players used to regular bounce levels.
To adjust to the high altitude atmospheric pressure, these tennis balls have a lower internal pressure. Due to this, the ball bounces and spins much as it does on a court at a lower altitude, making it easier for players to play.
How Tennis Balls are Made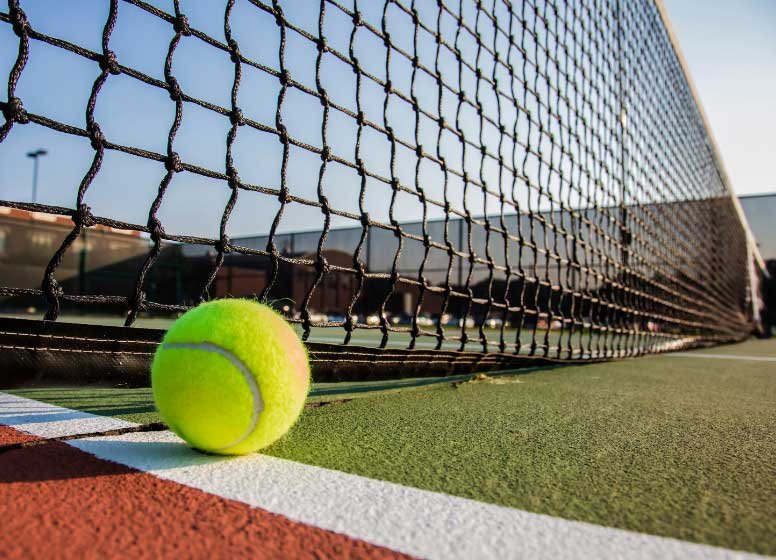 Initially, tennis balls seem to be relatively straightforward items of tennis equipment.
In spite of the unassuming appearance of tennis balls, the manufacturing process is highly detailed and technical. In order to meet the growing demand worldwide, brands have continued to optimize the process over the years.
An overview of how tennis balls are made can be found here.
For optimal bounce, durability, and performance, a blend of natural rubber and synthetic rubber is combined with proprietary ingredients.
To achieve a firm and smooth rubber compound, workers mix, pulverize and continuously roll the rubber blend.
Using a machine, the rubber is formed into small, weighted plugs or pellets.
Plugs are placed on a machine resembling a cupcake tray that heats rubber to 320 F and applies pressure to form half-shells.
It is then graded or sanded to a specific height and buffed clean after being punched out by a machine.
Special heat-activated glue or adhesive is applied to the edges of the half-shells.
As a ball is being vulcanized, intense heat, pressure, or a process known as vulcanization is used to seal it before the two half-shells are combined.
Afterward, the ball is graded and lightly sanded before being covered with glue or adhesive.
On the other hand, a machine cuts sheets of felt into pill shapes (often a mix of nylon and wool).
It then dips them into a white latex glue bath that will act as an adhesive and presses stacks of felt together so that only the edges are exposed.
Two pieces of felt are applied to a rubber ball, which takes shape as a result.
In order to bond the felt cover firmly to the inner rubber ball, the balls are put into a machine that heats and applies high pressure.
The felt of the balls is fluffed up for optimal performance by a quick tumble, which may involve steam.
Workers trim latex along the seam of balls that have been through quality control to ensure there are no imperfections.
Logos are stamped or printed onto each ball by a machine.
In order to ensure that the balls remain fresh until opened, they are canned and pressurized to match their internal pressure.
ITF's tennis ball standards and rules require thoughtful engineering for consistent production, as you can see in the manufacturing process below.
What Makes a Good Tennis Ball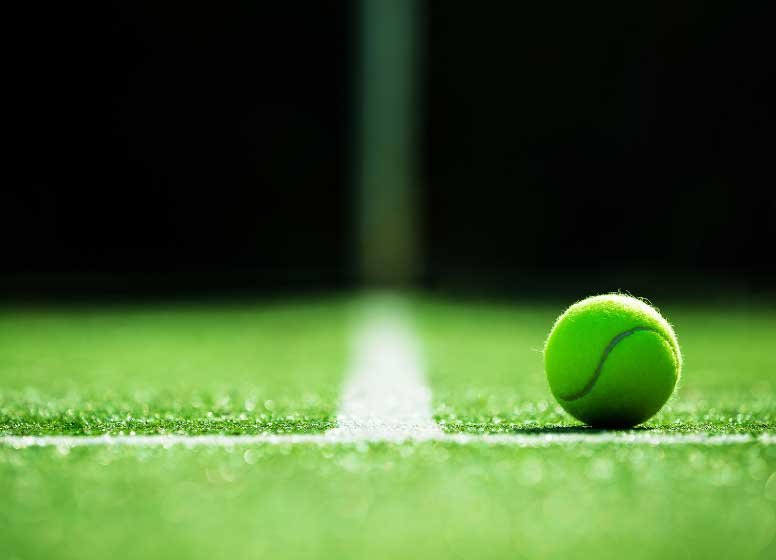 Players choose tennis balls based on their own personal preferences in many ways. There is also the matter of price to consider.
Nevertheless, you can assess the quality of a ball based on a number of factors. In my opinion, there are three most important attributes:
Durability: High-quality tennis balls include a premium felt that is resistant to breaking due to constant beating from the court and strings of racquets.
Long-Lasting Bounce: Tennis balls lose their bounce over time as their pressure decreases. Over time, the best tennis balls maintain their bounce.
Consistent Performance: Tennis balls of the same type and brand should perform nearly identically over time.
In order to ensure baseline quality of all three characteristics, most tennis balls undergo rigorous testing administered by the ITF.
Because of this, you should rarely have to worry about quality unless you buy a brand unfamiliar to you and the ITF does not approve. It is always a good idea to check which balls are approved by the ITF before selecting a brand.
In the next section, we'll cover how to choose the best-suited tennis ball for your playing conditions based on your preferences.
What to Consider When Buying Tennis Balls
If you want to make the right choice when buying tennis balls, you should keep a few things in mind. Choosing a tennis ball that is the most expensive or of the same brand as your favorite tennis star doesn't mean you're buying the best. 
Several factors need to be taken into consideration, including your age, skill level, tennis court type, ball material, game preference, bounce, spin, etc. If you don't know the difference between different types of tennis balls, you can form bad habits in the field and fall behind.
Regardless of whether you are a beginning or advanced player, this guide is sure to provide you with valuable information. 
Freshness Matters
It's easy to assume that unopened pressurized tennis balls will last for years. Sadly, that isn't the case.
I've found that tennis balls have a shelf life of about a year before underperformance occurs as they can slowly lose pressure.
To ensure your tennis balls don't have been sitting on the shelf for too long, purchase them from companies that regularly sell tennis balls.
Bulk purchases should also be considered. Tennis balls are better bought in smaller batches or one can at a time if you aren't likely to go through a case in a year.
Skill Level
Children – Balls designed for children are significantly larger than those made for adults and fasten at a slower pace. Children should learn the rules and gain skills in the field before participating in this activity in order to prevent possible injuries.
Beginners – Regardless of whether the ball is fast or soft, beginners should always choose softer tennis balls. A pressureless ball is also a great option for practicing and learning.
Advanced – Players who strive for progressive improvement while avoiding injury. Training sessions should be done with softer balls, and matches should be played with pressurized balls.
Professional players – play with a pressurized ball that is chosen according to the tournament they are participating in.
 An extra tip – Even if you are a highly advanced or professional player, it is wise to use balls for beginners if you are suffering from an injury. The softer and slower balls used by beginners will reduce the impact of the hit on your arm, making it easier for you to recover. 
You can differentiate tennis balls based on their color according to your children's age group. You can save so much time and energy by memorizing their color meaning. 
Red balls (stage 3) are perfect for children ages 4 to 7 because of their light weight, softness, and low pressure. 
Orange balls (stage 2), which weigh 50% less than a standard tennis ball, are ideal for children aged 7 to 9. 
Green balls (stage 1) are suitable for children up to nine years of age. The best tennis balls for beginners are also these balls.
Court Surface
The different types of tennis surfaces include hard courts, clay courts, grass courts, and synthetic courts. Depending on the court surface, the balls will perform differently and the game will end differently.
The type of ball you should use depends on where you play, so knowing what makes the difference is crucial.
Regular duty – if you play on clay or carpet, these are the best tennis balls. As a result, they work well on surfaces like these because they are made from a softer and thinner material. 
Extra duty – provides the best performance when playing on hard courts that are very rough on the ball. Tennis balls made from extra-duty material are thicker and firmer, resulting in longer life and more durability.
Grass court – these balls are similar to regular duty balls in terms of stain and water resistance. To prevent the ball from changing color or absorbing moisture from the grass, this is done. 
The Number Doesn't Matter.
There are usually four numbers on tennis balls: 1, 2, 3, and 4. Most beginners believe that these numbers tell what type of ball is being used, its bounce level, speed, and other important characteristics. 
This isn't true at all! My statement that numbers don't matter is quite literal. The only reason they exist is to prevent you from mixing up your balls with other players on the court next to you. Since the courts are usually close together, the ball can easily get lost. 
Identifying which balls belong to you and which don't is as easy as checking the number. 
ITF Approval
Before any respectable tennis ball brand can sell its product, and make it available to consumers in the market, it must be approved by ITF (short for International Tennis Federation). 
They'll make sure to ensure that the quality of the product remains constant due to the ITF's very strict approval standards. Several attributes need to be met for a ball to receive approval, including
Durability – a tennis ball should last as long as possible. It is important for a tennis ball to be able to withstand a hit. It doesn't matter how many they are, as long as they don't break up. 
Long-lasting bounce – As balls age, their pressure decreases, resulting in a loss of bounce. The bounce of a quality ball, however, should last longer. 
Consistent performance – when buying tennis balls from an ITF-approved brand, you should expect the same quality every time.
 Among other factors, IFT demonstrates its approval by considering mass, size, acclimatization, pre-composition, deformation, and rebound.
Use a Tennis Ball Saver
The idea of a tennis ball saver may seem a little gimmicky to some. Are tennis balls able to stay fresh or be brought back to life with a simple plastic tube? Yes, I have found them to be effective.
Up to three tennis balls can be stored in the tennis ball saver, which then compresses the air inside to 14 PSI, the original tennis ball pressure. Tennis balls are re-pressurized slowly over time, preventing them from losing their internal pressure.
The three most popular models are:
There is no difference in design between the three, so if you play frequently and want to save some money on golf balls, you should consider all three.
Price 
Different types and characteristics of tennis balls have different prices. Brands with the highest reputations also have the highest prices. Buying a great can that fits your needs and skill level doesn't necessarily mean spending hundreds of dollars.
Buying tennis balls without doing any research is a waste of money, and you won't know exactly what you need or what to expect. 
In order to find the ball that makes you perform better on the field, it would be ideal to test and try various options yourself. In reality, though, that doesn't always work because it takes so much time, effort, and money. 
Men's vs. Women's Tennis Balls
The selection and use of tennis balls generally do not have anything to do with gender, i.e., tennis balls are not designed to be gender-specific, however, the ATP and WTA tours use different tennis balls.
One of the most prominent instances where different balls are used by men and women is at the US Open. Wilson Regular Duty tennis balls are provided to players on the ATP tour and Wilson Extra Duty tennis balls are provided to players on the WTA tour.
As well as the Australian Open, the Miami Open, and the Canadian Open, many other tournaments share the same theme. There may, however, be a difference in tennis ball brands because of sponsorship alone.
Having different balls for men and women is explained by the difference in felt and the idea of speeding up the women's game while keeping the men's game as slow as possible.
Extra duty balls, which have more felt, travel slower because they fluff up more, whereas regular duty balls have less felt and fluff up less.
In the US Open, the ink used on the balls signifies what type of ball it is. For men, it is black, and for women, it is red. In addition to that, it's hard to tell them apart from each other.
Kids Tennis Balls
Kids' tennis balls were not a thing for many of us growing up. There was no difference in tennis balls, courts, or net sizes between children and adults, except for kid's racquets.
USTA (United States Tennis Association) recognized the deficiencies in 2010 and added 10 and Under Tennis, which adapted the court and equipment to make it easier for children to learn and progress.
Kids also use a variety of tennis balls that correspond to their age and skill level alongside the racquet, court, and net size differences introduced with 10 and Under Tennis.
The table below summarizes the different tennis balls kids use at each level of the 10 and Under Tennis program.
| Stage | Color | Material | Size | Compression |
| --- | --- | --- | --- | --- |
| Red Stage 1 | Red & Yellow | Foam | Largest | None |
| Red Stage 2 | Red & Yellow | Rubber & Felt | 15% larger than standard | 25% of standard |
| Orange | Orange & Yellow | Rubber & Felt | Standard | 50% of standard |
| Green | Green & Yellow | Rubber & Felt | Standard | 75% of standard |
A child starts with a large felt ball that moves slowly then progresses to a smaller low-pressure ball that moves quicker and bounces higher. Color-coded balls are used at each stage to make identifying the balls easier.
Tennis balls are used by kids and adults around the world, and there's nothing fundamentally wrong with that.
It is likely, however, that your child will participate in the Tennis for 10 and Under program or a similar program if you enroll your child in lessons. In the Lawn Tennis Association's (LTA) Youth Program, for example, similar learning techniques are employed.
Tennis Ball Brands
Tennis balls from top manufacturers like Penn, Wilson, or Dunlop are most likely to be found in any can-you-buy.
Although these brands are very popular, there are many other brands that produce exceptional tennis balls. You can also check top tennis rackets brands.
You'll find below a list of brands with at least one tennis ball that has been approved by the ITF.
The tennis balls were ranked according to their prominence in the industry to make the list easier to review.
Babolat
Diadem
Dunlop
Gamma
Head
Penn
RS
Slazenger
Tecnifibre
Tretorn
Wilson
Yonex
There isn't necessarily a difference in quality between these tennis ball brands. It's harder to find them and they aren't as popular as they once were.
The balls used at the Grand Slam events
Tennis major tournaments, such as the Australian Open, Wimbledon, French Open, and US Open, are considered the most important events in the sport.
Due to this, each of them receives an official tennis ball as part of its sponsorship.
The umpire switches out the tennis balls after the seventh game during Grand Slam matches because players are provided with six balls at the start of each match during the warm-up. After nine games, the umpire swaps the balls out for the remainder of the match.
Australian Open
In Melbourne at the end of January, the Australian Open kicks off the year's first Grand Slam.
Until 2022, Dunlop will supply balls to the tournament for the next five years. Since 2006, Wilson tennis balls have been used at the Australian Open instead of Dunlop.
Tennis balls will be used by players during the tournament in the amount of 48,000. Dunlop Australian Open XD tennis balls are a good choice if you're looking to buy them.
Wimbledon
Since 1902, Slazenger tennis balls have been used in Wimbledon, one of tennis' most prestigious events.
In preparation for Wimbledon, which starts at the end of June, more than 54,000 tennis balls are packaged and prepared. Tennis balls were used in 54,250 matches in 2018.
In some locations, Slazenger Wimbledon Balls are available in cans of three instead of four, so you'll want to search for these.
You may enjoy reading How often are tennis balls changed at Wimbledon?
French Open
Tennis balls used by the French Open since 2011 have been manufactured by the French company Babolat, but they will be replaced by Wilson Tennis Balls in 2020. It was Dunlop who supplied the ball before Babolat.
Wilson and the French Open have a five-year agreement, so it will be interesting to see if they choose to keep working together or part ways.
An average Roland-Garros finalist hits 12,000 balls over the course of the tournament, according to a promotional video released by Wilson and the French Open. In addition, the French Open uses over 60,000 balls annually.
US Open
In the past, grass courts were used for the US Open. A brief switch to clay took place in 1977 before the tournament finally settled on hard courts in 1978. The team signed Wilson as their official tennis ball supplier during the transition to hard courts.
The partnership continues today with Wilson supplying the tournament with regular-duty and extra-duty tennis balls. Approximately 70,000 tennis balls are provided by Wilson every year.
Our Selection of the Best Tennis Balls
There should be a great performance on the field from the best tennis balls. Among the factors considered in selecting the best tennis balls were durability, playability, bounce level, topspin generation capability, ball type, and other specific features.
These factors influenced our selection of balls based on their main characteristics and features.
Tennis balls on the list above offer a wide range of brands and lines, so no matter what level you play at, you can find something that meets your needs. The models available are designed to meet the needs of all skill levels, types of courts, and goals. Y
ou can navigate better in the many choices available with the description and reviews of the above picks, which provide clear explanations of what to expect. 
FAQs
You should have found a lot of valuable information above aimed at answering a lot of questions about what tennis balls are best for you. I have gathered answers to some of the questions that cropped up frequently during the research, so I have gathered them here.
What tennis balls do professionals use?
There are a variety of tennis balls used by professional players, but the Wilson US Open Tennis Balls are the most popular. There are a lot of advantages to these balls, including a great structure, a light, and lively feel, and pretty much all the qualities that make them champion among such strong competition.
What are the longest-lasting tennis balls?
A pressureless tennis ball lasts the longest. Practice and training are conducted with those balls. Tennis balls made for competitive play don't bounce and perform as well as regular tennis balls. There are a number of good pressureless tennis balls available on the market, such as Penn Pressureless Tennis Balls.
In contrast, Wilson Championship Extra Duty Tennis Balls are the strongest pressurized tennis balls on the market. The balls have an amazing performance and last quite a while on the court.
What are the strongest tennis balls?
Depending on your preferences and needs, there is no definitive answer to this question. However, Wilson US Open Tennis Balls are the best choice if you want a ball with incredible durability. The structure of these balls is great and they can last for a long time.
What are the best tennis balls for recreational play?
For recreational play, it is recommended to use tennis balls with lower compression, as they are softer and easier to hit. Some good options include the Wilson US Open Tennis Ball, the Penn Championship Tennis Ball, and the Dunlop Grand Prix Tennis Ball.
What are the best tennis balls for competitive play?
For competitive play, it is recommended to use tennis balls with higher compression, as they are more durable and offer a more consistent bounce. Some good options include the Babolat Team Tennis Ball, the Head Championship Tennis Ball, and the Wilson Australian Open Tennis Ball.
How often should I replace my tennis balls?
Tennis balls should be replaced every few months or when they start to lose their bounce or become too soft. The exact frequency of replacement will depend on the level of play and the conditions in which the balls are used.
Which ball is best for tennis?
This question cannot be answered definitively because it depends on your skill level, court type, needs, and goals. A wide range of players will be able to benefit from Wilson US Open Tennis Balls.
Can I use the same type of tennis ball for all surfaces?
No, different types of tennis balls are optimized for different surfaces. Hard court balls, for example, have a harder felt and are designed to withstand the abrasive nature of hard courts. Clay court balls, on the other hand, have a softer felt and are designed to provide a slower and lower bounce on clay courts. It is important to use the right type of ball for the surface you are playing on to get the best performance and enjoyment out of the game.
Are high-altitude tennis balls different from regular tennis balls?
Yes, high-altitude tennis balls are designed for use at altitudes above 2500 feet (762 meters). At higher altitudes, the air is thinner, which can affect the bounce and flight of a regular tennis ball. High-altitude balls have a lower compression and a different felt material to compensate for these changes in atmospheric conditions.
Final Thoughts
Wilson US Open Tennis Balls are one of the best tennis balls available on the market. A great design, a light, and lively feel, and pretty much all the qualities to make it a champion among so many strong competitors makes it a great choice. 
Additionally, Wilson's Trinity line leads the way for tennis brands to become more environmentally conscious and better for colder weather. The concept is revolutionary, and it's about time such important changes were made. On top of being the best tennis balls for cold weather, Wilson Triniti Tennis Balls are also fully sustainable and eco-friendly. 
We hope you enjoyed the review.  Tennis equipment, including tennis balls, shoes, and rackets, must be chosen carefully for optimal performance.