Get the best Yonex tennis racket for your tennis game and take your game to a whole new level.
It's not as easy as it seems to pick out the best tennis racket that meets all your needs, and it might even seem like an impossible task. There are countless tennis racket brands on the market, but only a few deliver high performance and impeccable design.
For a long time, Yonex has set high-quality standards, so we selected the best Yonex tennis rackets.
There is a wide range of designs and features available on their rackets, which are suitable for a variety of players. As far as quality and sweet spot are concerned, Yonex rackets have the biggest sweet spot.
It doesn't matter what level you are on the tennis court or what style you prefer, this guide is sure to help you find your perfect Yonex tennis racket.
Best Yonex Tennis Rackets
EZONE, VCORE, and VCORE Pro are Yonex's three main racket lines. Our team tested different models from all three lines to bring you the best possible experience.
Various models and designs from the brand were included in this list to ensure that this list applies to a variety of players.
YONEX EZONE 98
A popular and best-selling racket from Yonex is the Ezone 98. The playtest also rated this the best overall option, so we included it here. In addition to its impressive design, this racket performs exceptionally well on the court as well.
Although it's more suitable for advanced or high-intermediate players, it appeals to a wide range of players. A decent amount of power is combined with spin and control in this racket. The ball has a nice crisp feel and connects almost instantly, giving the player increased confidence.
I love it for its easy maneuverability, responsiveness, especially when playing volleys, and ability to generate incredible spin. Using groundbreaking technology, the brand has enhanced the features of the racket and made it more comfortable to use. A small head size doesn't mean that the racket doesn't have a large sweet spot.
Even though we sometimes wished for more stability during playtesting, this racket offers very little in the way of trade-offs.
Yonex VCORE Pro 97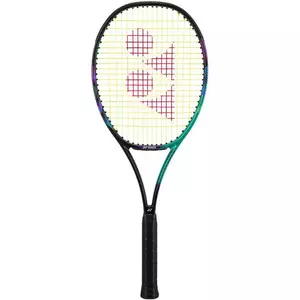 A good option on the market for intermediate players is the Yonex VCORE Pro 97 racket. With its sleek design and high performance, this racket stands out from the rest. I was surprised to find that it was much more user-friendly than I had expected, despite its small head size.
Rackets with high precision and easy playability help players hit all targets accurately. I love how maneuverable it is and how clean the impact feels. With the new technology updates on the racket's body, spin potential has been increased, and the frame stays in contact with the ball for longer periods of time.
In addition, it reduces harsh vibrations, making the arm more comfortable. The small head size of this racket doesn't make it loaded with power, so players will have to generate their own power.
Based on all the advantages the racket VCORE Pro 97 offers, that was the only tradeoff we could find during the playtest.
Yonex VCORE Feel
VCORE Feel tennis rackets offer great value for money, and Yonex tennis rackets also come in different price ranges. A wide range of players can use this racket, including beginners, recreational players, juniors, and intermediates.
With a weight of only 9.3 ounces and a surface area of 100 square inches, it is very light and portable. Power and spin are built into the racket's head. In addition, it comes with all the right features, such as control, stability, speed, and maneuverability. With the right skillful player, VCORE Feel can become a powerful weapon all around the court.
The racket has a soft frame that dampens harsh vibrations, making it a comfortable racket to play with, while with a forgiving frame, it allows you to make more mistakes. Using carbon material makes the brand's rackets much more flexible and delivers a great feeling.
Yonex VCORE Feel will help you improve your game skills and reach new levels.
Yonex VCore 95
There are a number of well-known tennis professionals that endorse Yonex VCORE 95 as the best racket for advanced players. The design and performance of this racket are impressive. Skilled players can control the outcome of the game with the help of this ball's spin and control.
In addition to upgrading features, the brand has added a surprising amount of comfort to the racket using its unique advanced technology. The VCORE 95 is a true weapon on the court because it has stability, solid feeling, and maneuverability.
Despite the most difficult angles, you will find that this racket helps you hit all your targets, add depth to your shots, and hit with ease. There's a nice, crispy feel to it and it swings big. Players will need to generate their own physical strength since this is a low-powered racket.
The stringbed is also denser, allowing spin to be maximized while minimizing dwell time. In light of the racket's specifications, this shouldn't come as a surprise, but it's a fair trade-off for the amazing spin level and control.
Yonex EZONE Ace
A great tennis racket for beginners, the Yonex EZONE Ace is perfect for those just starting out in tennis. The head of this device is oversized, and it's packed with the power you can easily tap into.
The open string pattern of 16×19 offers a good balance between topspin and control, allowing for easy practice. During the playtest, control was impressive during full swings. As well as being quite fast and stable, this racket provides good control and stability.
With practice, you can hit all the targets accurately while adding depth to your shots. With its lightweight design and 9.7-ounce weight, Yonex EZONE Ace is the perfect racket for beginners looking for one that's easy to maneuver.
There is a lot of comfort and forgiveness in this club, allowing the player a much wider margin for error.
Yonex Astrel 105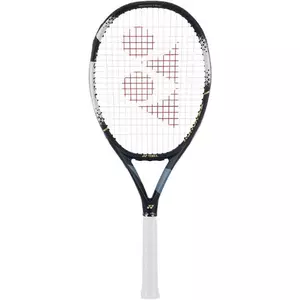 It is the Yonex Astrel 105 that you should consider if you are looking for control. With this racket, the player has complete control over the direction and speed of the ball. Despite the high performance all around the court, this racket really excels at volleys and groundstrokes, where you can use all its great features to your advantage.
Despite its lightweight and user-friendly design, it is incredibly easy to maneuver. Technological updates have resulted in a more flexible frame with a soft, powerful stringbed. At impact, it has a nice, crispy feel and a large sweet spot.
You may enjoy reading Eastern Forehand Grip in Tennis
A full, long swing is effortless with the Yonex Astrel 105 due to its high power and speed. The racket also has four different grip sizes, so players can choose the one that feels most comfortable for their wrists and hands. Yonex tennis rackets with minimal drawbacks were one of our favorite photos.
Yonex VCORE 100+
In recent years, Yonex VCORE 100 has been one of their best releases, and it remains one of their most popular products. A wide range of aggressive players will find this racket appealing because of its spin and power.
Players are able to establish an immediate connection with the racket thanks to its responsiveness and lively feel. It works well all over the court but really shines at groundstrokes because it's easy to play with.
Stability and speed are good characteristics of the racket. The armrest is also quite comfortable and maneuverable. Our team noticed that backhand slices were not as enjoyable throughout the game because it delivers full, powerful swings easily. For advanced players, this racket is also lacking in control, which is a major drawback. I can't find anything to complain about this racket besides that.
Yonex VCORE 98
The Yonex VCORE 98 tennis racket makes our list of the best Yonex tennis rackets because it is one of the best. If you are looking for a racket that generates heavy spin, this is a great option. Because of the heavyweight and slightly larger beam size, it also offers high levels of control and stability, making it an excellent option for advanced or even professional players.
It is effective in all areas of the court, but it excels in fast volleys exchanges at the net. You can create depth with each shot by using this racket, which is extremely maneuverable.
The ball can be precisely thrown into any corner of the court if you have the right skills and experience. A large sweet spot, greater forgivingness, and smooth vibration dampening are all features of the brand's unique technology.
Putting your trust in Yonex
In 1946, Yonex was founded in Japan as a woodworking company. Eventually, Yonex became a paragon in the sports world after its humble beginnings as a racquet manufacturer. Tennis racquets, golf clubs, snowboards, and badminton racquets are a few of the products created by the company.
This led to Yonex becoming one of the most popular tennis brands today. The company produces high-quality products and signs endorsement contracts with top athletes.
In addition to Nick Kyrgios, Stan Wawrinka, Frances Tiafoe, Denis Shapovalov, Naomi Osaka, Angelique Kerber, Belinda Bencic, and many others, Yonex tennis racquets are currently used by the world's top tennis players.
Tennis is not the only sport Yonex dominates; they are the world's largest brand in badminton as well. Definitely one of the most respected tennis companies in the world, they have a bright future ahead of them. You can also check other's tennis racquets brands.
You may enjoy reading Different Parts of a Tennis Racquet
FAQs
Do you still have questions about Yonex tennis rackets? These tennis rackets are a great value, but there are some things you need to know about them.
What makes Babolat better than Yonex?
Both brands of tennis rackets offer great products, making it difficult to answer this question. We would say, however, that Yonex beats Babolat slightly if we compare the two. Babolat rackets are typically more controllable, whereas Yonex rackets are more powerful.
Is Yonex a Japanese tennis racket manufacturer?
Japanese manufacturing is the standard for all Yonex tennis rackets. Founded over 50 years ago, the company manufactures sports equipment from its headquarters in Osaka.
What makes Yonex tennis rackets unique?
Yonex is known for its innovative design and use of advanced materials in its tennis rackets. Some of the key features that set Yonex rackets apart include the use of graphite and other lightweight materials to provide a balance of power and control, as well as advanced stringing patterns to help deliver maximum spin and feel.
Is Yonex a good tennis racket?
The quality of Yonex tennis rackets cannot be disputed. Players of all levels, from beginners to professionals, can benefit from their great performance. You just need to make sure you choose the right racket based on your level and style of play.
How do I choose the best Yonex tennis racket for my playing style?
Yonex offers a wide range of tennis rackets to suit different playing styles and skill levels. If you are a beginner, you may want to look for a racket with a larger head size and a more forgiving sweet spot, such as the Yonex EZONE 100. For advanced players, rackets with a smaller head size and more control, such as the Yonex VCORE Pro, maybe a better choice.
What is the difference between Yonex's different series of tennis rackets?
Yonex divides its tennis rackets into different series based on the type of player they are designed for and the specific features they offer. For example, the EZONE series is geared toward players looking for power and forgiveness, while the VCORE series is designed for players seeking precision and control.
Can I try out a Yonex racket before I buy it?
Many retailers and specialty tennis shops offer demo programs that allow you to try out different rackets before you make a purchase. This can be a great way to get a feel for different rackets and find the one that best suits your playing style.
How often should I replace my Yonex tennis racket?
The frequency with which you should replace your tennis racket will depend on how often you play and the condition of the racket. In general, if you play frequently and notice a decrease in the racket's performance or if the frame is damaged, it may be time to consider replacing it.
What's Next?
The Yonex EZONE 98 racket, which has been the top pick of our test panel, is one of the best rackets Yonex has ever produced. The racket has a great balance of spin, control, and stability and delivers an impressive performance.
There's no surprise why it's one of the most popular rackets on the market and has risen in popularity.
There is also VCORE Pro 97 from Yonex which is a great choice. With this racket, you can play with ease and precision.
Our guide on intermediate tennis rackets may be of interest to you if you're an intermediate player. There are many great tennis rackets under 100 if you have a limited budget. Tennis elbow is a serious problem for most short tennis players, so when selecting rackets you may need to read our guide on tennis rackets for tennis elbow before purchasing them.
A lively feeling is also delivered by it, as well as a heavy spin. As with the other rackets on this list, the new technology used in this racket enhances features and improves performance!