A lot of running is required in tennis, as it requires agility, quick movements, and quick reactions. In addition to putting a lot of strain on the feet and ankles, it can also cause injuries to the feet and ankles if you are not wearing the right shoes.
Therefore, if you have weak ankles or are prone to ankle injuries, it's important to invest in good tennis shoes that offer support and stability. 
Our goal in this article is to find out which are the best tennis shoes for ankle support. In addition to providing superior ankle support and comfort, these shoes are durable and perform well on the court.
This pair of shoes will help you stay injury-free and perform at your best, regardless of whether you are a professional athlete or a weekend warrior.
What Does It Feel Like to Sprain an Ankle?
Sprained ankles result from rolling, twisting, or turning your ankle awkwardly, according to mayoclinic.org.
Your ankle bones are held together by tough bands of tissue (ligaments). This can stretch or tear these bands.
In order to prevent excessive movement of joints, ligaments act as stabilizers. Sprained ankles are caused by ligaments that are not allowed to move normally. In most cases, sprained ankles are caused by ligament injuries on the ankle's outer side.
You may enjoy reading Can You Play Tennis In Running Shoes?
Ankle Sprains in Numbers:
In the United States, 30 000 ankle sprains occur every day
After the initial injury, 10% to 40% of them have persistent symptoms.
Recreational sports account for more than 80% of ruptures
How Can You Avoid a Sprained Ankle?
The following symptoms are usually caused by the initial injury:
Tendons dislocated or torn
Damage to the cartilage at the root
Ankle sprains that are recurrent (chronic)
Rest is essential after these types of injuries to allow the ligaments to heal.
A frequent tennis players may become frustrated if they don't exercise for longer periods of time.
The 14 Best Tennis Shoes For Ankle Support
Those with weak or injury-prone ankles will benefit from the excellent cushioning, stability, and support provided by the Brooks Adrenaline GTS shoe.
Adrenaline features GuideRails that support and align your foot while limiting ankle movement. Running with a high heel-to-toe drop (12 millimeters) helps relieve pressure on your calves and heels. A previous ankle injury didn't deter our tester from using the shoe due to its exceptional stability.
In spite of the fact that these shoes are great for all-around use, they're so stable and durable that they're a little stiff straight out of the box. They felt great after the first couple of runs, but the first couple was a little awkward.
Despite it being lighter than previous versions, the shoe's cushioning remains durable and comfortable. The upper is stretchy and breathable, allowing you to keep your foot secure while remaining comfortable.
There are various colors and sizes available for this model for men, ranging from 7 to 15.
This Saucony Cohesion 14 shoe offers outstanding stability, springy cushioning, and an affordable price point. VERSARUN cushioning provides a responsive feel while providing significant stability through the medial arch.
You still feel good energy return with every step because your ankles are well-supported.
A budget-friendly running shoe can be difficult to find that is comfortable and extremely supportive at the same time. 
In spite of the cushioning's responsive feel, they provide significant support through the medial arch. With every step, you feel good energy return due to well-supported ankles.
The Cohesion's wide base provides a generous fit, allowing for the addition of insoles or custom orthotics.
The breathable upper fits snugly around your foot and adapts to the shape of your foot for a custom-like fit. There are seven to fourteen sizes available for men in these shoes.
Do you want a budget-friendly running shoe that supports your ankles well? With the durable and versatile Asics GEL-Venture 8, you get exactly that. In addition to handling moderate trails, these shoes are also suitable for road running.
Whether you're traveling long distances or are walking on a flat surface, Asics' GEL cushioning offers excellent shock absorption. Running or walking on uneven surfaces or in wet weather is made easier by the reverse-traction lugs on the outsole.
Designed to fit snugly and comfortably around the foot, the pair comes with a sock liner. People with a history of foot pain can remove it if they wish to wear orthotics. Abrasion-resistant overlays reinforce the mesh uppers, making the shoe more durable.
It was evident right away that the traction of these Best Tennis Shoes for Ankle Support was suitable for both road and trail running. This shoe is ideal for running on different surfaces, including local roads to access a nearby trail. Regardless of the surface on which I ran, the cushioning was comfortable and responsive.
Women's Ventures are available in sizes 5 to 12, regular width, or wide width, and in a variety of colors.
The 840 v4 from New Balance is an excellent road running shoe for those who require good stability.
From start to finish, you'll feel comfortable in the 840's design because it features a roomy toe box and supportive heel. As a result of the shoe's full-length Abzorb midsole foam, provides outstanding shock absorption and bounce back.
They require no breaking-in period, so you can get started right away, plus there's room for insoles and custom orthotics.
In addition to keeping your feet cool and dry, the mesh upper is lightweight and breathable.
The sandals come in several widths and sizes for women ranging from 5 to 13.
Asics GT-2000 10 provides runners with all the comfort and support they need at an affordable price. Smooth, stable rides are made possible by responsive cushioning in the heel.
The plush landings and excellent shock absorption impressed our tester during several long runs on pavement. Those with weak ankles and overpronation would also benefit from the shoe's stability.
My overall opinion of the Asics GT-2000 is good, but I would like it if it wasn't so stiff when I first used it. To break them in before running, I recommend using them as walking shoes.
With the engineered knit upper, your feet will be kept cool and blister-free on lengthy runs thanks to good airflow and no uncomfortable seams.
For distance runners looking for a dependable training shoe, the GT-2000 is a solid choice. There are seven to fifteen sizes available for men.
You may experience joint pain if your ankles roll in as you run or if you have flat feet. In order to prevent discomfort and injury, you should wear running shoes that limit excessive pronation.
The Brooks Addiction is a tried-and-true motion control shoe with an extended diagonal rollbar that prevents ankle rolling and controls pronation; it promotes smooth transitions, which are helpful when using balance boards and other fitness equipment.
Fits like a custom shoe thanks to the breathable upper that adapts to the shape of your foot.
A shock-absorbing and cushioning system called Brooks DNA is implemented in the shoe. Various width sizes are available, so finding the right fit is easy.
Designed with two layers of comfy, durable foam that provide a structured feel, the New Balance 1540 is an excellent choice when walking or running (or combining both). As you walk, your feet don't feel weighed down by the cushioning, but the cushioning also responds.
A Rollbar stability post system also provides further support, making these shoes the perfect choice for overpronators. Besides being breathable, they also keep your feet dry and blister-free by preventing them from overheating.
Designed for wide feet and available in regular and wide widths as well as women's sizes 5 to 13, 1540 can be customized to fit your feet.
Designed for running on a variety of surfaces and in all types of weather, Salomon's Speedcross 5 trail running shoes are supportive and durable.
Whether it's muddy terrain, technical trails, or rainy weather, they'll keep you covered. As you walk, the shoe's deep heel cup supports your heels, while the rubber outsole features tough lug patterns that provide dependable traction.
Rocks, roots, and other obstacles are shielded from you by rubber toe caps and mudguards, while waterproof fabric keeps moisture out. We tested the shoes in wet and muddy conditions and they kept the feet dry. These lightweight shoes also feature breathable mesh uppers for a comfortable ride on the trails.
In terms of trail running, this Best Tennis Shoe for Ankle Support really shines, particularly when it comes to technical trail running. Salomon trail shoes are actually built for trail running because of their stability and traction, unlike many other trail running shoes.
A Quicklace closure system ensures a snug and secures fit on the Speedcross 5 shoes. There are a variety of colors and sizes available for men.
It's hard to go wrong with the Keen Targhee II boots if you're looking for a durable hiker that provides great support and all-day comfort.
With its mid-cut height and external support shank, the shoe provides stability on uneven surfaces while keeping your ankles supported.
We found that the waterproof membrane of the boot kept our feet dry and comfortable while still allowing them to breathe well, preventing overheating.
As a result of the lacing system, our tester found that the boots were highly stable and had a comfortable fit, as they didn't loosen up during hiking. In addition, the rubber outsole provided excellent traction in any weather condition.
Ankle support and all-day comfort are great features of these hiking boots. Additionally, they feature some cushioning, good traction, and waterproofing, all of which are essential features for a reliable hiker.
As stable and supportive boots are heavy, they might not be suitable for hot weather or extremely long hikes.
It's an excellent choice for hikers who need a little extra ankle support and they can double as casual shoes as well. There are seven to seventeen sizes available for men in the boots.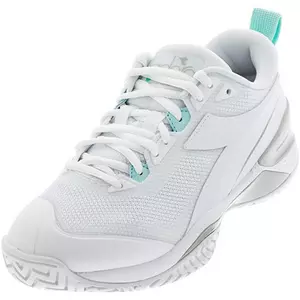 Those suffering from foot pain, especially ankle pain, should consider the Diadora Blushield Speed 5.
For players suffering from ankle sprains, this model offers excellent ankle support, which makes it ideal for Diadora shoes.
In the ball of the foot, Blushield technology provides cushioning and responsiveness, which stiffens the bottom and supports the arch.
Rotation and twisting can be prevented by preventing unwanted lateral movements.
A midsole reinforcement presses against the arch to relieve pain.
It is an incredible shoe when it comes to durability. We guarantee them for six months and stand behind them.
There is great traction on all surfaces, and the outsole is responsive. Tennis players with foot pain may benefit from the Diadora Speed Blushield 5.
There are few tennis shoes on the market that are as comfortable and plush as these. As well as being lightweight, it is fast on the court as well.
In terms of ankle support and comfort, the Adidas SoleCourt Boost is excellent.
Above the midsole is a TPU chassis that provides lateral and torsional stability, which is crucial to avoiding ankle injuries.
They offer optimal ankle and heel support due to their low arch and stiff heel counters.
Both the interior and exterior are made from durable and soft materials. In this case, you can refer to the TPU upper that contains Adiwear dots to help you resist abrasion.
With plenty of cushioning and shock absorption, the Bounce foam in the midsole allows you to bounce back quickly.
A lightweight and quick shoe, Nike's Air Zoom Vapor Pro is made from mesh. The model is loved by many professionals who play on hard courts.
The upper features a breathable mesh material and a stretchy internal sleeve.
Slides are made safer with the toe guard.
This shoe features a TPU cage in the midfoot that offers torsional stability, and the asymmetrical design provides comfort as you move sideways.
Its controlled traction contributes to its ability to slide seamlessly without compromising its traction. It is designed in the form of a herringbone pattern.
To conclude, if you're looking for high performance, stability, and ankle protection, the Nike Air Zoom Vapor Pro shoes are a great choice.
Tennis shoes like these provide speed as well as comfort and stability.
This lightweight and fast shoe is also worn by Alex de Minaur, which allows you to bounce faster and absorb shock more effectively.
Combined with Dynawrap, the mesh upper is of top quality.
There is thick padding all around the foot parts, which makes the inside cushioning extremely comfortable.
With TWISTRUSS technology, Solution Speed FF2 shoes stand out from the crowd. Whenever you bend or twist, it provides better support.
In addition to minimizing power loss, this also prevents the device from torquing.
Compared to other Asics models, the only drawback is the low durability. For those who want full ankle support, comfort, and stability, this is a great choice.
Tennis shoe by Lacoste, a French brand known for its high-performance and premium products.
In addition to providing stability and full support, it provides comfort and convenience to aggressive movers like Daniil Medvedev.
In order to maximize stability and support, the midsole is made of EVA foam coupled with a PEBAX bridge unit.
Forefoot-to-backfoot stability is provided by a shank extending from the forefoot to the backfoot.
Comfort, protection, and shock absorption are provided by the high, padded collar.
Optimal performance was achieved by Lacoste by collaborating with tire manufacturer "Goodyear" on the rubber design for the midsole.
When it comes to ankle support and overall stability and performance, the Lacoste AG-LT 21 Ultra is a premium choice.
What to look for Best Tennis Shoes for Ankle Support
If you're looking for tennis shoes that provide good ankle support, there are a few key factors to consider:
Look for a supportive upper:
The upper of the shoe is the part that covers the top of your foot and holds it in place. When looking for tennis shoes with good ankle support, it's important to find a shoe with a sturdy and supportive upper. This can help keep your foot and ankle stable and prevent them from rolling or twisting during play. Look for shoes that have a secure fit around the ankle, as well as a stable heel cup, to provide the necessary support.
Check the midsole:
The midsole of the shoe is the layer between the upper and the outsole. It provides cushioning and support for your feet and ankles. When looking for tennis shoes with good ankle support, it's important to find a shoe with a firm midsole that can absorb shock and provide support. Look for shoes that have a gel cushioning system, as this can be especially effective for reducing impact on your ankles.
Consider the outsole:
The outsole of the shoe is the part that comes into contact with the ground. It provides traction and stability on the court. When looking for tennis shoes with good ankle support, it's important to find a shoe with a durable outsole that provides good traction. Look for shoes that have a non-slip outsole, as this can help prevent ankle injuries caused by slipping on the court.
Check the fit:
It's important to find tennis shoes that fit well and feel comfortable on your feet. When shoes fit properly, they can help prevent your feet from sliding around inside the shoe and causing ankle injuries. Look for shoes that have a snug fit, especially around the ankle area, to provide the necessary support.
Consider your specific needs:
Everyone's feet and playing style are different, so it's important to consider your specific needs when looking for tennis shoes with good ankle support. Depending on the shape of your feet, you may need shoes with extra arch support or padding. Additionally, some players may benefit from high-top shoes that provide extra ankle support, while others may prefer low-top shoes that allow for greater mobility.
By following these tips, you can find the best tennis shoes for ankle support that meet your specific needs and help keep you injury-free on the court.
Some examples of tennis shoes that provide good ankle support are the Adidas Barricade, Asics Gel Resolution, and Nike Zoom Vapor. However, it's important to try on different brands and styles to find the shoe that works best for your specific needs and preferences.
You may enjoy reading Rafael Nadal Shoes
Our Selection For The Best Tennis Shoes for Ankle Support
Our research included reviews and details on more than 14 shoes for the best ankle support shoes. Running shoe recommendations were also based on consultations with athletes, coaches, and foot and ankle specialists. Our choices were narrowed by considering support, performance, comfort, design, price, and durability.
The final list of shoes we selected for testing consisted of five pairs. In addition to short, easy-paced runs, tempo runs, and distance runs, the four shoes were tested on at least three outdoor runs. A similar program was used to test the hiking shoes, including two hikes of three miles each and one hike of eight miles.
During our 25-hour trial, we ran in cold and rainy weather conditions with the shoes. Our evaluations of each product were based on cushioning, responsiveness, upper comfort, fit, lateral stability, blister protection, ankle stability, and value.
What's Next?
Based on our humble opinion, we recommend Best Tennis Shoes for Ankle Support that provide ankle support.
In spite of foot pain such as bunions, plantar fasciitis, and tendonitis, exercising is a brave decision. The game of tennis lives on.
Moreover, You can check Best Clay Court Tennis Shoes and Best Tennis Shoes For Hard Courts