Tennis serves are considered to be the most important shots in the game. All other shots are reactions to what your opponent may do, so only this shot can be controlled totally by you.
Over the years, professional games have been home to many great servers. The challenge is determining which individual server is the best.
A player with the highest number of aces doesn't necessarily translate to success on the court. You can simply take the player who hit the most aces over their career.
The player's big serving only goes so far, so other statistics should be considered as well, such as the percentage of service games won, the percentage of service points won, the unreturnable serve percentage, and of course, the title won.
The fact that certain players stand out above the rest simply because they had some of the best serves of all time shows that having a big serve is not the only thing needed to be a great player.
To understand how such a dominant serve is made, let's examine what needs to be done.
What Makes a Great Serve
In order to make a great serve, you need to consider a number of factors. It goes without saying that speed is an important component of a great server, but there are a few more things to consider at the highest levels.
Power
One of the most important components of becoming one of the greatest servers of all time is having a powerful server that can achieve insane speeds. It was the ability of the best servers to hit through their opponents and rely on their serve to rescue them even when they were in trouble that made them stand out.
It goes without saying that having a fast first serve keeps your opponent on their toes and will, in turn, make it difficult for them to return because there is so little time for them to respond.
 All of our players on our list have put a high priority on speed. Although it's not the be-all and end-all of being a great server, it's definitely a major factor.
Spin
When speed and spin are combined, players are at an advantage. Kick serves or slice serves can be immensely difficult to return because of the massive amounts of topspin they generate.
It is also possible to add spin to a player's service in order to make it more unpredictable and consistent. As a result, players are able to control the ball better when they mix different spins, while their opponents are left guessing what is going on.
Placement
If you hit your serve at your opponent straight every time, they'll be able to return it with ease. It's all good to hit a serve with power or spin, but if it's pointed straight at them, they can make it.
As a result, the best servers of all time have mastered the skill of placing their serves accurately.
Consistency
Another key component of a great server is his or her ability to maintain a powerful and accurate serve throughout the course of a match. Serving well for a few sets is one thing, but the players who can bring the heat game in, and game out throughout a five-set match go down in history as the best servers.
Disguise
It's your choice how powerful your serve is. However, the opponent will have much trouble predicting where it will be hit if the opponent is able to predict it easily. All the best servers are therefore able to vary their speed, spin, and direction of serve from the same ball toss placement and can hit multiple serves from the same ball toss placement.
You may enjoy reading Tallest Female Tennis Players
The Best Tennis Servers of All Time
Taking a look at the best tennis servers of all time is a time for us to celebrate. Players like these prove that serving is an art form in and of itself, supported by statistics. The following are incredibly impressive servers that are each great in their own right, despite not being ranked in any particular order.
Ivo Karlovic
Many people consider 'The Serve Dr' Ivo Karlovic to be the greatest server of all time. His career high of 13,653 aces served in 690 matches makes him the all-time record holder for the most career aces served! His serving speed is consistently over 140mph, and he averages nearly 20 aces per match.
Even at 156mph, he held the record for the fastest serve, which was eventually surpassed by John Isner.
The high bounce and pure speed of Ivo's serve confound his opponents because of the high contact point. Any tennis serving list should include Karlovic as one of the best servers ever.
John Isner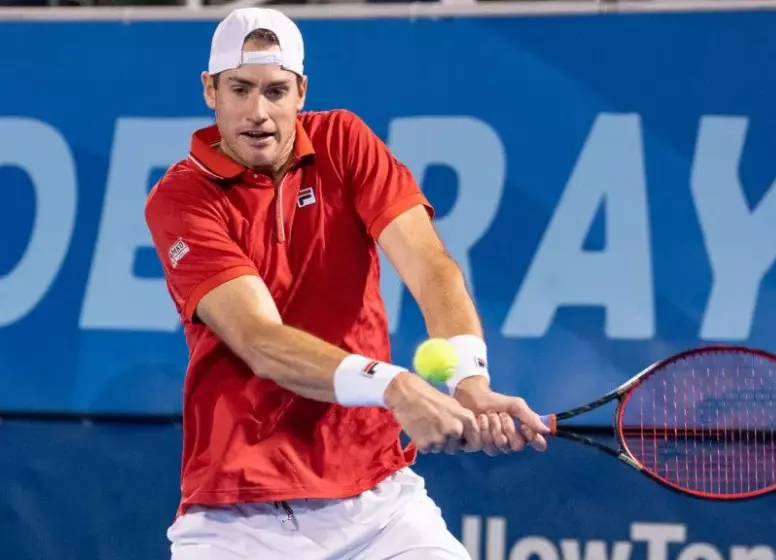 Great tennis servers have been produced in America for a long time. John Isner is the greatest of them all.
During the 2016 Davis Cup, he hit an official record of 157.2mph for the fastest serve.
In addition to having a staggering 12,475 aces, Isner also leads the list of percentage first serves played. As a result of the incredibly high bounce and pace that Big John's serve is delivered with, it is extremely difficult to return. Among all tennis greats, he ranks third on 2nd serve points won because he can hit unbelievable amounts of topspin. Isner is incredibly consistent with his power delivery and consistently serves at 130mph like Karlovic.
There is no doubt that John Isner has the best server of all time and is considered one of the best players of all time by many tennis professionals.
Roger Federer
He may not have the biggest serve of all time, but he is 3rd all-time in terms of aces with incredible accuracy, placement, and variation. Despite the fact that his serve is disguised so well, Roger is one of the best players at fooling his opponents.
Considering most great servers are six feet and eleven inches tall, Federer is impressive for his ranking considering he's just six feet one inch. Serving consistently and accurately compensates for his lack of outright speed, demonstrating his consistency and accuracy.
One of the most impressive aspects of Roger Federer's game is his often-overlooked serve.
Goran Ivanisevic
One of the most talented servers in history is the great lefty, Goran Ivanisevic. Known for his powerful serve and fast motion, he was one of the best players in the world.
His opponents would have little chance to react or predict where Goran would aim as he hit his serve because he would often hit it on the rise.
With an impressive attacking style, he complemented this powerful weapon. Goran enjoyed serving and volleying and finishing points on his terms. Definitely one of the best servers in history, he will live on in infamy.
You may enjoy reading When a Tennis Racquet Meets a Ball
Andy Roddick
During a long period of time, Andy Roddick held the record for the fastest serve in the world at 155mph.
A great competitor whose serve kept him out of trouble because of his unorthodox abbreviated service motion, Roddick was notorious for his unorthodox serving style.
Even when playing long five-set matches, Roddick's serve could continue to produce this power at an unbelievable pace and consistency. His all-court game backed up an impressive server that was one of the best of his generation. In many of his matches, he would force his opponents into errors with his aggressive game, most of which came from unreturnable serves.
Pete Sampras
In the early days of big servers, Pete Sampras stood out as a pioneer, a champion, and a legend. Once more, he was well known for his consistency when it came to his first and second serves.
He hit speeds in excess of 135mph with his incredibly accurate serves, a 14-time grand slam champion.
Many players today are inspired by Sampras because he was ice cool on the court and could silence the crowd with his aggressive serves.
You may enjoy reading Can You Play Tennis After a Hip Replacement?
Serena Williams
Among the most classical service motions of all time, Serena Williams' has to be one of the best. In the women's game, she is consistently able to reach speeds exceeding 120mph and is one of the most dominant servers.
Many consider her serve to be one of the greatest ever in women's tennis. It is because of her consistent serve and incredibly aggressive game that she has won 23 majors, ranking third on the official fastest serve list behind her sister Venus and Sabine Lisicki.
Sam Groth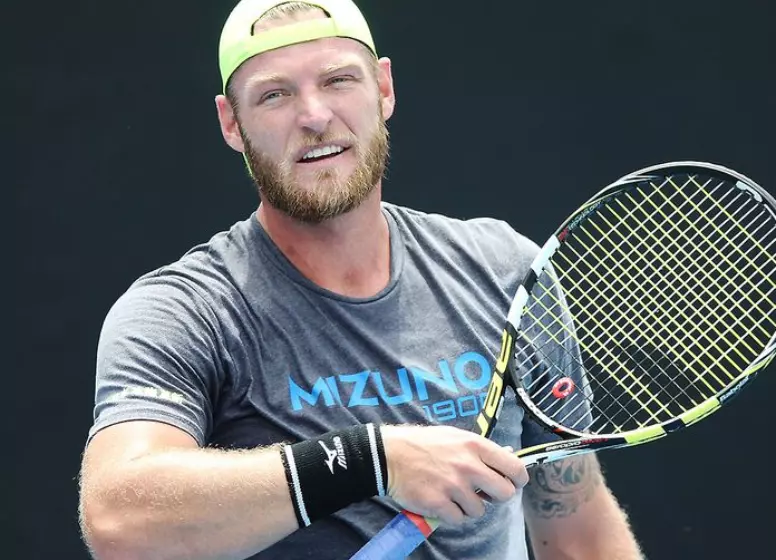 When Groth hit the fastest unofficial serve of all time in 2012 at a challenger tournament in Busan, he suddenly burst onto the tennis scene. World attention was drawn to this serve because it clocked in at 163.4mph.
However, this does demonstrate Groth's unbelievably powerful server, even though it is not an official record. 
Even though most of his career has been spent playing challenger-level tournaments and a few attempts at playing ATP World Tour events, he is definitely one of the most underrated servers out there.
Nick Kyrgios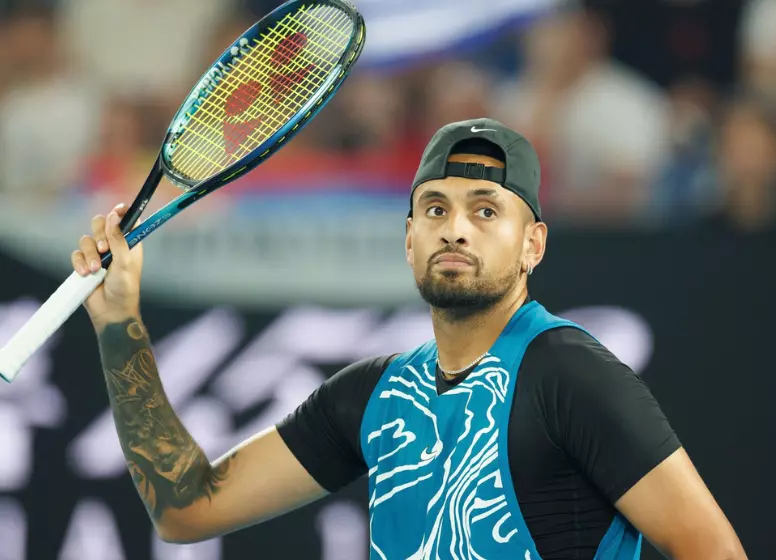 Among the greatest servers of his generation, Nick Kyrgios is fast becoming the best.
It is very difficult for observers to read his fast arm motion, and he consistently hits serves down at speeds well over 140mph.
In Kyrgios' serve, the disguise he puts on it is one of its most effective aspects. This just adds to his unpredictable nature since he is known for hitting underarm serves. Even though he is so young in his career, he is impressively high on the ATP serving rankings, and he will almost certainly be remembered as one of the best servers of all time.
Georgina Garcia Perez
During the 2018 Hungarian ladies' open, Georgina Garcia Perez served at 136.7mph, the fastest serve in the women's game.
Georgina is definitely one of the best servers of all time for her raw out-and-out speed, although it may not be an official record, since it surpasses Sabine Lisicki's 131mph.
Highlights
There is no doubt that the greatest tennis servers of all time bring some heat to the court. There is no other player on the planet who can serve as fast, accurately, and consistently as they do.
A serve is influenced by a wide range of factors, including disguise, placement, consistency, and power. The servers on our list have all been past, present, or future greats of the game, and their incredible serves contribute greatly to that accomplishment.
FAQs:
Which tennis server has the best career record?
This question cannot be definitively answered due to the fact that different players have different strengths and weaknesses. In spite of this, numerous tennis servers have been infamous throughout history. Among them are Pete Sampras, Roger Federer, Goran Ivanisevic, Ivo Karlovic, and John Isner, to name a few.
How can a tennis server be a good one?
Among the characteristics of a good tennis server is the ability to consistently hit powerful, accurate serves which apply pressure to the opponent. To keep their opponent off balance and set up scoring opportunities, they should be able to vary the placement, spin, and speed of their serves.
What is the best way to improve my tennis serve?
Tennis serves can be improved in many ways, including practicing your technique, strengthening and stretching your body, and focusing on your mental game. Adapting your serve, in turn, is a consequence of analyzing your opponent's weaknesses.
Are left-handed tennis players more likely to serve well?
Tennis players with left-handed hands may have an advantage when serving, as their serve may have a different spin and trajectory. The opponent may have a harder time returning the ball as a result.
Conclusion:
Known for hitting powerful, accurate serves that put pressure on their opponents, the greatest tennis servers of all time have one thing in common: their ability to hit difficult serves. Sampras, Federer, Ivanisevic, Karlovic, and Isner are mentioned as the best servers, but there is no definitive answer.
You need to practice, be strong, and flexible, and focus your mind in order to improve your tennis serve. Since left-handed players serve with a different spin and trajectory, they can have an advantage when serving. The development of a strong serve can provide players with a significant advantage on the court and help them get ahead of the competition.
Also, check Shortest Women's Tennis Players