We have read plenty of articles on the best tennis shoes for players but not many on socks!  Socks may seem like a small part of a player's itinerary, but these seemingly simple garments can make a significant difference to your performance, providing comfort, support and protection for your feet. Over the years I have had some awful blisters from having cheap socks and ill fitting trainers.  Read below to find some decent socks to look after those feet of yours!
In this blog article, we will dive deep into the world of the best tennis socks, exploring and comparing the options that will help you step up your game and unleash your true potential on the court.
From moisture-wicking materials to cushioning and blister prevention, join us as we explore the features and benefits of the finest tennis socks available today. Get ready to serve, volley, and ace your way to success with these game-changing socks!
Best Tennis Socks – Our Review
We have reviewed the best 9 tennis socks on the market. In this article, we will discuss these 9 best socks in detail, including their pros, cons, and best features.
Thorlos Tennis Crew Thick Cushion Socks
In the tennis community, Thorlos are a popular brand of sock. These socks have a heavy cushioning in the toes and heel area and are designed to absorb the shock of abrupt stops and changes in direction.
Made from acrylic, nylon, and spandex, this uber-thick tennis sock unsurprisingly has an ultra-thick fit! The low profile seam along the toe of the socks is designed to prevent irritation.
A comfortable, soft, moisture-wicking crew sock made from THOR-LON fibers that keep your feet dry for long tennis matches. While you play tennis, racquetball, or another court sport, the cushion absorbs as much shock as possible.
In Thorlos, the toe cushioning extends across the entire shoe for optimum protection when starting, stopping, pivoting, and moving around. During clinic testing, the Thorlos padding was proven to provide superior protection to the heel and ball of the foot.
These socks are for people who want / need extra protection of their feet when playing tennis.
Prince Men's Quarter Performance Socks
Prince are a well known brand known and this is evident in their clothing.
A quarter-length pair of socks made of 96% polyester is specially designed for men. Rubber and spandex make up the remaining 4%. Men's shoe sizes 6-12 can be accommodated by these socks. They are comfortable to wear thanks to their cushioned soles.
A careful design ensures that these socks fit just right without slipping during play without losing their fit.
The cushioning and durability of these socks are a little bit lower than those of other socks. There is a slight difference in the material between this and other tennis socks. In comparison with other socks, they also run slightly large.
I tried these socks and found them to be very comfortable and they actually made a big difference after a hard game. They are stretchy yet gripped our feet well; the ones I bought were advertised as fitting sizes 6-12, and I'm a 10, and they fit perfectly. For me personally, they absorb sweat which has really helped my foot feel like it was not sliding in my shoe.
Saucony Women's No-Show Sport Socks
Most tennis players may have not heard of these given Saucony is primarily a runner's brand. But don't let that put you off, these socks are great for tennis as well.
There is a concealed seam beneath the sneaker on these women's athletic socks. It has a roll top design with a heel tab that prevents it from sliding down into your shoe when you are wearing it. In addition to adding comfort, it absorbs sweat, keeping your feet dry during hot weather. In this pair of no-show socks provided by Saucony, 98% of the fabric is polyester, 2% is spandex, and the weave is knit.
As an added comfort feature, Saucony also designed these socks with targeted zones of cushioning at high-impact points. As a result of the mesh ventilation, they are also very breathable. Through targeted arch compression, the socks maintain a completely stable and secure arch.
Socks with a low cut should be ordered in the correct size. It is possible for the heel or achilles to rub uncomfortably if ordered too small. It is important to note that Saucony socks tend to run large.
Adidas Men's Athletic Cushioned Crew Socks
Among Adidas' sports gear are tennis bags, shoes, and socks that are some of the best in the world. Adidas have a long history with tennis and I use their clothing when playing tennis.
These socks are made of 97 percent polyester and 3 percent spandex. ClimaLite construction ensures that moisture is wicked away from your feet, keeping them dry. In addition to providing support and fit, arch compression ensures that your feet remain in top shape while playing tennis.
This pair of socks is relatively thin, which makes them ideal for performance. A sock such as Thorlos will last longer for competitive players and quick movers. Given the Adidas sock is not the thickest we found that if you are heavy in your shoes they can wear thin quicker than others.
Still, the feel and wear make these a great choice for players.
Bell Women's Met My Match Tennis Socks
This is a pair of trendy, fashionable tennis socks made by K. Bell, but again it isn't a tennis brand.
We have 8 designs to choose from, so you're sure to find one that fits your style. Low-cuts made of cotton, nylon, and spandex are 80%, 18%, and 2% respectively. A special design ensures that the feet feel comfortable and free while wearing these socks. High-quality, durable material makes these cushions durable and comfortable.
CelerSport Ankle Athletic Low Cut Socks
Tennis players looking for athletic low-cut socks will love CelerSport's Ankle Athletic Running Socks. They are made of high quality materials such as cotton, polyester, and spandex.
No matter how much sweat you generate on the court, these CelerSport socks will keep your feet dry. By combining excellent moisture wicking with air permeability, the socks maintain this dryness. As a result, your skin is protected from the elements while remaining comfortably comfortable.
In contrast to many other socks, which only offer two sizes, these socks range from small to extra-large. In addition to protecting the arch on the court, these socks are built with elite arch compression.
They feel more like a high quality athletic material than cotton socks, though they are almost 90% cotton. As well as being relatively thick, they are also quite large.
Please note there is a known issue with sizing with these socks. In comparison to the small size, the medium size is very similar. Also, some customers have complained that their feet are too small for the extra-large size.
HUSO Performance Sports Ankle Compression Socks
A unique blend of materials makes up HUSO's Performance Sports Ankle Compression socks, which feature 40% polyester, 38% nylon, 10% spandex, and 5% cotton and elastic.
A comfortable pair of socks with superior arch support, these socks provide compression from mid-foot to plantar fascia. It has a deep but lightly padded heel cup to minimize friction and abrasion on the foot.
Cool and dry feet are assured thanks to a unique dri-fit fabric that wicks away sweat and combats odors.
Only one size is available in this pair of HUSO socks, which fits feet from 9 to 13. Due to their compression nature, these socks fit particularly tightly. Left and right foot labels are also included. Compared to other socks, these are relatively thin, which could lead to them wearing out earlier.
Under Armour Women's Essential No Show Socks
One of the world's most popular athletic apparel brands, Under Armour is quickly becoming a global household name. Sunglasses and socks made by them are some of the best on the market.
The Essential No Show Socks feature flat knit construction and contain 97% polyester and 3% spandex. As a result, the socks fit every tennis player's foot perfectly and provide superior comfort and support.
Foot fatigue is also reduced thanks to the embedded arch support. These socks use materials that wick sweat away and dry quickly, so you don't have to suffer through hot and humid days. The anti-odor technology on these socks is unique.
This pair of tennis socks is quite thin in comparison with others. The result may be a need for early replacement due to holes and wear appearing sooner than expected.
Balega Blister Resist No Show Socks For Men and Women
You can find some of the best tennis socks for blisters with these socks, which are made for running.
They are made from 100% natural fibers. Blisters are prevented by the mohair and Drynamix materials. In addition to keeping your feet cool, the unique design and materials help regulate temperature.
You can play in the Drynamix without worrying about moisture getting on your skin. You will also be able to keep your feet dry thanks to the reinforced microfiber mesh ventilation. In addition to that, the roll top keeps the heel from falling into the shoe. Both men and women can wear these because of their low cut profile and variety of designs.
What are Tennis Socks Made of?
Cotton, polyester, and wool are commonly used as primary materials in traditional socks. There are, however, athletic socks that have other materials, such as those worn for tennis or active sports.
Material combinations used in most tennis socks include:
Cotton
Polyester
Acrylic materials
Spandex
Nylon
Different Styles of Tennis Socks
You'll notice that most tennis players on TV wear a specific style of sock. It is common to see long socks on the men's tour so they can show their sponsors. The more common shoe choice for women is a lower-profile, no-show sock that has a low profile.
As we've seen above, there are a variety of styles to choose from.
No-show Socks
The name comes from the fact that no-show socks do not show above the sneaker. Unlike other sock styles, this type doesn't cause sweat to soak into the ankle or calf area of the sock. No-show socks have the disadvantage of being more likely to slip down into sneakers during play. Blisters can result from this rubbing or irritation. Personally I find the no-show socks ok on a hard court but playing on grass or clay I find that particles can actually get lodged in my trainers! Not ideal..
Roll Top Socks
Designed with a slightly loose roll at the top, Roll Top socks provide a comfortable fit. There are different lengths available for these socks. Socks with a roll stay above the shoe when worn with ankle length shoes. A roll at the top of the sock can assist in absorbing sweat on longer socks with roll tops.
Ankle or Quarter Socks
Mini-crew socks, also known as ankle socks for tennis, rise about an inch above the ankle. Socks with ankles are small enough to allow the feet and ankles to move well during quick pivots on the court. Since they won't slide down into your shoes, they're a great alternative to no-show socks.
There is a slight difference in length between quarter socks and ankle socks. The ankle bone is concealed by them. Socks like this are ideal for athletes who suffer from heel blisters or achilles tendon problems.
Crew or Long Socks
There is a great deal of popularity in tennis with crew socks, also known as long socks. While absorbing sweat on those hot summer days, these socks also protect the skin from the harsh ultraviolet rays of the sun.
You can make your socks stand out visually by wearing long socks. Put your unique sense of style on display with these high tennis socks. It is well known that Bethanie Mattek-Sands wears long socks while playing women's doubles.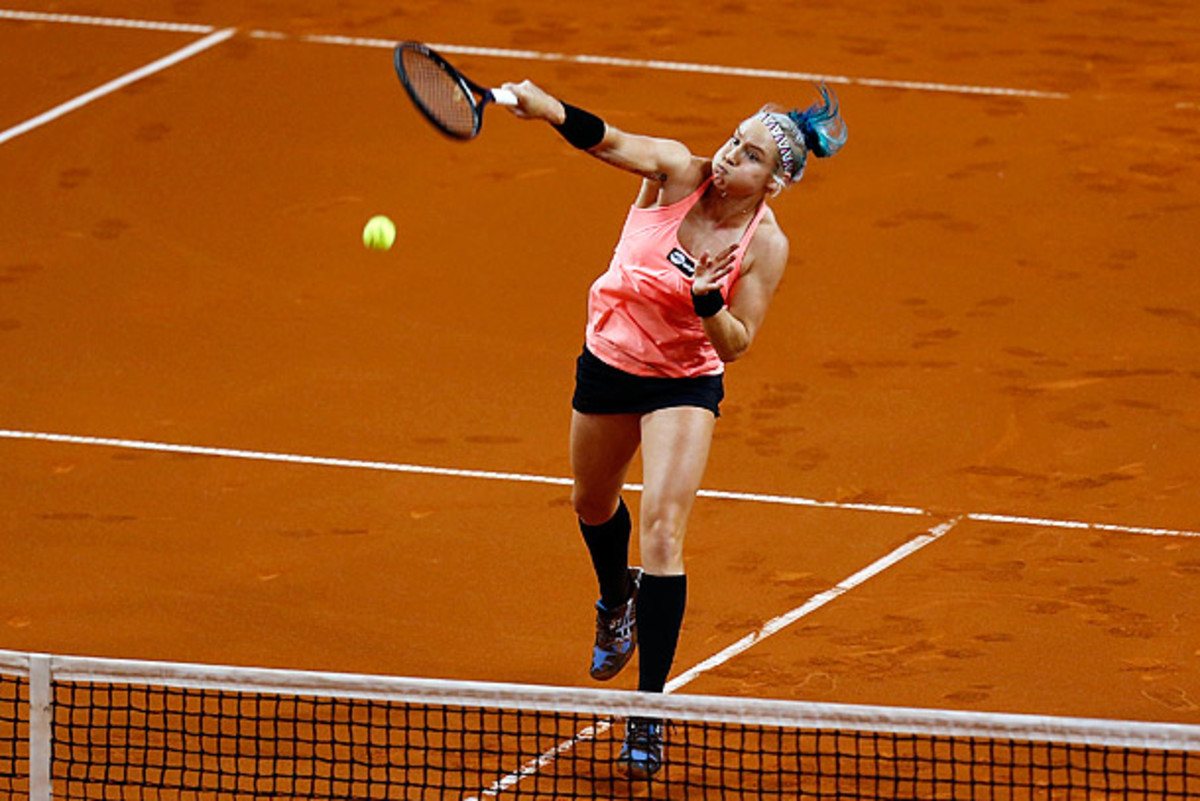 How to Choose the Right Tennis Socks for You
You should consider your skill level, playing style, as well as your preferences when choosing the right socks for you. In the following section, we'll help you find the best tennis socks for you.
Level of padding
A tennis sock's padding depends on the unique needs and preferences of your feet. Tennis shoes that provide padding and comfort will also help you perform better on the court.
The padding on the tennis court protects your feet when pivoting fast and stopping suddenly. It is recommended that you wear socks with extra padding if you have sensitive feet, such as those from Thorlo. To maximize your performance, however, you may prefer thin socks if your feet are tougher and used to a little stress.
It's important to consider your playing style as well. Since beginners aren't likely to sprint around the court, padding won't be an issue for them. For advanced players, extra cushioning is needed to prevent blisters since they will be moving around the court faster.
Personal preference also plays a role in padding level. A certain amount of padding might make your doubles partner's shoes too tight, even though it is comfortable for you.
Arches Support 
Your shoes aren't the only thing you need to support your arches. It is beneficial to apply light compression to the arch of the foot in order to prevent fatigue and strain that cause plantar fasciitis.
In sports like tennis, socks that provide true support are close to the foot. Socks that bunch in your sneakers' corners as you play are the last thing you want. You should choose the right size for all socks above to ensure a secure fit.
Material
While some tennis players don't mind wearing regular cotton socks, those who try other types of socks usually notice a difference in the material.
In spite of its affordability and ability to absorb sweat, cotton retains moisture and is malleable. Synthetic fibers in socks today help keep the feet dry and ventilated by removing moisture from the sock.
Furthermore, synthetic socks maintain their shape better than cotton, reducing blister-causing slippage during play.
Top Tips For Choosing a Pair of Socks
When trying to decide which socks you should buy, there are a few features that we recommend you should look for.
Comfort: The most important thing is the feel and fit of the sock on your foot. You want something that won't be an annoyance during your match or practice session, and will work with any shoes you may have. Have you ever worn a pair of socks that cramp your feet or a pair that slip.  It is awful.
Breathability: The fabric used should be lightweight and breathable so as to allow your feet to stay dry and cool during those long matches. I strongly recommend not using cotton socks for tennis.
Durability: You don't want socks that will wear out after a few weeks of use, so look for quality materials which can handle the rigors of match play.
Anti-slip technology: Nobody wants their socks to bunch up and cause blisters, which is why it's important to look for socks that have anti-slip technology. Brands like Stance, Thorlo, and Wilson all offer this feature in their performance line.
Cushioning: Today's socks have fantastic cushioning around the soles in order to reduce impact on the feet during matches.  It is worth investing in these in my opinion.
Compression: Many tennis socks come with compression technology which helps to improve circulation and reduce fatigue by providing support for your feet and legs.
Fit: When it comes to fit, you should look for socks that are snug but not too tight, so as to provide a comfortable and secure fit. Brands such as Nike and Adidas offer a variety of sizes to choose from, so you can find the perfect fit for your feet.
Price: Lastly, it's important to consider your budget when shopping for tennis socks.  The good news is that they are not the most expensive equipment when compared to rackets.  Worth investing in as good a pair as possible in my view.
Sock Brands
There are of course the usual household names when it comes to companies that manufacture socks.  We have also included a few more that you may not have heard of before.
Asics
Babolat
Balega
Bombas
Ellesse
Fila
Fitsok
K-Swiss
Lacoste
Lululemon
Lasso
Lotto
New Balance
On
Prince
Solinco
Stance
Thorlo
Wilson
Frequently Asked Questions
What makes a good tennis sock?
Moisture-wicking and cushioning properties are crucial to a good tennis sock so that your feet stay dry during long matches. The best tennis socks should also fit well, have reinforced areas in high-stress areas, and prevent blisters.
Are cotton socks good for tennis?
Even though cotton socks can be comfortable, they are not the best choice when it comes to tennis. During matches, cotton can keep moisture on your feet, causing your feet to feel wet and uncomfortable. In addition to blisters, this can cause other foot problems as well. Look for socks that are made of synthetic materials that wick moisture away from the body.
Should I wear ankle socks or crew socks for tennis?
There is no right or wrong answer here. For added protection and support, some players prefer crew socks instead of ankle socks because they allow for more movement. Tennis socks should fit well and provide your feet with the comfort and support they need.
How often should I replace my tennis socks?
As with all socks, tennis socks will eventually wear out. Replacements should be made every six months to a year, depending on your playing frequency and how well you care for them. When your tennis socks have holes, thin fabric, or are losing cushioning, it's time to replace them.
What are some recommended brands of tennis socks?
There are several brands of tennis socks that are highly recommended, including Nike, Adidas, Asics, Thorlo, and Balega. To find your perfect fit and style, try out a few different socks from these brands with different features and designs.
Final Thoughts
Socks are an important sports garment for everyone that plays sport.  Making sure your feet have comfort and protection is key.  We have all suffered from blisters or socks that have holes in them and it isn't fun.
The best tennis socks in this article were chosen after a thorough review by the team of the seemingly countless options on the market. Our favorite socks are the Thorlos Tennis Crew Thick Cushion socks. Providing superior shock absorption, these socks make it possible for players to play grueling matches comfortably. Tennis socks are some of the best on the market, so you should give them a try.
Additionally, we enjoy Adidas Men's Athletic Cushioned Crew Socks for their high-quality cushioning and specifically designed welt cuffs for optimal durability. Comfort, quality, and affordability combine to make these socks the perfect choice.
Despite not being designed specifically for tennis players, the CelerSport Ankle Athletic Running Socks deserve mention. In addition to providing great moisture wicking, these socks are air permeable and keep your feet dry. These socks have uber-thick padding, but your feet will still be able to breathe. CelerSport's Ankle Athletic Running Socks will ensure that your feet stay comfortable throughout a five-set match.
Let us know how you get on with any of these selections and enjoy your game,