When it comes to finding the best hardcourt tennis shoes, there are some key factors to consider. Wearing the right shoes can have a significant impact on your performance on the court. Whether you're a casual player or a seasoned pro, having comfortable and supportive shoes that fit properly can enhance your game and help prevent injuries.
The evolution of the game of tennis has brought about changes in movement and footwork techniques. Matches are now longer, movement is more intense and players like Novak Djokovic and Iga Swietek have popularized sliding on clay courts, and now hard court tennis shoes must meet the demands of this style of play.
To optimize your movement and get the most out of your game, finding the best hardcourt tennis shoe is crucial. These shoes should be well-designed and equipped with components that allow for safe sliding and controlled stops, reducing the risk of injuries.
By carefully selecting the right pair of tennis shoes, tailored to your individual needs and playing style, you can improve your overall performance and enjoy the game even more. So, if you're looking to up your tennis game, investing in high-quality hardcourt tennis shoes is definitely a step in the right direction.
Remember, a great pair of tennis shoes can make all the difference on the court. So take the time to research and find the perfect fit for you. Your feet and your game will thank you for it!
You may enjoy reading Rafael Nadal Shoes
What Are Hard Court Tennis Shoes?
Hard court tennis shoes are specifically designed for playing tennis on hard court surfaces (be that asphalt, concrete or gravel). They are designed to withstand the intense wear and tear that comes with playing on hard courts.
Hard court tennis shoes typically feature durable materials and construction, good traction, comfort, and support to help players perform their best on the court.
These shoes are an important piece of equipment for any tennis player, as the right shoes can help prevent injuries and improve overall performance on the court.
You may enjoy reading How Should Tennis Shoes Fit?
Best Hard Court Tennis Shoes for 2023 – Our Review
With so many options available, it can be tough to determine which shoes are the best for hard court tennis. That's why we've put together a list of the top-rated Best Tennis Shoes For Hardcourts, based on performance, durability, and customer reviews.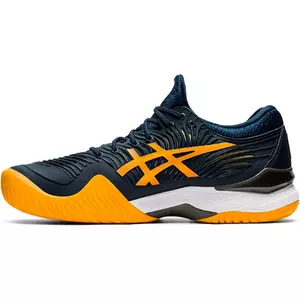 In the tennis shoe industry, this is a star. We consider the Asics Court FF2 to be the best tennis shoe overall.
A perfect combination of a Solution Speed FF and a Gel Resolution, the Court FF2 offers speed and comfort.
In addition to being comfortable, and supportive, and providing amazing stability when playing on cement, Novak Djokovic wears these shoes.
Polyurethane and mesh cover the entire upper for the most durable and resistant shoe on the market.
Thanks to Twistruss technology, this shoe allows you to slide with total comfort. Protects your foot from unwanted accidents by twisting and flexing your foot.
AHARPLUSTM materials are used for enhanced abrasion resistance on the outsole. Exceptional durability and controlled traction are provided by the outsole rubber.
You can slide easily over the wavy tread pattern, preventing harsh stops or uncontrollable gliding.
The way Novak does that on hard courts is brilliant and consistent.
There is sufficient padding and support for all foot parts in the midsole, which is made of Flytefoam.
Also, the Asics Court FF2 fits well with the mono sock liners and is the right size as well. Playing on hard courts frequently makes this a good choice.
We recommend ASICS Gel-Resolution 8 Tennis shoes for women as the Best Tennis Shoes For Hard Courts. The most obvious question you might have is: why are pickleball shoes recommended for volleyball?
There is a simple answer to this question. In our opinion, ASICS Gel-Resolution 8 is the best indoor pickleball shoe for women because it is one of the best tennis shoes on the market.
The soles of this shoe have gummy rubber for added traction, which is essential for indoor pickleball.
In addition to the GEL cushioning in the forefoot, this pickleball shoe has many great features. It is possible to sit longer without feeling uncomfortable thanks to this cushioning technology.
A third feature of the shoe is Asics' "Trusstic" stabilization technology. You will have a harder time making abrupt forward-backward or lateral movements thanks to this feature. While keeping the weight of the sole to a minimum, the shoe's overall structural integrity is maintained.
Pickleball players on a budget will appreciate this shoe's affordable price, but there is a catch. Thus, they won't last and won't be as durable as items that are higher-end.
Despite their excellent construction, they still represent an excellent value for women who are just getting started in pickleball.
There is a lot of speed in this Nike shoe. An average 10.5 size weighs 12.9 ounces, which is on the lightweight side.
Vapor X is an upgraded pro-oriented model. Their performance is superior, and they have better support.
Featuring a breathable mesh upper and a stretchy inner sleeve, you'll step in in comfort. It is effective at protecting the toes when sliding with the toe guard.
During lateral movements or slides, an asymmetrical TPU cage in the midfoot offers comfort and protection.
Controlled traction is a key feature of this shoe that does not compromise seamless sliding. Herringbone patterns are designed specifically for this purpose.
In addition, the Nike Air Zoom Vapor Pro shoes offer speed and agility on hard surfaces, making them perfect for players who are lightweight and still want to improve their performance.
You may enjoy reading What Shoes Does Federer Wear?
Adidas AdiZero Ubersonic 4 tennis shoes are one of the most comfortable, supportive, and high-riding tennis shoes available. The high-riding heel support makes this shoe feel almost like a sock.
Due to the extended tread pattern, the AdiZero offers plenty of grip and stability, plus it's lightweight and doesn't require much breaking in. 
Despite the shoe's great comfort and stability, it can sometimes feel tight in the toe area, especially when sliding into shots on hard courts.
Hard courts provide extra comfort and excellent performance. There is no better shoe for aggressive movers than Nike GP Turbo.
Cushioning and bounce are excellent in this shoe.
This midsole combines three different layers of support: Air Bag, Zoom Air unit, and Nike foam
If you suffer from plantar fasciitis or tendonitis, the Nike GP Turbo is the perfect shoe for you. Playing on hard courts becomes more enjoyable and comfortable with it.
When you make abrupt movements in tennis, a high-padded heel collar provides extra support and stability.
In addition to being durable, the outsole design has been bumped up for aggressive movers who like to slide around a lot on cement.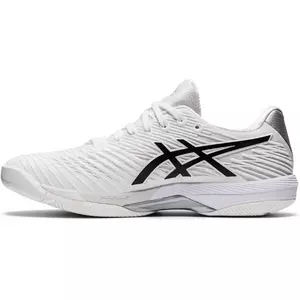 It is no secret that the Asics Solution Speed FF 2s are one of the most iconic tennis shoes out there, popularized by Novak Djokovic. A step up from the original Speed FF shoes, these minimalist shoes are lightweight and extremely supportive. 
There is a great deal of balance between the features of these shoes in terms of their capabilities. This is an excellent all-rounder for tennis players who want to glide around the court like Novak Djokovic due to its weight, stability, cushioning, and flexibility.
Those who choose this shoe may not find it as comfortable or supportive as other shoes on this list due to the low heel support.
What to Look for in the Best Hard Court Tennis Shoes?
When it comes to choosing the best hard court tennis shoes, there are a few key features you should consider.
Durability:
The hard court surface is unforgiving, and it can be tough on shoes. You need shoes that can withstand the wear and tear of intense play. Look for shoes with sturdy construction and durable materials that can stand up to repeated impacts and abrasions.
Traction:
Good traction is essential for making quick stops and starts on the court. Look for shoes with non-slip soles that provide good grip on the court surface. This can help you maintain your footing and avoid slipping and sliding, which can be dangerous.
Comfort:
Comfort is key when it comes to playing tennis. You'll be on your feet for hours at a time, and if your shoes are uncomfortable, you'll be distracted and less able to play your best game. Look for shoes with cushioned soles and well-ventilated uppers that provide comfort and breathability.
Support:
Hard court tennis can be tough on your feet, ankles, and knees. You need shoes that provide adequate support to help prevent injuries and keep you playing your best game. Look for shoes with reinforced uppers and sturdy mid-soles that provide stability and help absorb shock.
You may enjoy reading Can You Use Tennis Shoes For Volleyball?
Frequently Asked Questions
What makes hard court tennis shoes different from other tennis shoes?
Hard court tennis shoes are specifically designed for playing on hard court surfaces, which are typically made of materials like concrete or asphalt. They are designed to be durable and withstand the wear and tear of playing on these surfaces, and often feature good traction and support to help prevent injuries.
Are hard court tennis shoes necessary?
While hard court tennis shoes are not necessary, they can be beneficial for players. The right shoes can help improve performance and prevent injuries, which is why they are recommended pieces of equipment for any tennis player.
How often should I replace my hard court tennis shoes?
The frequency with which you need to replace your hard court tennis shoes will depend on several factors, including how often you play and the condition of the shoes. On average, most players will need to replace their shoes every 6-12 months, but this can vary. If you notice signs of wear and tear or if your shoes are no longer providing adequate support and comfort, it's time to replace them.
What is the best brand for hard court tennis shoes?
There are many brands that make great hard court tennis shoes, and the best brand for you will depend on your individual needs and preferences. Some top-rated brands include Adidas, Nike, Asics, and New Balance.
Can I wear hard court tennis shoes on other surfaces?
Hard-court tennis shoes are designed specifically for hard court surfaces, and while they can be used on other surfaces, they may not provide optimal performance or support. If you plan on playing on different surfaces, it may be a good idea to invest in shoes specifically designed for those surfaces.
Final Thoughts
The search for the Best Tennis Shoes For Hard Courts is not an easy one. The movement has become such an essential part of the modern game of tennis that it is an important aspect of improving your game. You need a tennis shoe that fits your foot perfectly when playing on a hard court. Such an abrasive surface requires more sliding and changing directions. 
Tennis shoes are available in many different styles, so it's important to try a few out before you buy. Our list can help you decide what you are looking for in tennis shoes.
Also, read Tennis Shoes vs Sneakers