Here are our picks for the best tennis racquets overall for 2023, based on testing, studying, and researching all the major brands.
When it comes to racquets, you have a lot of options whether you're a beginner or an advanced player. Here you will find racquets that will suit your skill level, budget, and preferences. In order to get started, here is a list of the best tennis racquets for 2023.
The 10 Best Tennis Racquets for 2023
Below is a table that shows the best racquets for different skill levels and playing styles.
You may not find these in the best order for you. There are racquets that are better for certain skill levels, athletic abilities, and experiences than others. To find out which racquet is right for you, we recommend reading our detailed reviews.
Wilson Clash 100 Tennis Racquet
In terms of flexibility, power, and control, the Wilson Clash 100 is our top choice overall. In spite of its versatility and user-friendliness, it does not compromise a player's ability to hit aggressively. All ages and levels of players will benefit from this durable racquet.
This new Wilson racquet frame features FreeFlex technology which allows it to bend in any direction: horizontally or vertically, for any swing style, enhancing the accuracy and consistency of the shot. Each hit is maintained with stability and power thanks to the unique simulation frame geometry from the StableSmart design.
One of the best features of the racquet is its ability to maintain an aggressive edge during play. There is still a lot of power and spin to be generated. While this is an investment racquet, you won't be disappointed with it when you play with it.
HEAD Ti.S6 Tennis Racket
Head's TI.S6 racquet is widely recognized as one of the best budget racquets on the market, so its ranking as the top budget racquet should come as no surprise. This racquet is more accessible to more players due to its lower price compared to other racquets of the same quality.
Technically, Head's TI.S6 combines titanium fibers with graphite fibers for significant power. The racquet maintains the advantage of being lightweight despite having an oversized head of 115 square inches.
As a result of the larger head, the ball is also able to make contact with a larger sweet spot.
Wilson Pro Staff 97
A new version of the Wilson Pro line racket was released in 2020. The new model from this well-known tennis racket brand did not disappoint, despite the high expectations.
With amazing performance and playability, Wilson Pro Staff 97 is one of the best tennis rackets on the market. Despite its power and stability, it offers a great balance. During the playtest, we noticed that maintaining pace and consistency was quite easy. It's highly responsive, and it's highly responsive. As a result, it provides a lot of control over the ball and performs well in all court areas, resulting in a much greater sense of security for the player.
Additionally, it is faster and spinnier than previous versions, and it feels more comfortable.
We rated this racket as the best tennis racket for advanced players based on its lack of high maneuverability, but apart from that, it is a great racket.
Babolat Pure Aero Lite Tennis Racquet
Beginners looking to improve their game should consider the Babolat Pure Aero Lite. A user-friendly, lightweight racquet with a little extra spin, the Pure Aero series is designed with tennis great Rafael Nadal in mind. Also check Rafael Nadal Racquet here
The racquet maintains even balance and provides optimal maneuverability on the court despite its ultra-lightweight design, which can sometimes result in less stability. Because of this, the Pure Aero Lite feels much more stable than it should.
Players working to develop their game can load shots with spin with Babolat's FSI Spin Technology. As players improve their strokes, they can have greater mobility and generate more power with this racquet.
For those committed to building their game, it's worth the steep price tag for a beginner racquet.
Yonex EZONE 98 Tennis Racquet
Yonex EZONE 98 racquets are recommended by Naomi Osaka and Nick Kyrgios. You can't go wrong with the EZONE 98 racquet if you're an intermediate player seeking power and comfort. You can also read reviews of yonex ezone 100 here.
A unique shape and string pattern give the Yonex Isometric square-shaped head greater control and a bigger sweet spot than the traditional rounded shape of most racquets. Players are protected from shock when they encounter off-center hits due to wider stringing near the frame.
EZONE 98 is an ideal option for intermediate players who wish to plow through strokes quickly.
With the M40X technology used in the throat, which is an elastic graphite material, the racquet still offers a stable hit.
You may enjoy reading Best Yonex Tennis Rackets
Babolat Pure Drive 2021 Tennis Racquet
Pure Drive Tour by Babolat is one of the top racquets on the market for professional players. A combination of explosive speed, power, and spin for experienced players, in 1994 it was named the Pure Drive Roddick after retired ATP player Andy Roddick.
Because of this racquet's heavy frame, it is designed for advanced players with high control. A new 100-square-inch elliptical frame structure is featured in Babolat's Pure Drive Tour. The frame is stiff enough to maintain control despite its large sweet spot.
A new technology called SWX Pure Feel enhances the sense of connection and feel with Babolat.
Babolat Pure Strike 16×19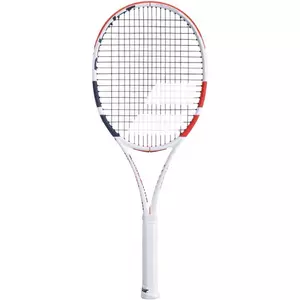 Our ranking of the best tennis rackets for 2016 is dominated by Babolat Pure Strike because it performs as advertised. Whether you're an advanced or beginner player, this racket appeals to you.
Babolat Pure Strike has a nice feel and offers superb control. While it's lightweight, it offers a surprising amount of stability. Power and control are perfectly balanced due to the hybrid construction.
Despite its speed, power, and consistency, it is able to perform well on any court surface. It is highly responsive, precise, and easy to maneuver thanks to the brand's use of new technologies.
In addition, this racket from Babolat is quite forgiving in terms of arm fatigue. During playtests, the sweetspot stood out as the cherry on top.
Wilson US Open 21" Kids Tennis Racquet
It is no surprise that Wilson's US Open 21 Kids racquet keeps rising to the top of the list as one of the best racquets on the market for young children year after year. Wilson offers an affordable price tag, which is a major perk to consider. A racquet like this is a great choice if you aren't sure if your child will stick with it or not.
Additionally, this racquet is available in multiple sizes and colors to suit the needs of your child. Young players can easily make contact with this racquet thanks to its compact handle and oversized head.
Wilson Pro Staff RF97 Unstrung Tennis Frame
The Wilson Pro Staff RF97 V13 is another advanced option to consider if you're confident in your game. As the game's design remains the same, players enjoy its sleek new look
As precise as its predecessor in terms of specifications and signatures. Experienced players will benefit from this racquet's heavy composition.
In addition to providing a solid and consistent feel along with dampening vibrations, it is designed with a double-braided graphite frame.
Head Graphene 360 Speed Pro
Our first impression of the Head Graphene 360 Speed Pro was how well it felt, how flexible it was, and how well it controlled. In addition to providing a lot of stability, it also provides easy access to different levels of power.
A dynamic frame contraction allows the racket to generate a lot of speed and topspin. A higher margin of error is possible because it has small sweet spots and is quite forgivable.
Additionally, it is lightweight, durable, and precise. Ahead Graphene 360 Speed tennis racket is one of the best tennis rackets for intermediate players who want to get more serious about their game.
The racket is endorsed by Novak Djokovic, didn't we mention that? The answer is yes… it checks every box.
What to Consider While Buying the Best Tennis Racquets
Tennis racquets cannot be categorized as one size fits all. You can find a wide variety of options to suit your needs since every player is different.
A racquet should be chosen based on several key factors, according to Wilson, a longstanding and reputable sports equipment brand. Consult an expert in person if you have any questions. As a starting point, we recommend racquets that are highly rated and are highly recommended.
Level of Skill
To begin with, it is imperative to select a racquet that is appropriate for your skill level. Do you consider yourself an intermediate, advanced, or beginner player?
A racquet's head size, weight, stringing, and grip size can all be determined by this information. Beginners, for example, use racquets with oversized heads that are lighter. A tennis racquet's construction and your swing style are also important factors.
Style of Play
Choosing the right racquet will depend on how you hit the ball. If you're looking for a new racquet, you should think about your playing level: are you new to the sport, intermediate, or advanced? What is the frequency of your playing?
Do you naturally generate a lot of power or do you hit with a lot of spins? Would you like to be able to control your shots more effectively? Lastly, are you ready to spend money on a racquet?
Racquet Head Size
Beginners benefit most from larger racquet heads because they have a larger area of contact with their shots. A smaller head allows advanced players to have greater control over their shots, whereas those who produce their own power often seek the opposite – a larger head that provides more power. The average racquet measures 85 to 110 square inches. There is a balance between power and control in a racquet head within this range.
Racquet Weight
Last but not least, you should take into account the racquet's weight, which differs among brands and styles. Racquets with more weight are more stable. Players who are starting out or are younger should consider lighter racquets because they are more maneuverable and less stable.
String Pattern
The string patterns on your tennis racket have a great deal to do with your racket's performance, so it's important to learn a little bit about them. A racket's technical aspects will always specify the number of string patterns. What do they mean, and what are they exactly?
Main (horizontal) and cross (vertical) strings make up the number of strings. Most tennis rackets have sixteen x 19, 18 x 20, sixteen x 18, and sixteen x 20 patterns. Rackets have several string patterns depending on the string numbers.
Dense string patterns: these rackets have 18 x 20 string numbers. Having fewer spaces between the strings provides more stability and control. Slice shots can be made with rackets with dense string patterns, but they have lower shot trajectories and produce less spin.
Open strings patterns: These patterns typically have 16 x 19 or 16 x 18 string numbers. String squares are spaced further apart, making the racket feel more lively and forgiving. With an open-string racket, you can hit the ball with depth and get a lot of topspin. The tension, however, tends to be lost much more quickly with this type of string pattern.
In-between patterns: although this pattern is rare, it is possible to find rackets that have 16 x 20 strings or 18 x 19 strings. Unlike dense string patterns, they combine the main benefits of both.
Grip Size
The grip size should also be considered when choosing a racquet. It could cause tennis elbow if you use your arm muscles to hold the racquet in place because you have a small grip.
The lateral crease on the palm of your hand should be measured to the tip of your ring finger if you want to determine your grip size without a racquet.
About 4 inches is a good size for adults. The grip can always be enlarged if you feel that you need a larger one, but when in doubt, go smaller. You can read about eastern forehand grip here.
Stiffness
The stiffness of a tennis racket is determined by the amount it bends during contact with the ball. RA ratings will tell you about the stiffness of a racket's technical measurements. Racket stiffness can be determined by the number between 50 and 70.
The amount of stiffness in a tennis racket determines how powerful and controlled the racket is.
The frame of a stiff racket absorbs less energy, so it bounces back more quickly than a soft racket. Alternatively, flexible rackets offer better ball control.
Next time you look at the technical details of a racket, here's how you can tell how stiff it is.
Flexible: 63 and below
Medium stiff: 63 to 67
Stiff: 68 and above
You may enjoy reading Best 26 Inch Tennis Rackets
Types of Tennis Rackets
There are different types of tennis rackets, and their shapes might be similar, but they don't all fall into the same category. Players have different skill levels and game styles, and there are several racket types with different features.
Before choosing your racket, you should consider this first and most important factor. Take the example of someone who is aggressive when it comes to baselines and aims for control in their shots. Choosing a lightweight racket with high power can make your game more difficult and even ruin it.
Tennis rackets come in different types and with a variety of features. We have listed them below.
You may enjoy reading Different Parts of a Tennis Racquet
Power Rackets
A power racket is the optimal choice for players who want more power and depth in their shots. Due to their excellent performance for beginners, power rackets are sometimes called "game improvement rackets." Women and players who have trouble generating power can also benefit from it.
As a result, this racket can be used to improve players' technique and form, and help them master their skillset. Forgiving power rackets allow for a greater margin of error since they are usually shorter and more compact.
Power rackets differ from other types of rackets in a few key ways.
Oversized head: In power rackets, a larger head offers some advantages. There are more powerful, offer more topspin, and have a larger sweet spot. Beginners enjoy these features because they help them improve their performance and learn their technique faster.
Extended length: increases power levels the most. In addition to providing more strength and depth for shots, long racquets offer more leverage for the player.
Stiffness: power rackets usually lack flexibility. When the player has a stiffer frame, the ball returns more quickly, allowing him or her to generate more power and speed.
Lightweight construction: Power rackets are designed to be lightweight, making them easier for players to maneuver and adapt.
Power rackets typically have the following technical specifications.
Head: 105 sq. in (677.4 sq. cm) or greater
Length: 27 to 29 inch
Frame: 66 or greater
Weight: 8 to 9.5 oz
Control Rackets
In order to have more control and accuracy in their shots, advanced players should use control rackets. The right form, technique, and fast full swing are essential to maximizing the potential of these rackets.
A control racket has a nice feeling in the hand, absorbs shock well, and is friendly to the arm. These rackets are known as players' rackets because they are opposites of power rackets. In addition, they are known to be quite heavy, but also quite flexible.
There are a few characteristics that distinguish control rackets from other rackets.
Small head: you will have smaller sweet spots and a smaller margin of error. There is less power generated for the player due to the trampoline effect as well.
Standard length: provides sufficient leverage and maneuverability for the player to hit the ball. The rhythm is easy to maintain during shots. Rackets usually measure 27 inches in length.
Flexible frame: control rackets have flexible frames that absorb energy when you hit the ball. This makes switching grip positions easier and is more friendly to the arm when using a control racket.
Heavier construction: Control rackets are usually quite heavy, but this feature serves a number of purposes. In the first place, it allows players to control force and speed through different power levels. Furthermore, it gives a feeling of stability and control. Furthermore, a control racket will feel more comfortable on the arm as a result of less shock.
Power rackets are typically characterized by the following technical specifications.
Head: 85 – 97 sq. in or greater
Length: 27 in
Frame: 50 -70
Weight:11.6 – 12.6 oz
You may enjoy reading Best Tennis Rackets for Tennis Elbow
Intermediate Rackets
Would it be possible to design a racket that combines power and control, so a player can enjoy the best of both worlds if you will? You're right, it can! Tweener rackets, also known as intermediate rackets, offer just that.
In addition to intermediate players, these rackets are also suitable for beginners.
The team performs well and appeals to a broad range of players. Despite their lightweight, durable, comfortable, and powerful swings, these rackets are lightweight, durable, and comfortable for the arm.
Players of all skill levels and game styles will find intermediate tennis rackets attractive and highly adaptable.
In order to find such a racket, you should pay attention to the following features:
Head: (mid-size) 98 – 104 sq. inch
Length: 27 inch
Stiffness: (mid-range) 61 – 70
Weight: (mid-range) 9.6 – 11.5 oz
Modern Player Rackets
Recent years have seen an increase in the popularity of player rackets. As their design is constantly evolving and improving, these rackets are an excellent choice for advanced players, and even professionals are now using them.
Compared to a pro racket with a smaller and less stiff head, a player racket has a larger head. Topspin is generated by them, the sweet spot is nice, and they allow powerful swings. Heavy hitters who are aggressive are best suited for these rackets.
A list of the main technical features of contemporary players' rackets follows.
Head: (plus mid-size) 98 – 100 sq. in
Length: (standard) 27 inch
Stiffness: 61 – 70
Weight: 11 – 12 oz
Men vs. Women's Tennis Rackets
The only women's tennis racket and the only men's tennis racket do not exist. Almost all of the best-rated tennis rackets are unisex, meaning they can be used by both men and women.
When choosing your best tennis rackets, you should keep a few things in mind based on your gender.
Bodyweight: Women have smaller body masses and less muscle mass than men. Since men can produce a lot of power themselves, they usually choose heavy rackets, which provide control and stability on the court. A lightweight racket that is easy to maneuver and produces a great deal of power is preferred by women, however.
Racket size: Female players tend to use lighter rackets than male players, who tend to use heavier rackets. It should be noted, however, that this is based on your own physical characteristics and not a rule you should blindly follow. A few things worth noting about women players are their heavy rackets and their power on the court. Depending on your gender, the racket head size can also affect your performance if you are just getting started playing tennis. Due to their ease of control and comfort, women generally prefer standard-size head rackets. A plus mid-size racket is recommended for men who are beginners.
Design: There are many brands of rackets that are designed and colored specifically for men or women. In contrast to black rackets that men prefer, pink rackets are marketed to women, but they perform the same. Since brands use female athletes for their promotional campaigns to appeal to both women and men, marketing is also a very important aspect of sales.
Our Selection for the Best Tennis Rackets
Three factors were taken into consideration when selecting the best tennis rackets: control, power, and feel. During the playtest, we selected rackets that stood out for their quality and features and delivered the best performance.
For players with different game styles or skill levels, we tried to include a variety of options for different categories. Besides topspin and speed, the reviews also detail technical specifications.
To find the perfect game for you, we recommend evaluating your skills, game style, and physical abilities first. We have recommendations that are sure to meet your needs once you know what you're looking for.
You may enjoy reading US Open Tennis 2023
FAQs
It's okay if you're still confused about the best tennis rackets after reading all that information. Some common questions regarding tennis racket recommendations are presented in the following sections. Below are answers to your questions. Be sure to check them out.
What is the most popular tennis racket for professionals?
Babolat Pure Drive is the most popular racket for professionals. Many professional tennis players, including Roger Federer, have used this racket. Power and control are both great characteristics of this racket.
What is the price of a good tennis racket?
This question has no definite answer since it depends on what you want in a racket and your budget. It is possible to find good quality rackets at a range of prices. Our recommendation for good quality rackets is to spend around $200.
It would be best to choose Wilson Burn 100 if you are on a budget. Beginners and intermediate players will enjoy this racket because it delivers good power and spin.
Which tennis racquet is best for intermediate players?
For intermediate players, it is best to choose a racket that has good power and control and is versatile. The Babolat Pure Drive would be an excellent choice.
A lot of professional players use this tennis racket because of its versatility. A popular racket on the market, it is also among the best.
What to do with old tennis rackets?
Recycling or donating them to a charity or school are two ways to dispose of them.
Most recycling centers accept tennis rackets if you choose to recycle them. If you want to recycle them, make sure you remove the strings and padding first, as they can harm the environment if you don't.
Your local charity or school may be in need of sports equipment if you decide to donate your old tennis rackets. Gently used sporting equipment can be donated to many schools and charities.
What's Next?
Among the many excellent tennis rackets available, the Babolat Pure Strike is the best all-around option. With its high power levels and good topspin, it provides incredible performance. In addition to being suitable for beginners, this game is well-suited for players of all skill levels.
Wilson Clash 100 also made it to the top of our playtest favorites. All the promises of a great performance on all courts are kept by this racket. Providing a unique combination of power and control, it is lightweight and flexible.