There will be a lot of things to consider when choosing the best tennis gift for the lady in your life. It's especially important when you're dealing with someone who seems to possess everything. It's hard to find the perfect gift that combines thoughtfulness, personalization, and uniqueness to show your love for her.
You can find a winner by exploring the wide variety of tennis related gift ideas in this article. Having trouble coming up with fresh ideas? Nothing to worry about. The following list of the Best Tennis Gifts For Her in 2023 has been hand-picked by our team here.
Best Tennis Gifts for Her
From least expensive to most expensive, here are the best tennis gifts for women. We've listed our favorite gift ideas below, so you don't have to do any research yourself. 
How much you should spend on gifts
Having a budget for yourself before you begin your gift-hunting is a great idea. Tennis gifts are available at every price point, so you don't have to spend a lot if you're on a budget.
When it comes down to it, it's the thought that counts. There are a number of homemade gift ideas out there for tennis lovers, no matter how much you have to spend.
Personalize it
It's always helpful to write down a few preferences of the recipient when you're giving a gift, whether it's her birthday, Christmas, Mother's Day, an anniversary, or any other occasion.
You might want to consider the following:
Tennis players she follows
Tennis brands she wears
Her favorite colors
Consider these preferences when choosing a gift to help make it more personal.
Types of Gifts
There may be a specific type of gift that appeals to you more depending on how much time and effort you are willing to devote.
You may want to consider some of these types.
Store-Bought Gifts
If you find a tennis gift that you like, then you should buy it, wrap it, and give it to someone. You can do the wrapping yourself or have the store do it for you. In fact, if you're strapped for time, it's a great option that she'll love if you choose this type of gift.
You might want to consider the following store-bought tennis gifts:
Clothing: Choose a new shirt, tennis skirt or shorts, sweatshirt, or jacket based on her favorite brands. Feel free to give an entire outfit if you're feeling generous. For those who don't play tennis, Nike, Adidas, New Balance, Under Armour, Fila, and Lacoste are some top picks for women's tennis clothing.
Shoes: What do you think of her kicks? Do they look pretty worn out? A new pair might be in order. Individual preferences play a key role here, of course. You might want to purchase a new pair of her current shoes or perhaps upgrade to a newer model of that shoe. You can never go wrong with a stylish pair of new tennis shoes as a gift.
A Bag: A new bag is always a welcome sight, isn't it? We know how she will respond, at least. There are many popular brands when it comes to tennis bags, such as Wilson, Babolat, and Head, which would be a good option for serious players with lots of gear to carry. If you're a casual club or recreational player, the cinda b tennis tote that made our list is a great option for you.
Jewelry: When it comes to jewelry, there is no wrong choice when it comes to bracelets, necklaces, or earrings. The top 10 jewelry items we chose include three tennis-themed items that are sure to come in handy. You can find out more about them by reading on.
Tech Gear: It may be worth considering tech gear if you know your recipient is into that sort of thing these days. It is easy for her to keep track of all kinds of stats by wearing a smartwatch, listening to music before matches, or using a smart sensor, such as Zepp or Babolat Pop.
For the home: TBD
Personalized Gifts
Something personalized is a great option if you want to give her something that's unique and shows you put thought into finding the perfect gift. We've selected some of our favorite tennis-themed ideas for you.
Custom tennis racquets: Players can customize their tennis racquets in all sorts of fun ways lately, thanks to tennis manufacturers. The leading manufacturer is Wilson Custom Racquets. Picking a racquet is the first step, followed by customizing the color and finish. Additionally, you can personalize the racquet by printing its name.
Custom tennis shoes: Custom Nike tennis shoes might be a good idea if you are interested in a custom gift but cannot afford a racquet. You can create a custom shoe if you're into that kind of thing. Custom shoes are like custom racquets in that they can be selected and personalized to create something that is uniquely yours.
Custom tennis balls: You're sure to enjoy giving her a personalized tennis ball as a thoughtful gift at a low price. They don't serve as tennis balls, but they make awesome decorations and will show her you took the time to think of her.
Homemade Gifts
It is bound to make her happy if you make a homemade gift, especially if you are crafty or don't have much money to spend. Here are a few ideas to help spark your creative juices to help you make something from scratch. Of course, the sky's the limit when it comes to making something from scratch.
Baked goods: The most popular tennis-themed baked goods include cupcakes, cookies, and cakes, but dozens of recipes are available online. When searching for tennis baked goods recipes on Pinterest, you'll find many different recipes for tennis baked goods.
Gift basket: Build your own fully customized gift from scratch by starting with a stylish basket and adding various useful items. Make the gift look delightful by wrapping it in cellophane and tying it off with a bow. You can copy or customize our top 10 list by using our sample baskets.
Tennis ball holders: Alternatively, you can make them yourself or buy them on Etsy. For a somewhat silly but easy-to-love gift, you only need a hot glue gun, a few old tennis balls, and some creativity.
You may enjoy reading How to Build a Tennis wall at Home
Best Tennis Gifts for Her
Here are a few ideas for a gift she'll enjoy based on the different types of gifts we've covered. It's understandable that gift-giving can be frustrating at times.
Our hand-picked ideas offer something for everyone, from business professionals to family members. To make things even easier for you, we've also organized them by price from high to low.
Middle Finger Vibration Dampener
Our list would not have been complete without this gem when we discovered it for the first time. As we said, you probably already know to who you're giving this gift to. The hot pink manicure and high-quality material make these middle finger dampeners ideal for reducing vibration.
It's probably the best part, right? There are two pieces in a pack. You may receive one of them if you are nice to her. If you prefer, you can buy yourself a pack as well.
Sugarpova Sporty Mix
Maria Sharapova created a premium candy line based on her sweet tooth, and it has been a smash hit in the tennis world.
There are just about sweets for everyone in her assortment, including chocolates, gummies, gumballs, and truffles.
How do we choose? Sugarpova Sporty Mix. A colorful assortment of gumballs that resemble tennis balls. With a lemon-lime flavor, there are about 27 gumballs in this package.
Regardless of what you pick, it's still a fantastic idea backed by a tennis player that's backed by a large variety of candy.
Personalized Tennis Balls
There's nothing better than a tennis ball that's been customized to your liking.
Write your name on one or three tennis balls with no more than ten characters per line on either one or three balls. Your message will be easier to convey if you get three tennis balls.
The personalized touch on these tennis balls will make them a memorable gift that will make them great for tennis coaches, teammates, or doubles partners.
Multicolor Tennis Pasta
How about dinner? Tennis pasta! In other words, it's pasta with personality, and we could not be more in agreement with the label. The two-pack of tennis-shaped pasta will serve 4-6 people each when you purchase it as a gift.
There is a delicious sesame pasta recipe on the back of the label. If she does not want to see those kinds of things, you can direct her to the website listed on the back with over 75 delicious recipes.
It's also fun when you get the girls' tennis team together for dinner when your club is hosting a potluck. Cook up a pasta salad and share it with your club members.
Hanging Tennis Towel
What is the preference of the lady in your life when it comes to toweling off between points? She may have to place her towel on the court instead of running back to the bench, which, depending on where you are playing, might not be as clean as she wants.
Hang this hanging tennis towel on your back gate with its hook so that you never have to worry about it again. So it'll never hit the ground and will always air out.
The towel measures 16 x 28 inches and is made from white cotton. Directly built into the towel is a metal ring in one corner. By threading the hook through the ring, it can be attached to anything else, including the fence and pretty much anything else you can think of. Even the bottom corner of the shirt is embroidered with a yellow tennis ball.
Tennis Ball Bath Bombs
Bath bombs are our favorite, so we couldn't resist these tennis ball bath bombs, which make great gifts.
She can also take advantage of the benefits of the Epsom salts while soaking in the tub because they aid in muscle recovery after a long workout.
This set of three bath bombs comes in a fashionable can that resembles a tennis ball, but they are perfectly sized and shaped.
Using bath bombs keeps them fresh for longer and prevents moisture from accumulating before they're used. Finally, they have a light fruity scent that is pleasant.
Tennis Themed Dammit Doll
In some cases, tennis can be incredibly stressful, not to mention mentally challenging. Players often throw or smash their racquets on the ground to vent their anger, but that's pretty expensive.
You can reduce stress with the tennis-themed Dammit Doll, which you can smash to relieve your stress. Your favorite player will appreciate this gift and you will be able to help them save their expensive racquet.
On the doll, there is a delightful message printed. This Dammit Sports doll will help you eliminate your stress when you drop the ball and can't seem to win at all! If you slip up during play, just slam it! While whacking the stuffing out, yell Dammit! Dammit! Dammit"
Alex & Ani Tennis Bangle Bracelet
The Alex & Ani Tennis Bracelet might be just the thing she needs to show her love for tennis. We might buy one of these bracelets for ourselves if we liked them so much.
You can choose between Rafaelian silver and gold to purchase the bracelet, which includes a yellow tennis ball charm. It's hard to pick a favorite, but we like the silver version with the yellow charm. You know what's best for your loved one.
Additionally, she received four tiny charms which remind her of the support she has shown for US Olympic and Paralympic athletes. With this gift, you can't go wrong, unless you already have one for her.
McCarter Tennis Coasters
It's the perfect gift idea for the tennis player who likes to host. This set of four McCarter coasters is themed after tennis.
Since they are made out of bisque clay, they are naturally absorbent and feature cork feet to protect surfaces.
The ultimate housewarming gift for the tennis player in your life is a set of Tennis Cheese Spreaders from Wine Things paired with a wine stopper from Supreme Housewares.
Honolulu Jewelry Company Tennis Ring
This tennis ring from Honolulu Jewelry Company stands out among tennis-themed jewelry out there.
This gorgeous sterling silver ring will look great on her because it's simple, yet stylish.
In case you are not familiar with Honolulu Jewelry Company, they have been producing quality jewelry for over 35 years, offering great prices and delivering excellent customer service.
Honolulu Jewelry Company Tennis Necklace
This sterling silver tennis racquet necklace from Honolulu Jewelry Company is just as good as the tennis ring mentioned above.
A simple box chain is included with the necklace, with a spring clasp so it can be adjusted in length between 16 and 18 inches.
With just under two inches in height and roughly 34 inches in width, the elegant racquet pendant is just the right size.
It makes the ideal gift for any occasion since the racquet hangs downward from the handle when worn.
Cinda b Tennis Tote
Fashionable and functional, the Cinda B Tennis Tote is the perfect combination. This bag is equipped with the following features:
With dimensions of 15 inches tall by 15 inches long by 5 inches wide, the bag is plenty spacious for a day at the court. The interior of the bag has an additional zip pocket for keeping track of smaller items that you don't want to lose at the bottom. This bag features adjustable straps that can be worn over her shoulder or across her body, as well as two handles for carrying.
Up to two tennis racquets can be stored in the bag's exterior zipper pocket. It's important to keep in mind that oversized tennis rackets won't fit in the bag if your recipient plays with one. In addition, two handy side pockets allow you to keep items like a water bottle and keys readily accessible.
A surprising aspect of this nylon and polyester tennis bag is that it's machine washable and stain-resistant. To meet the needs of a wide variety of tastes, the bag comes in six colors: black, navy blue, grey, royal blue, dark blue, and green.
DIY Homemade Basket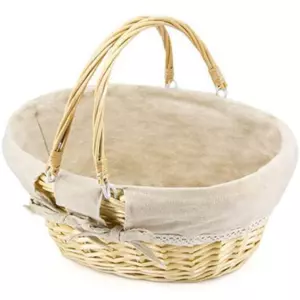 This handwoven wicker basket is also the perfect size for those who were intrigued by our gift basket idea. You might consider including these items in your basket to get you started:
Advil
Nuun electrolyte tabs
Energy bars
Tennis pasta
Sugarpova Sporty Mix
Neutrogena facial wipes
Sunscreen
Tiger Balm
Tennis ball bath bombs
Hanging tennis towel
Middle finger vibration dampener
Racquet overgrips
Set of tennis strings
In terms of gift baskets, the possibilities are endless, but one thing is for sure, this is a gift basket worth receiving. If you want to present your gift in an extra special way, pick up some cellophane wrap.
Party Supplies
Tennis party decorations can be added to any birthday party or tennis-themed get-together. You can decorate with the following items:
Cups
Plates
Napkins
Straws
Party favor bags
Plastic cutlery
Balloons
Tablecloth
You may enjoy reading What To Wear To Play Tennis
Faqs
What type of tennis apparel makes a good gift for her?
Some good options for tennis apparel include tennis skirts, tennis dresses, tennis shorts, tennis tops, and tennis jackets. Look for high-quality, moisture-wicking fabrics that will keep her comfortable on the court.
What are some good tennis bag options for women?
Tennis bags come in a variety of styles, including backpacks, totes, and duffel bags. Look for bags with multiple compartments to keep her tennis racquets, balls, sunglasses, bras, shorts, and other gear organized.
What type of tennis racquet should I choose as a gift?
The type of tennis racquet you choose will depend on her skill level and playing style. Consider consulting with a tennis pro or salesperson to help you choose a racquet that will be a good fit for her.
What are some good tennis accessory gift ideas?
Tennis accessories can include things like grip tape, wristbands, headbands, sunglasses, and water bottles. Look for items that are both functional and stylish.
Where can I find the best tennis gifts for her?
You can find tennis gifts for her at a variety of retailers, including sports stores, online retailers, and specialty tennis shops. Consider looking for deals or discounts to help stretch your budget.
What's Next?
Could you recall the wrapping paper, forgive the pun. That's all you need to do. Maybe we helped spark an idea you'll know she'll love, or at the very least we helped you find the best tennis gift for her.
Is there anything else you would like to share about gift ideas? Comment below and let us know what you think. Visit our guide on gift-giving for men for more gift-giving ideas.
Also, read Are Tennis Rackets Unisex?